Our trip to the Big Island of Hawaii was such a blast! I have written a few blogs about the specific activities that we have done but I wanted to make sure to compile a list together for you guys on everything near Kona, Hawaii here!
Location: Big Island, Hawaii near Kona, Hawaii
Where we stayed: Four Seasons Resort Hualalai
When: March 2nd – 10th
Favorite Activity: Mountain Thunder Coffee Plantation Tour
Favorite Place to Eat: Beach Tree
Would I go back: Already looking for tickets…
First of all, we stayed on the Four Seasons Resort Hualalai which was amazing!
However, if you want to stay somewhere else, I also had the chance to tour the AirBnB located on the Mountain Thunder Coffee Plantation and that was super nice! I highly recommend checking it out as an option!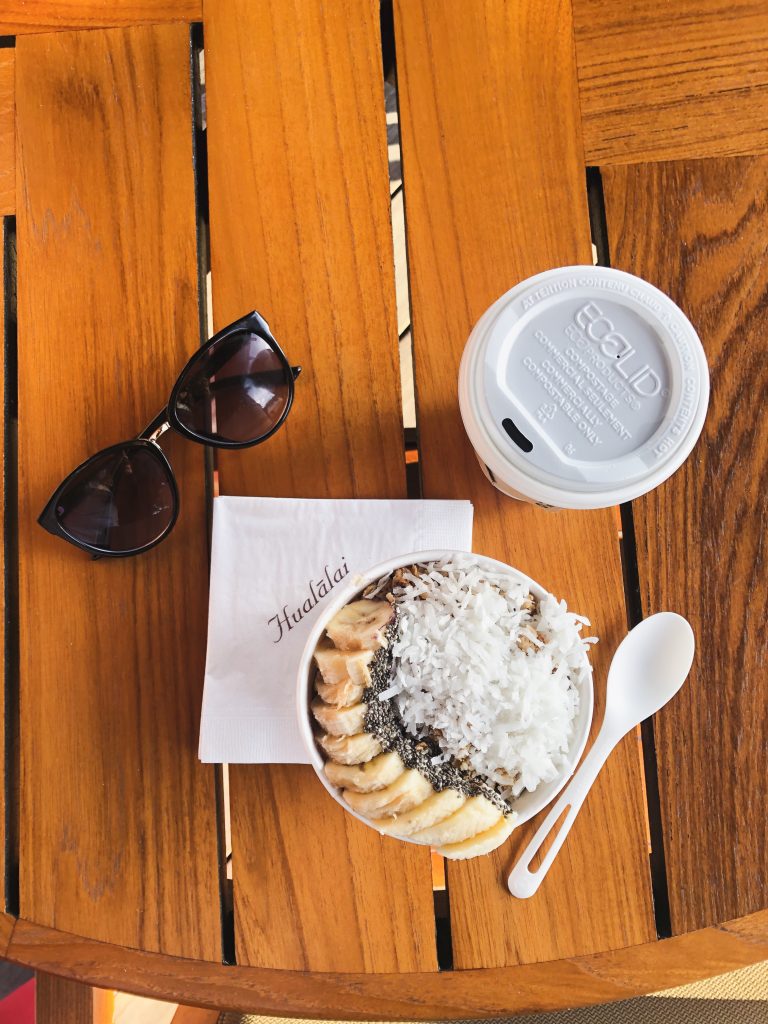 Coincidentally, my favorite activity was also getting to tour the Mountain Thunder Coffee Plantation.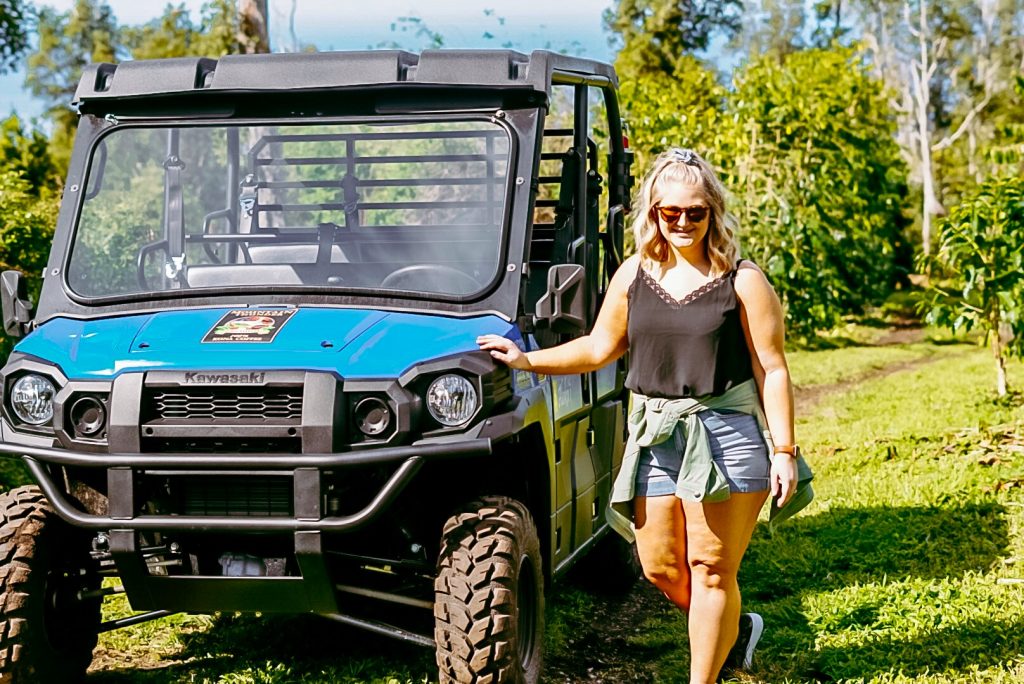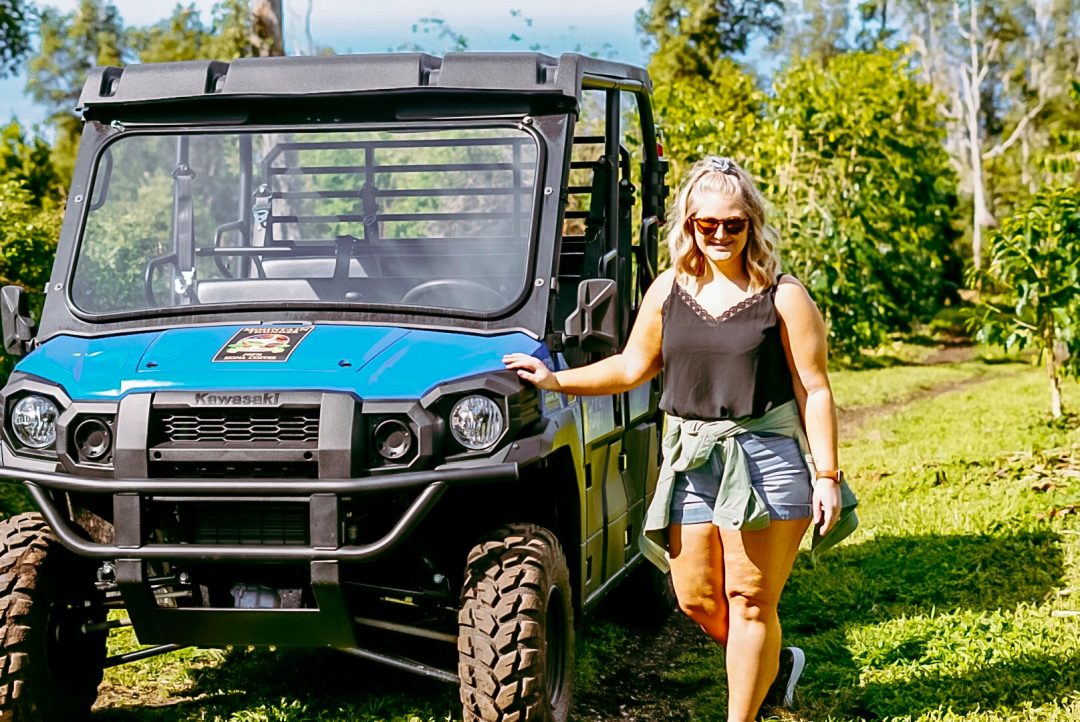 I was so incredibly excited about this tour because I really had no knowledge about how coffee is produced.
Upon arrival at the Mountain Thunder Coffee Plantation, we were greeted with warm smiles and hot coffee samples! They had all their varieties available to sample (and boy did we!)
Continue reading all about our tour here!
Another must-see thing we did that was super fun was to go wonder around downtown Kona.
This is the perfect time to grab any souvenirs that you need and also make a stop at Holy Donuts for a Malasada (a Hawaiian Donut).
My sister loves donuts and it just so happened that we were there on National Malasada Day! They are so delicious that if you have never had one – you have to try it! We might have gotten a little carried away on the amount of donuts we needed….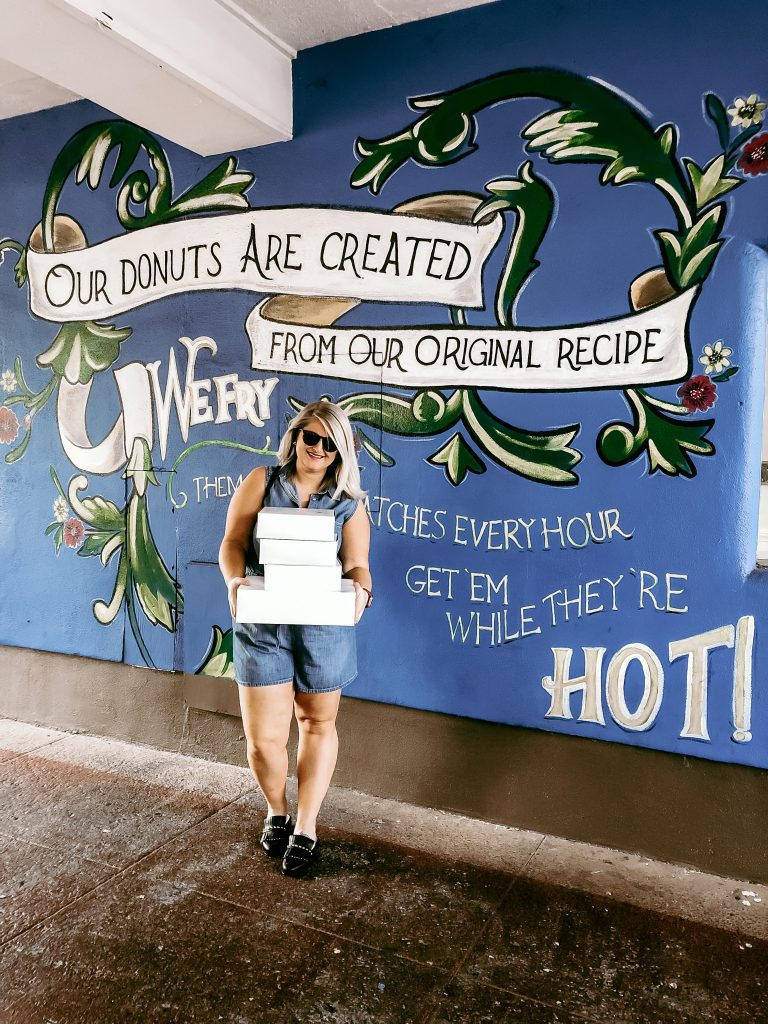 My next recommendation would be to just get out and explore!
The scenery on the big island is so gorgeous and it is vastly different depending on what side of the island you are on. So whether you want to stay in one spot, and go walking. Or if you have a car and can drive to the different parts of the island – make time for it! It's a gorgeous place and well worth exploring!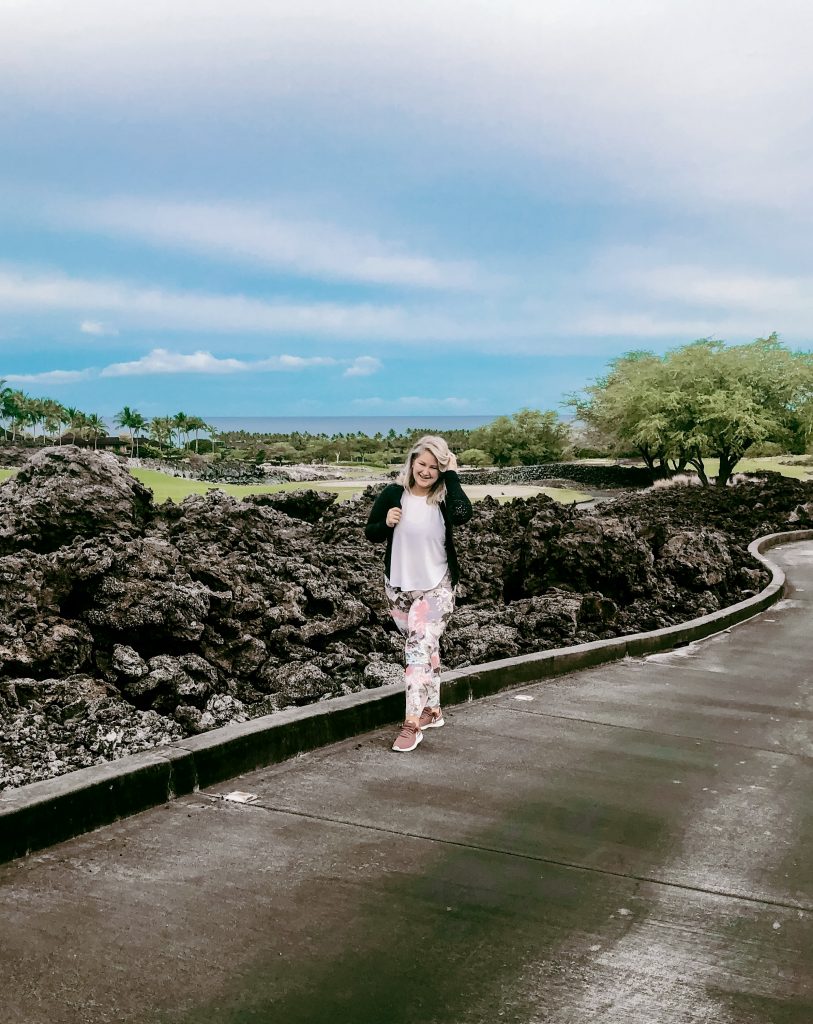 If you are looking to get into the water, we loved going on a Fair Wind Cruise tour!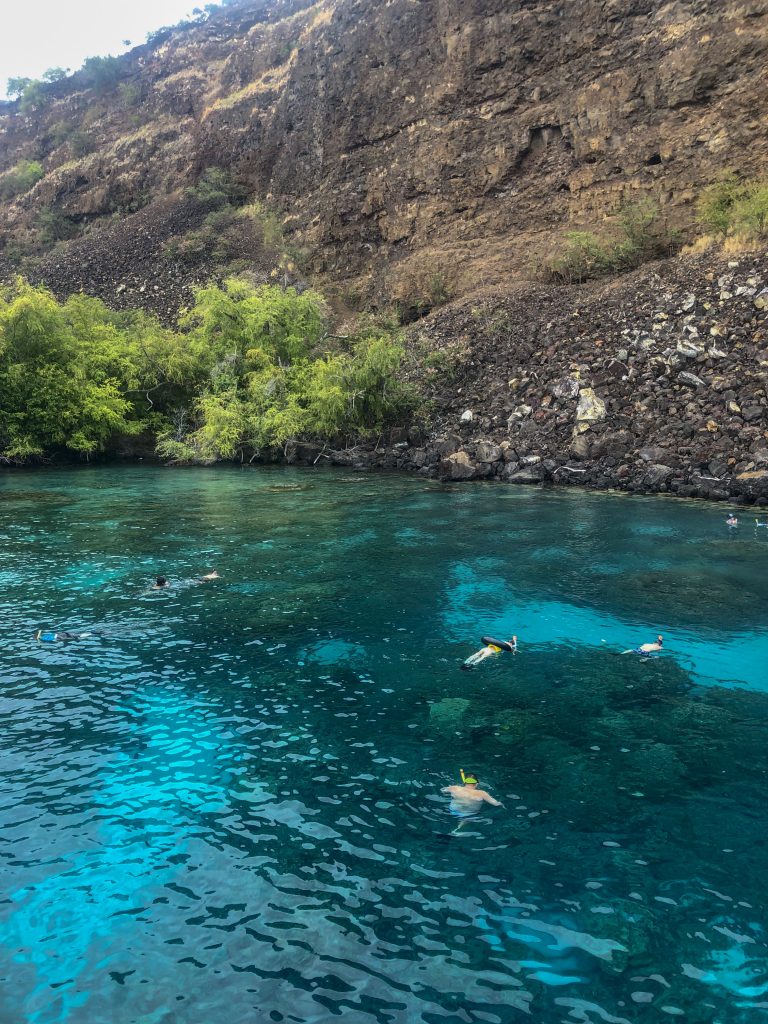 The water was so clear and I was shocked by how many different fish there were! It was so fun to swim around and see all of the schools of fish, coral, and shore line.
I also was daring enough to try out the 15-ft water slide at the front of the boat! And after we were finished snorkeling, we were able to relax in the boat with drinks and snacks until it was time to head back.
Continue reading about the Snorkeling Trip here!
Trying different restaurants and eating all the seafood is also a must while you are on the island!
The food is so fresh and delicious! If you aren't into going to tons of restaurants, look for the curb-side food stands selling fresh fruit and produce and cook!
Or if you really want to experience Hawaiian tradition, check out the Mauna Kea Luau!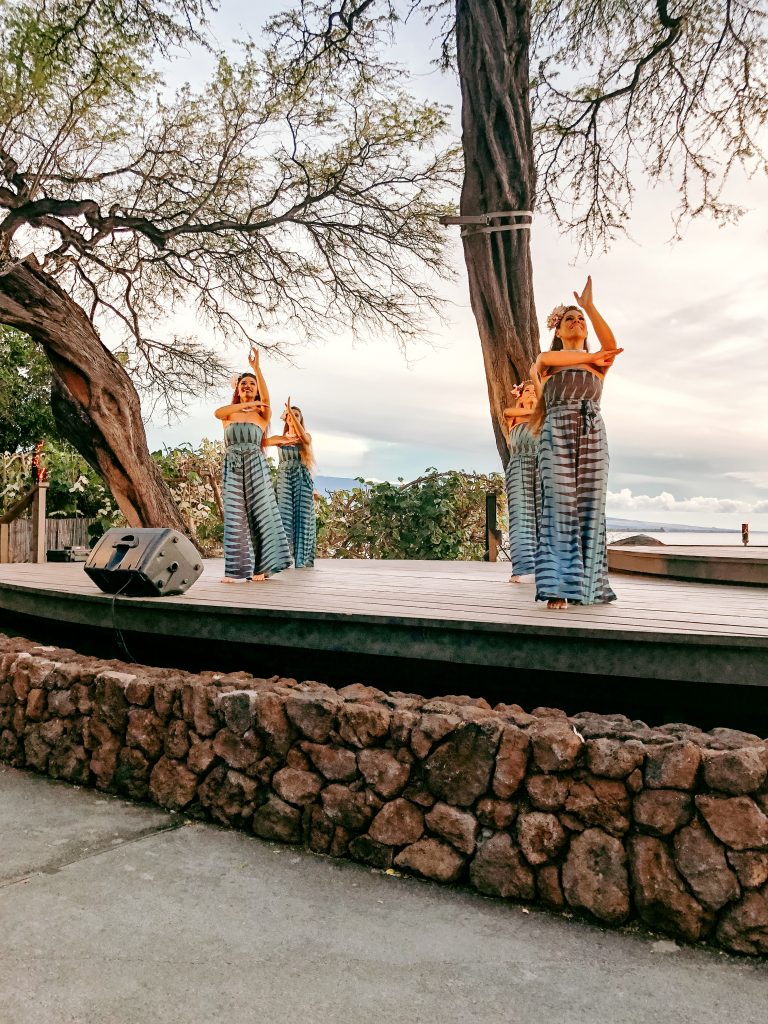 During the meal, a Hawaiian band played island music and performers did a few different dances. Then we were able to even get on the stage to learn how to hula dance! I can't say I will be changing my profession to hula dancer anytime soon, but it was fun to learn!

Then, once the meal was over, the show started! I don't want to give too much away because the show is something that is incredibly special and it has to be witnessed in person.
All I can say is that the performers were extremely talented and the entire show had the audience completely captivated. It was such a fun experience!
Continue reading about the Mauna Kea Luau here!
Finally, make sure to get in beach time.
I personally went to Hawaii to relax and refresh. Which meant that spending days lounging on the beach or at the pool, drink in hand, was the best way to spend the day!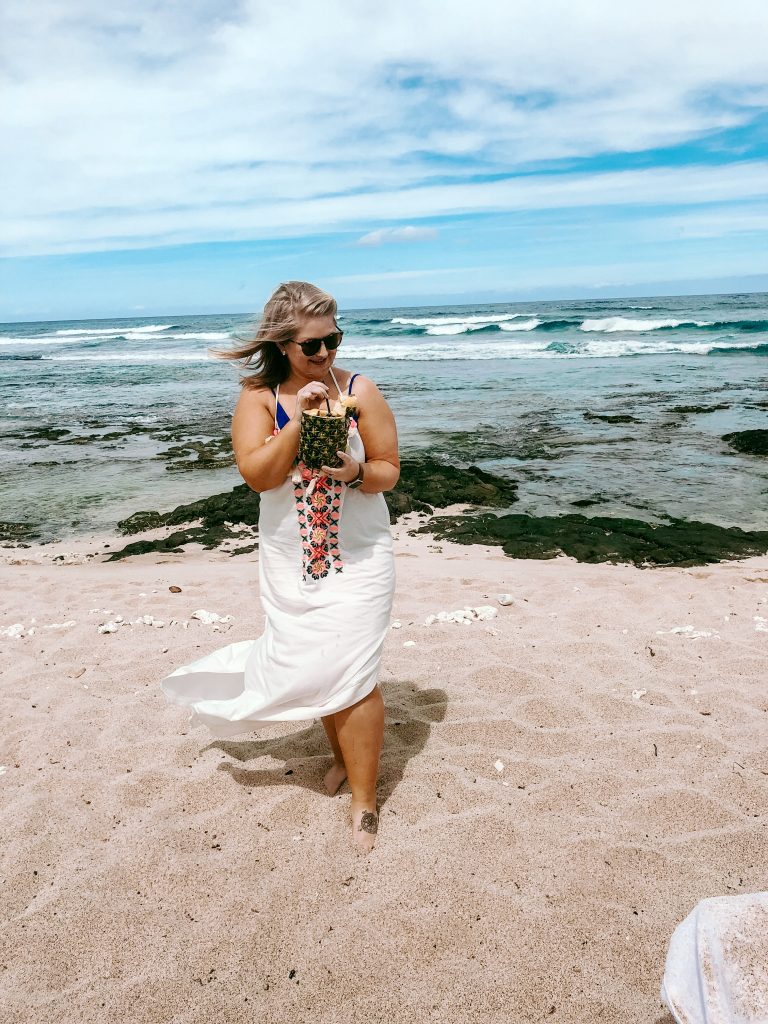 Know of something I missed? Let me know below!