Next up on our Hawaiian adventure was a Kona Snorkeling Cruise with Fair Wind Cruises. I was so looking forward to this because I love getting to swim in the ocean and the last time I went to Hawaii – snorkeling was a highlight of my trip!
When researching who to snorkel with, I was really impressed that Fair Wind Cruises had so many positive reviews. I also loved that I could book our excursion directly on their website. They had a variety of options but ultimately we decided on the Afternoon Kealakekua Snorkel Cruise.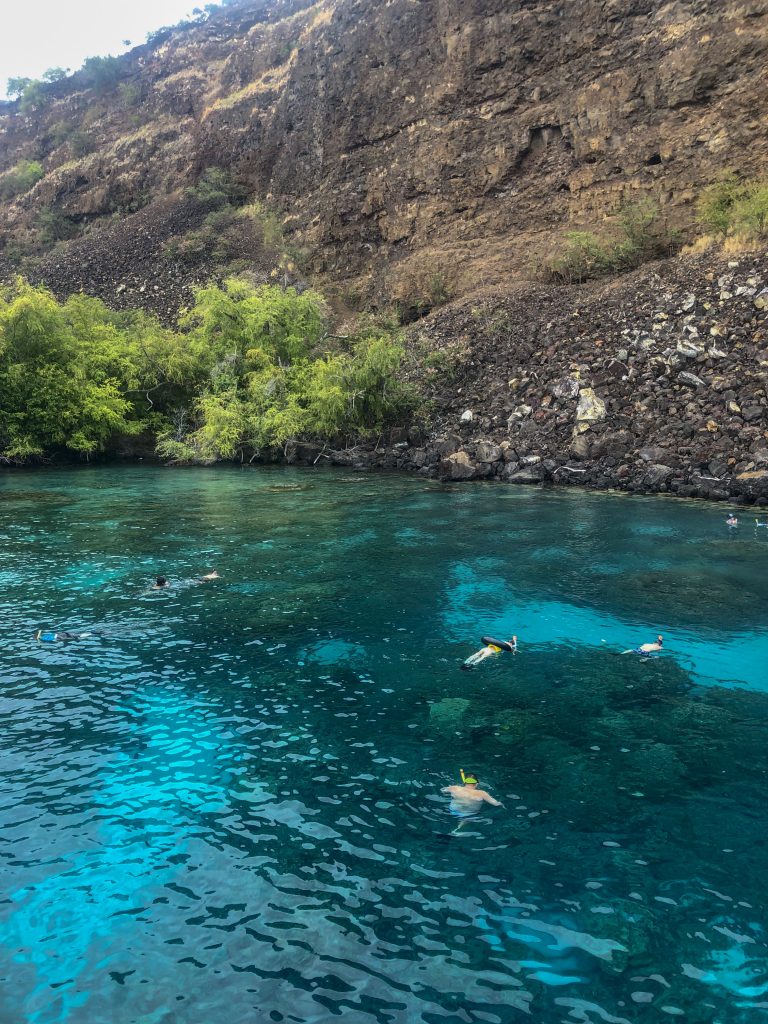 The Afternoon Kealakekua Snorkel Cruise
This cruise was the perfect length for us and it fit right into our busy schedule. It left from Keauhou Bay which is just south of downtown Kona. And they offer free parking – which was perfect!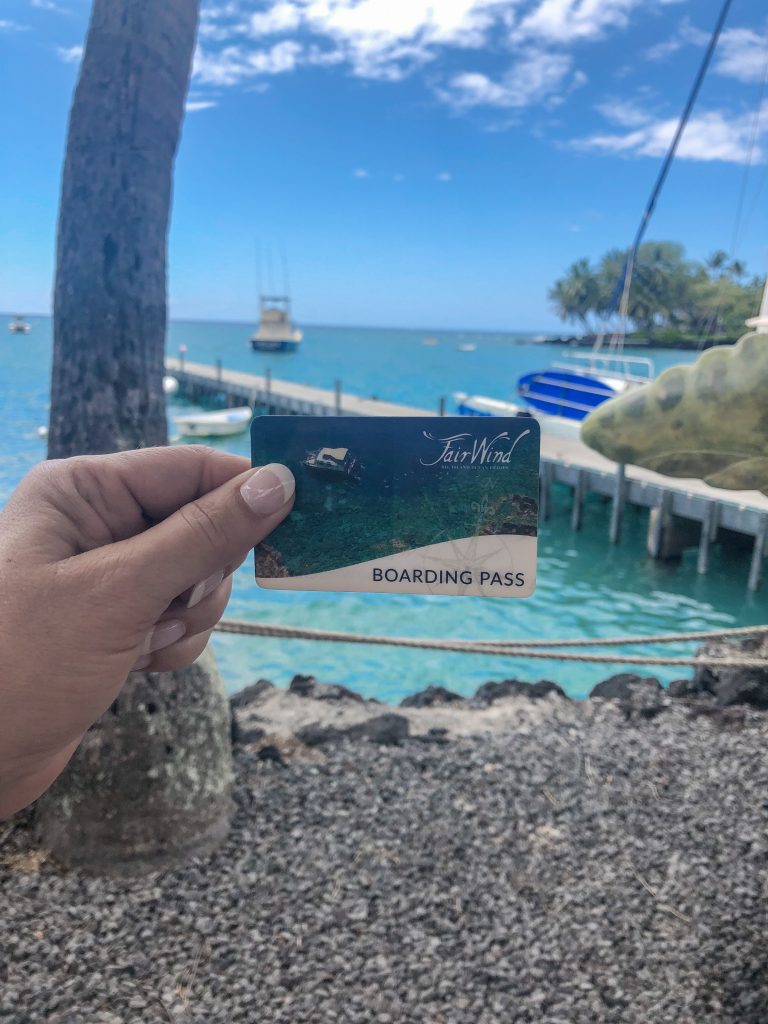 Upon arrival, we checked into the front desk, and waited for it to be our time to board the boat.
I recommend getting there about 30 minutes before your cruise departs. That way you have enough time to check-in, use the restroom, and still get first pick of seats on the boat!
The Fair Wind II is a 60-ft catamaran, custom designed with two wide staircases at the rear allowing for easy access in and out of the water, two 15-ft water slides, and a high dive platform. The boat is also equipped with a large galley area that holds two restrooms, and fresh water showers.
Guests will experience a historical journey from the birthplace of a Hawaiian King to the place of death of the great Circumnavigator Captain James Cook at Kealakekua Bay. In between they will hear stories and view several historical sites such as the last battle stand at Kuamo'o Battlefield and view the Royal Holua Slide, the largest and best preserved in the state, and a historical landmark.

– Fair Wind Cruises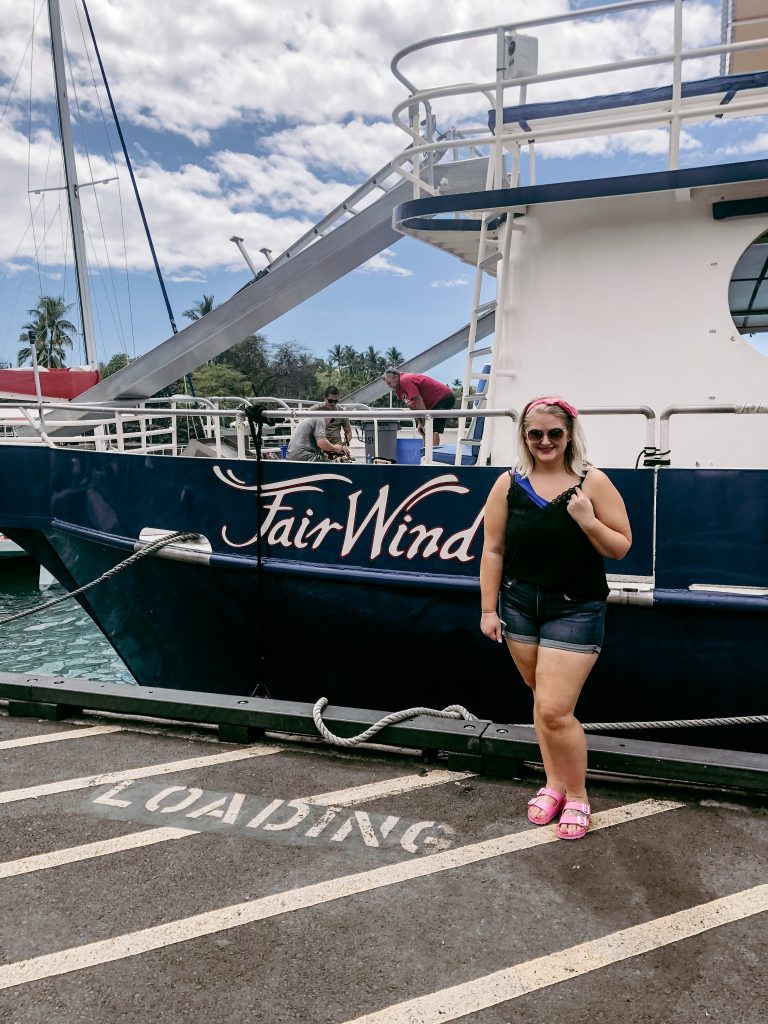 There were so many helpful staff to help us get onto the boat, and prepare for take-off! Just after we left the bay, staff started fitting guests with snorkeling gear. They also had the option to Snuba if that is something you wanted to do (for an extra fee).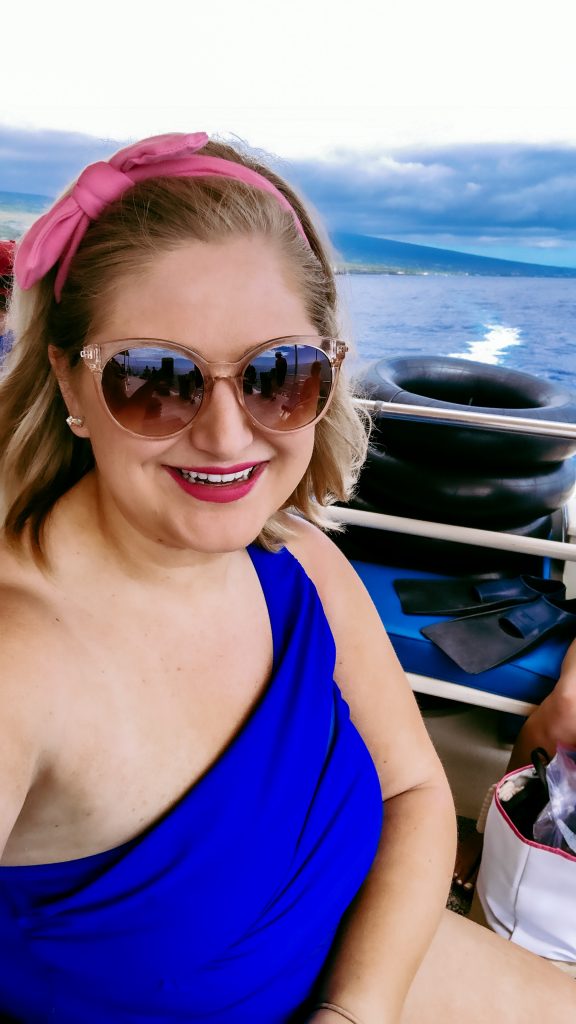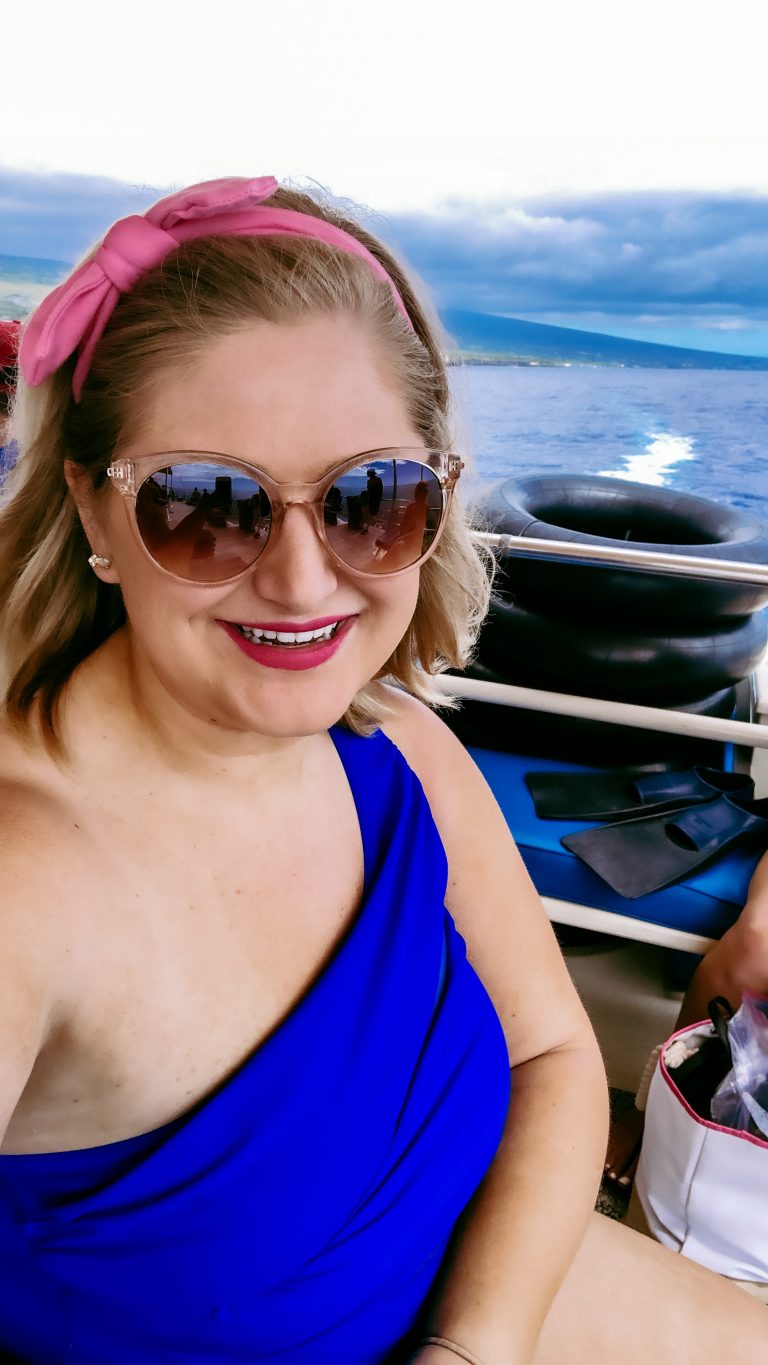 The trip took about 45 minutes and it was the perfect amount of time to relax, and enjoy the sites before getting to Kealakekua Bay.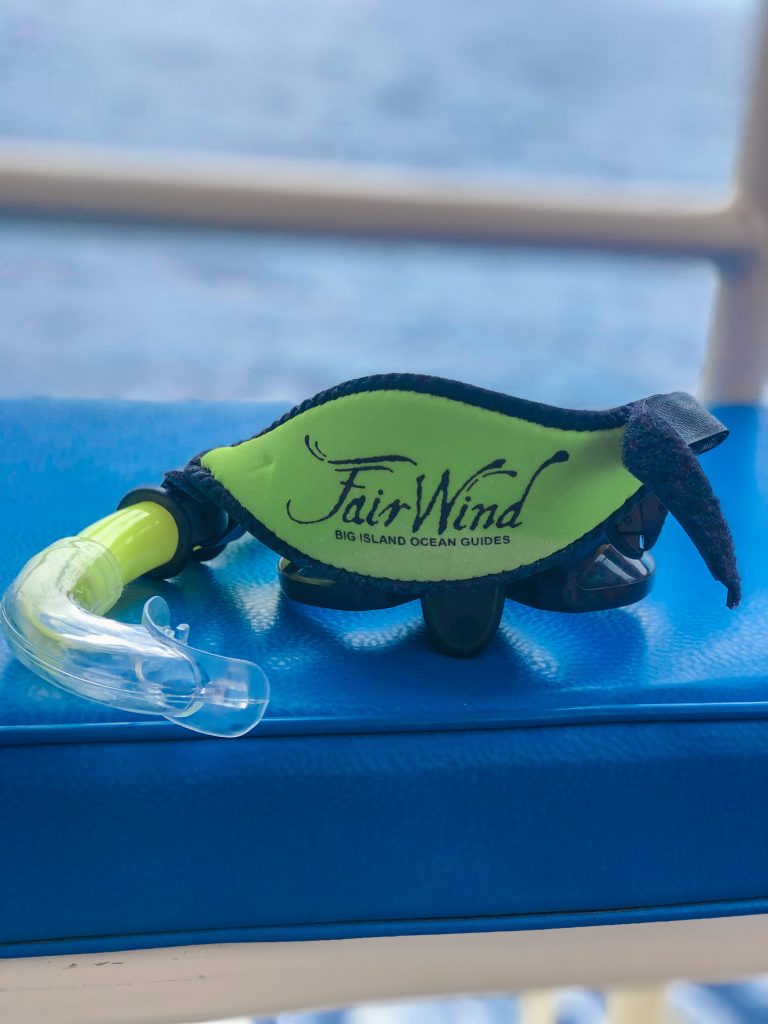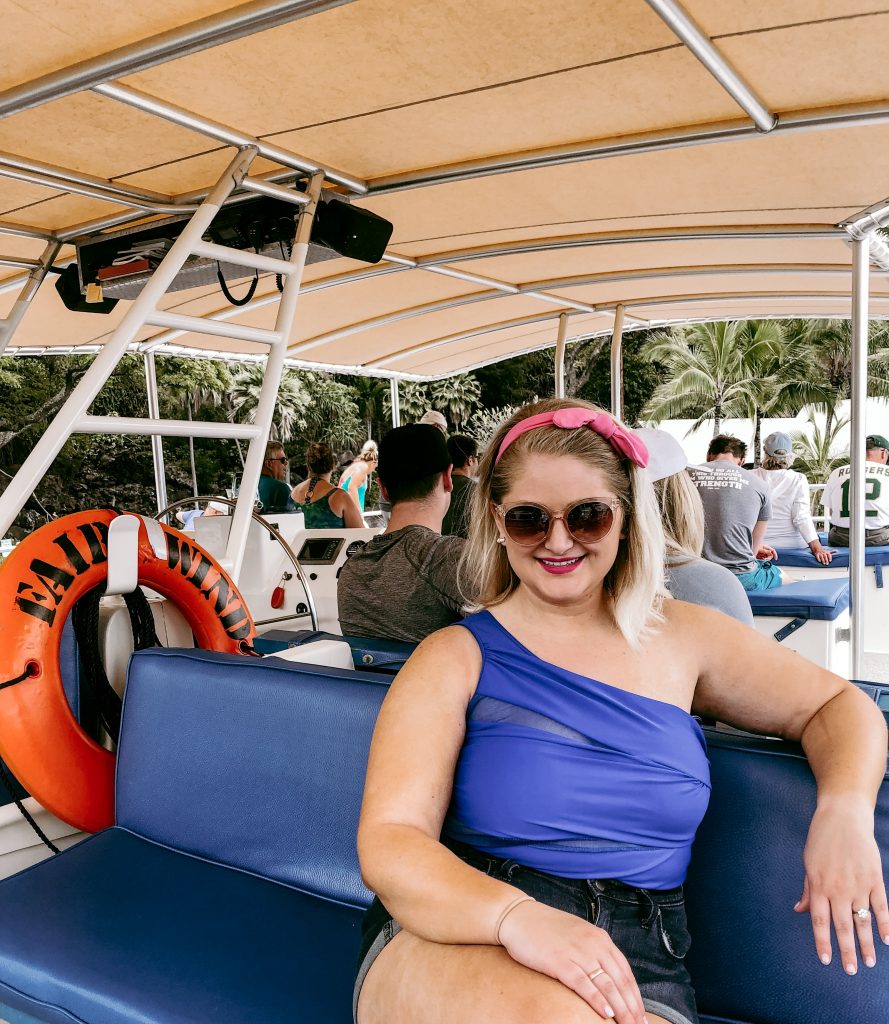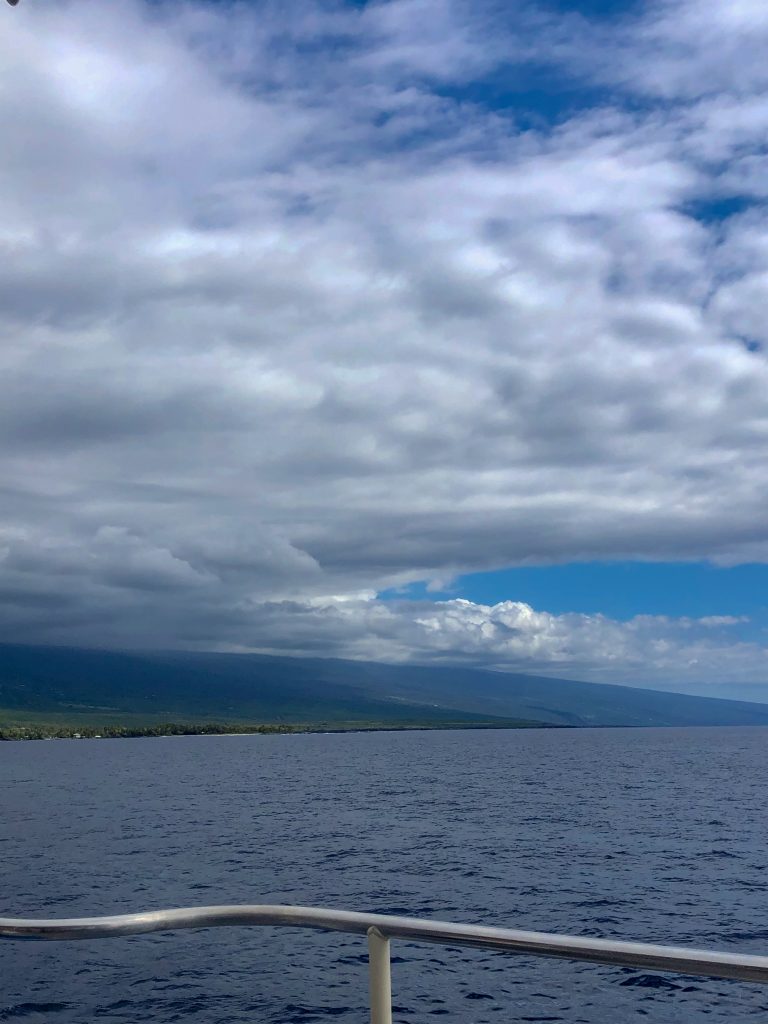 After we arrived, there was a brief safety demonstration and then we could get into the water.
The water was so clear and I was shocked by how many different fish there were! It was so fun to swim around and see all of the schools of fish, coral, and shore line.
I also was daring enough to try out the 15-ft water slide at the front of the boat! And after we were finished snorkeling, we were able to relax in the boat with drinks and snacks until it was time to head back.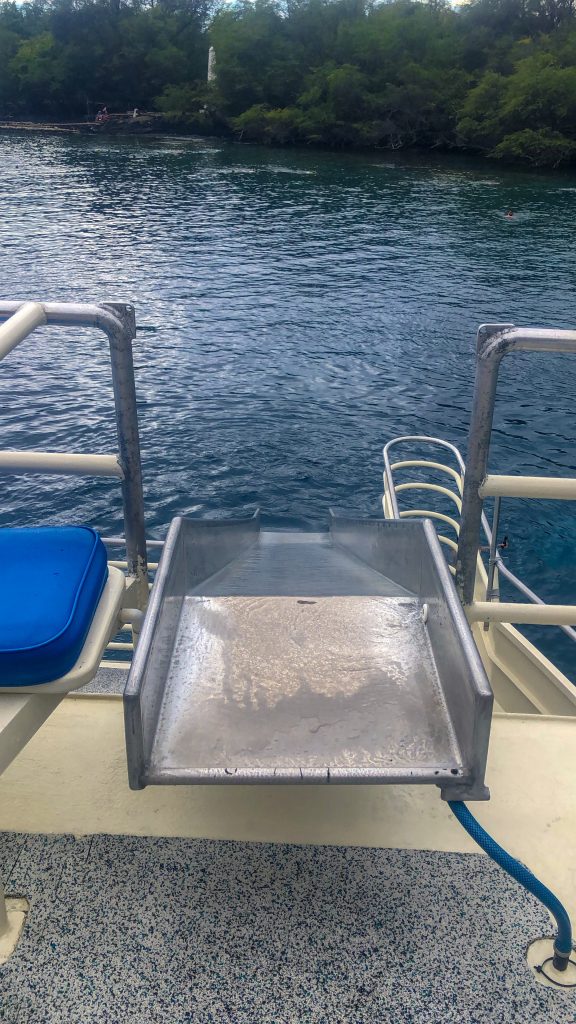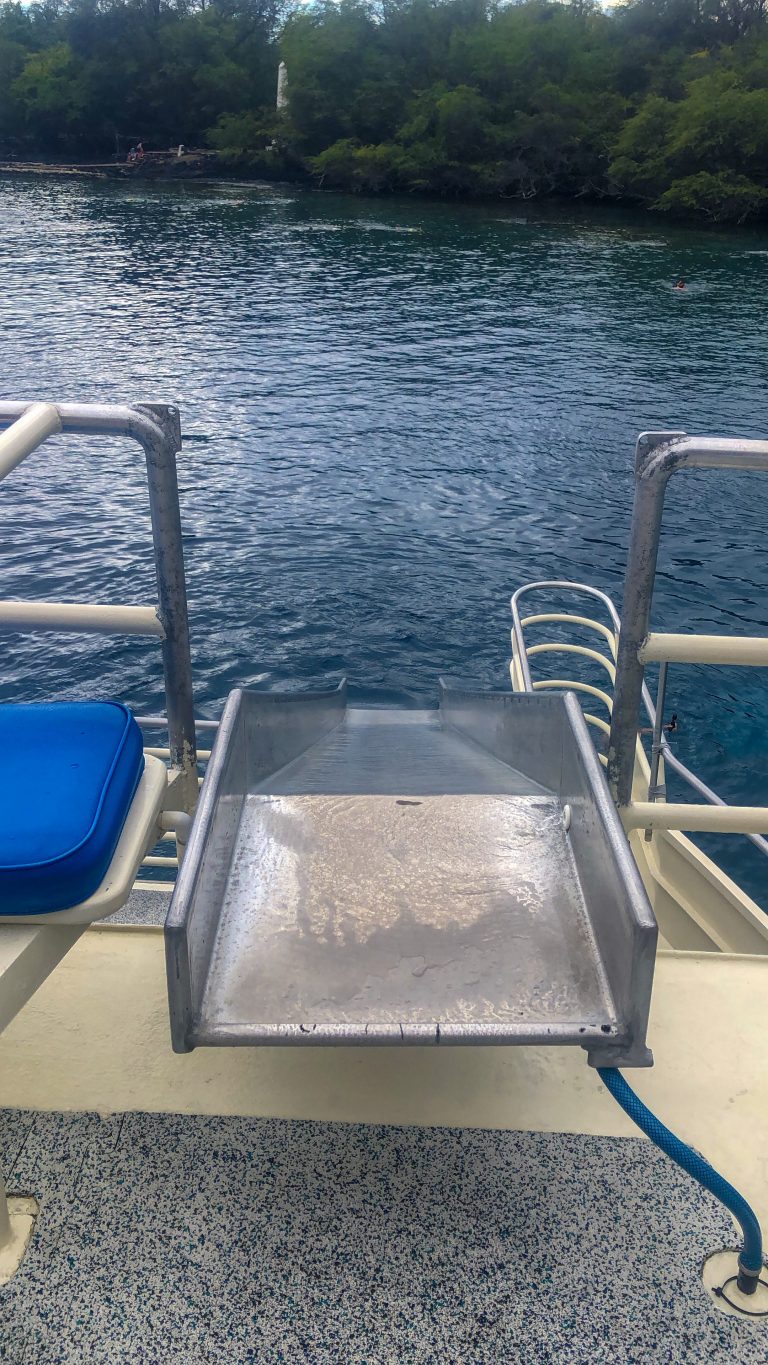 On the way back, they have an awesome presentation about the ocean life which was cool to learn from. They also have a cash bar which was a pretty fun way to end the cruise!
Overall, I was so impressed by how helpful and friendly all the staff on the boat was. We loved the location that we got to snorkel! It was much better than the places I had been to in the past. And the boat was super spacious and extremely clean.
If you are searching for something to do while visiting Kona, then a Kona Snorkeling Cruise with Fair Wind Cruises is the perfect idea! Find out more information and book your own adventure here!