If you have been following along over on my Instagram, you know that about a month ago I had my eyebrows microbladed. I was bombarded with questions and so I wanted to make sure to compile everything together in case you are thinking about having your own eyebrows microbladed.
Let's start at the beginning… I have naturally blonde hair which means that my eyebrows are blonde and pretty much undetectable from any distance unless I am wearing makeup. However, filling in my brows is certainly not my strong suit, and I was never really sure how to do it.
Every time I had my makeup professionally done, I LOVED the way that my eyebrows looked – I just couldn't seem to figure out how to create that look for myself. Enter microblading.
In case you aren't familiar with what it is, microblading is a form of tattoo where the artist uses a handheld tool to implant pigmant under the skin which resemble hair. PhiBrows is a manual, semi-permanent technique of hyper-realistic eyebrow drawing in which the shape of eyebrows is calculated according to facial morphology and golden proportion (phi 1,618).
Whether you have super light eyebrows, your brows are thinning, or you just don't have the right shape – microblading can help deal with all of this!
As you can see in the picture below, I have no makeup on my eyebrows and they are pretty hard to see.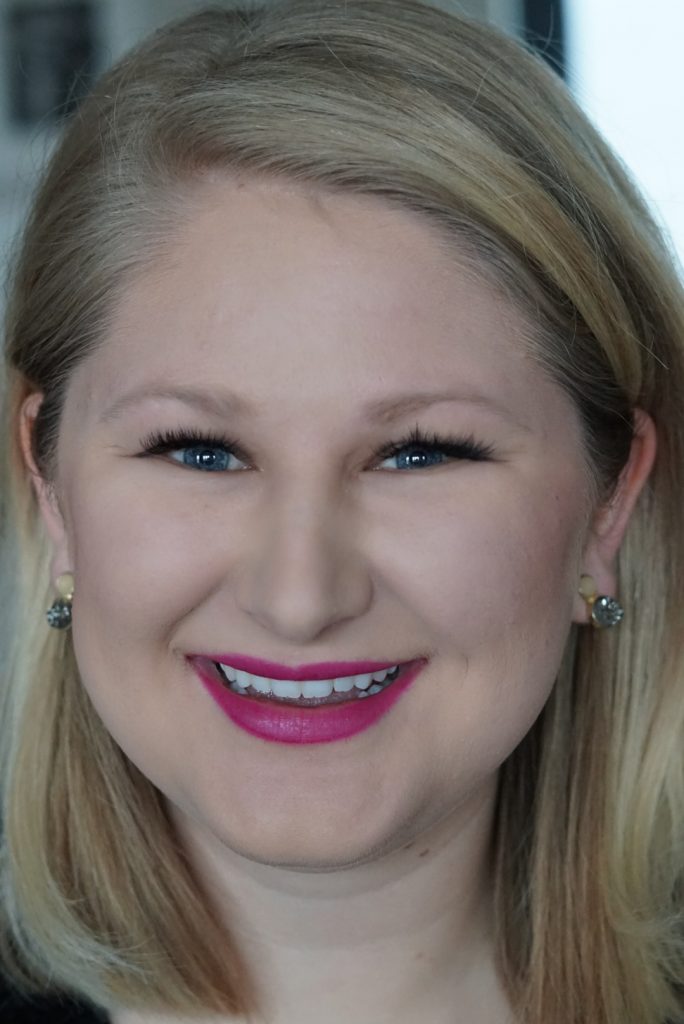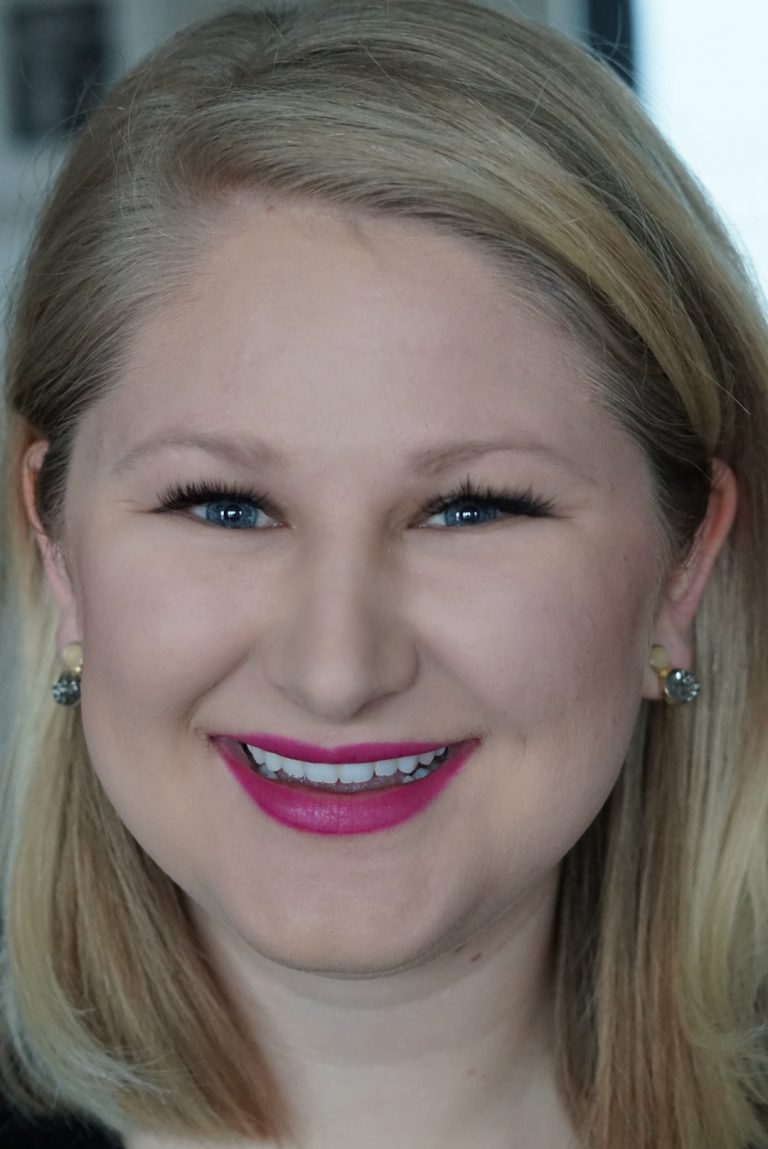 The day of the procedure
My appointment was around noon, and I was given a list of instructions to follow for 24-48 hours beforehand. Things like, don't drink alcohol or take Aspirin.
When I arrived, Adela of My Brows, set to work determining the perfect brow shape for my face. I was shocked by how precise and detailed this part was. There was lots of measuring and making sure that everything was perfect.
I could tell that she truly cared about her work because she paid so much attention to detail in this step. She even used an app that takes a picture of my face and makes sure that her drawing lines up perfectly to my eyes and nose. How cool is that??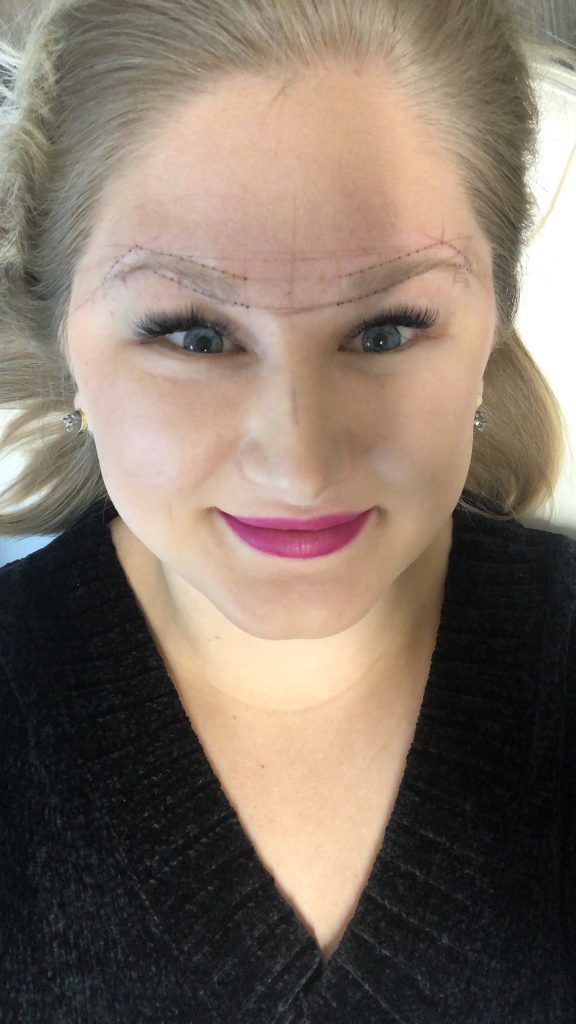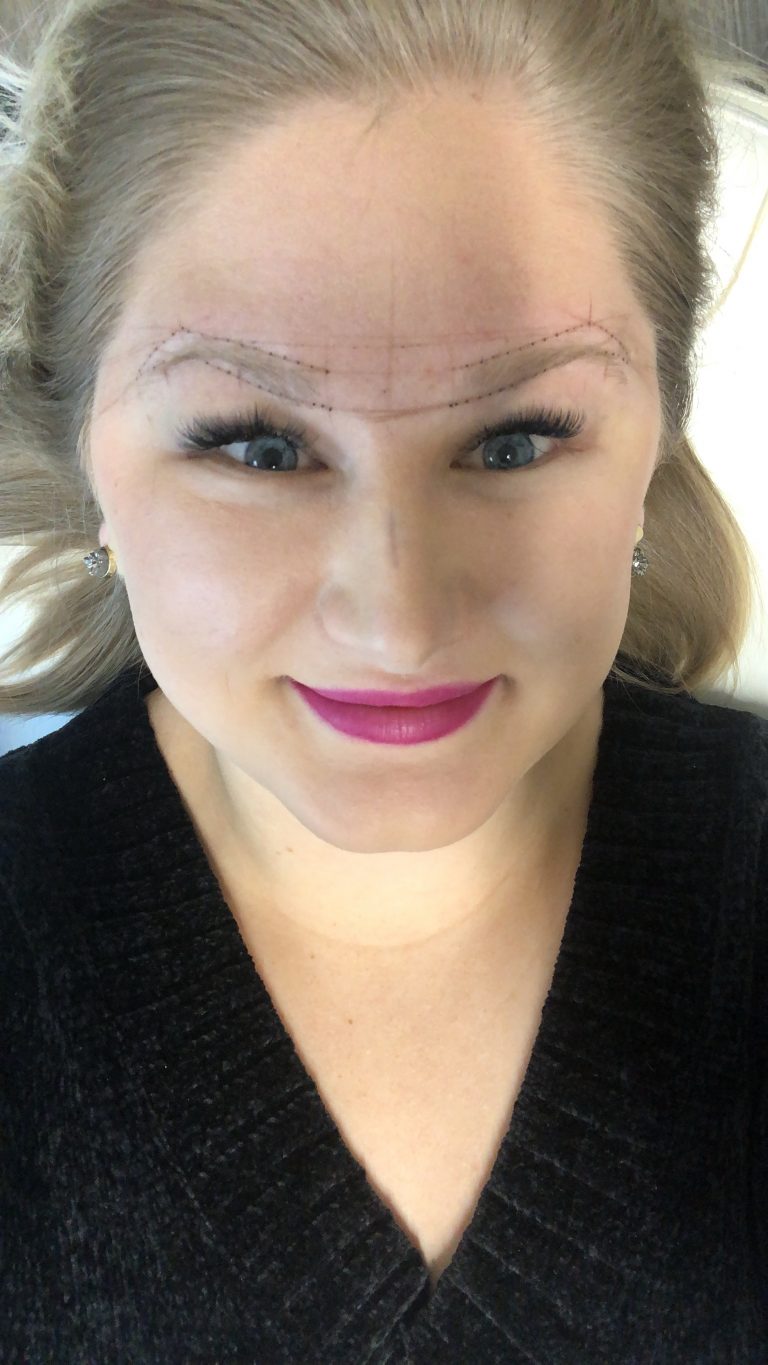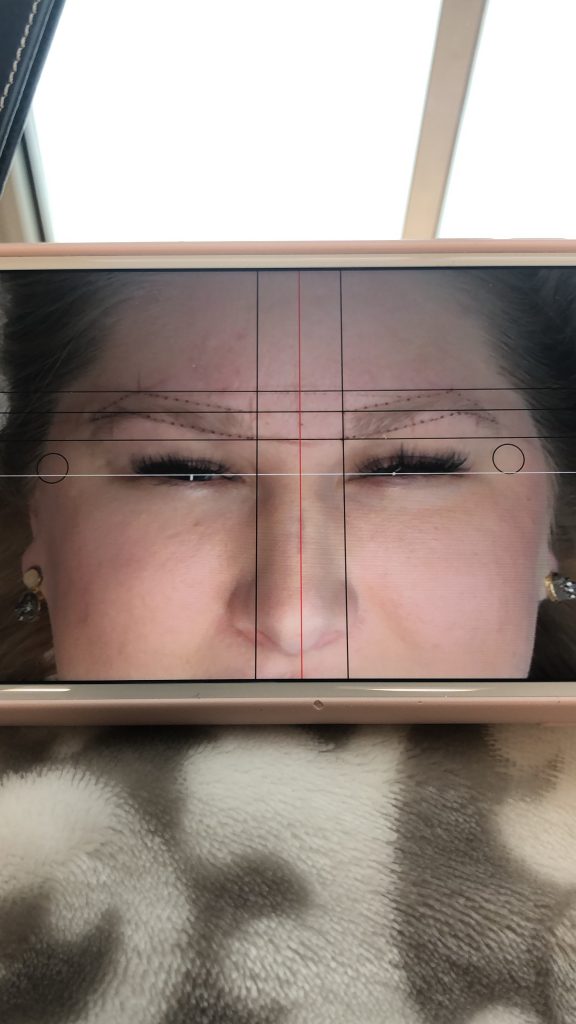 Once everything was correct, the actual microblading process started. I personally didn't think that it hurt very much. I mean, don't get me wrong, it wasn't enjoyable but it simply felt like small scratches.
The great thing is that Adela uses all PhiBrow products – which are super high quality. And the needle she uses is the thinnest and sharpest available. This means that she can make more detailed, precise strokes, and it hurts less.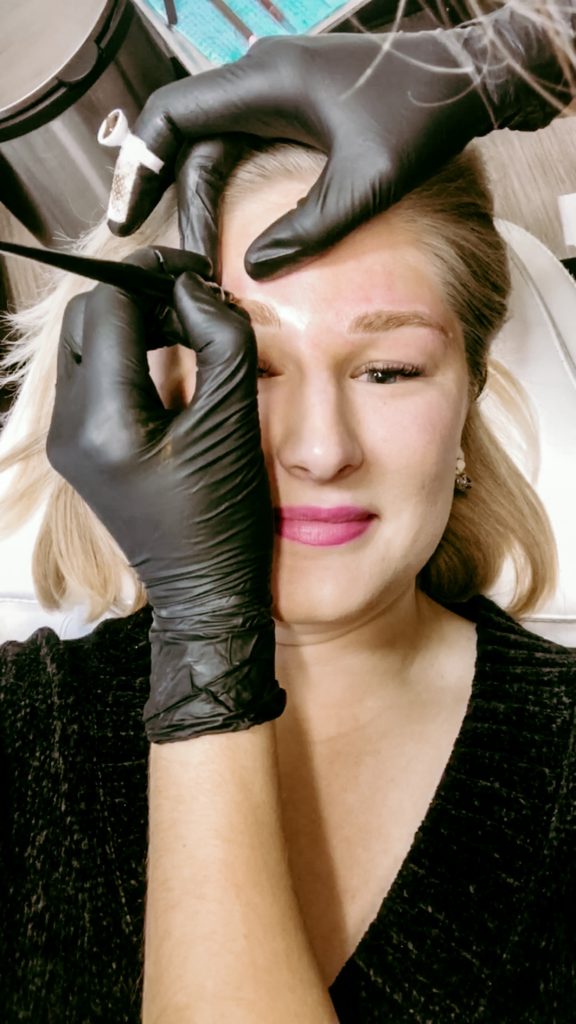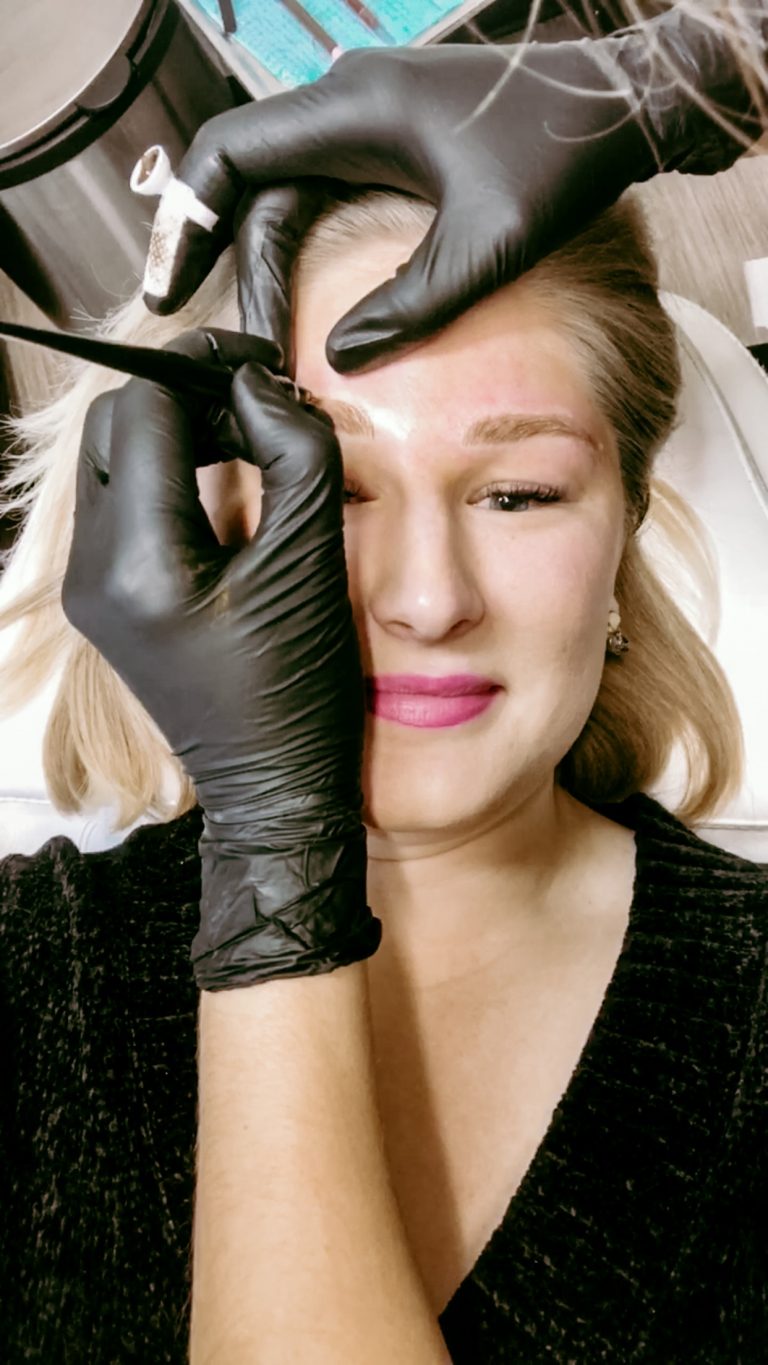 After she made all of the original "hairs", she did apply a numbing cream before going back through them. Once the numbing cream was on, I couldn't feel anything.
The entire process took a few hours, and I was shocked by how obsessed I was with result!
Below you can see how my brows looked right before we started and then again right after we were finished.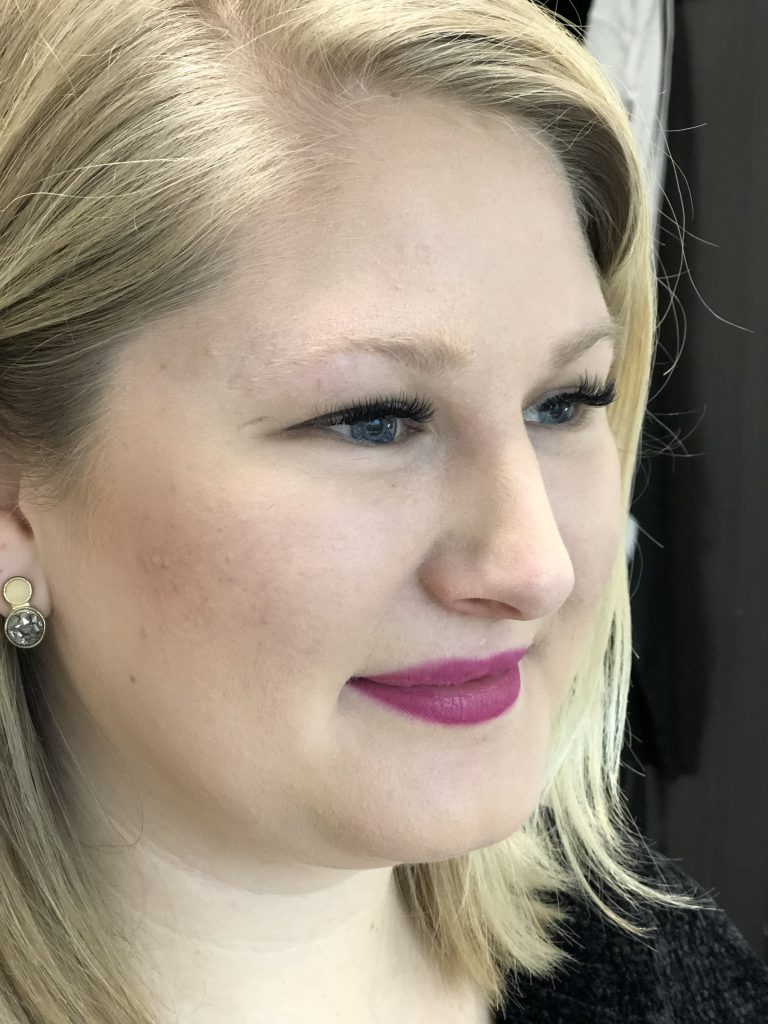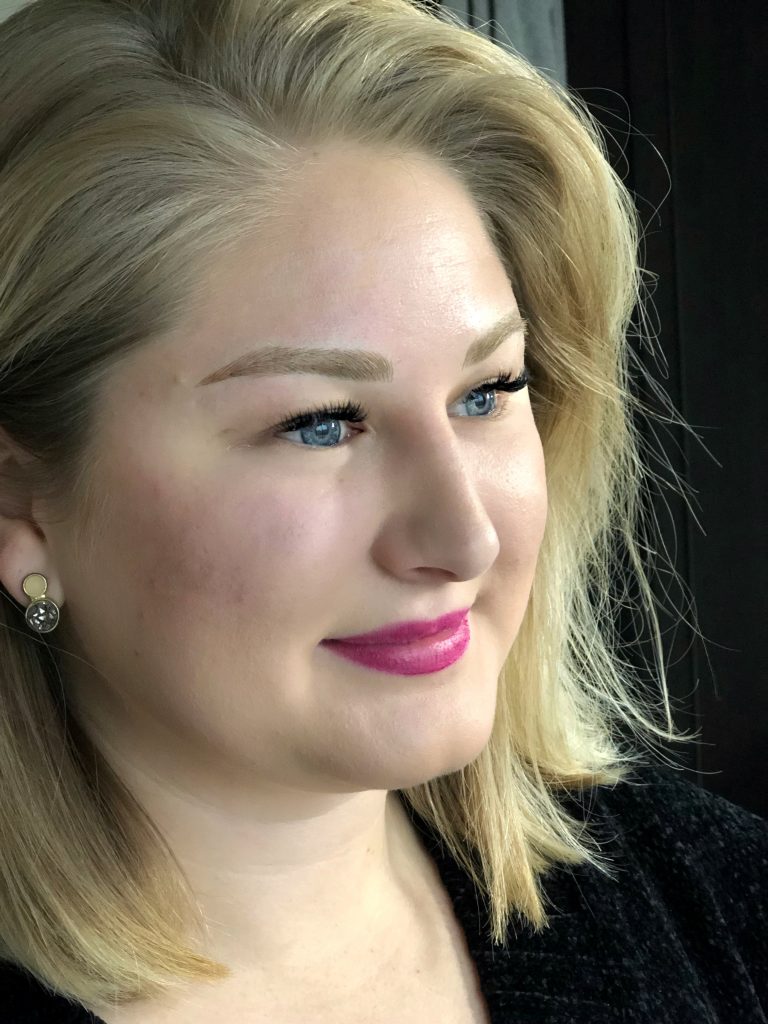 Pretty amazing, right?!
Aftercare and the follow up
I was sent home with a list of aftercare instructions which were really simple to follow. The healing process takes up to 28 days depending on your skin type.
This was the part that I was super nervous about because I had seen a few horror stories about the healing process online. However, I should never have been worried because I went to an amazing artist who used the highest quality products. The healing process was a piece of cake.
You can see below how the brows changed over the next 10 days. They certainly lighten and not all of the pigment stays depending on your skin type.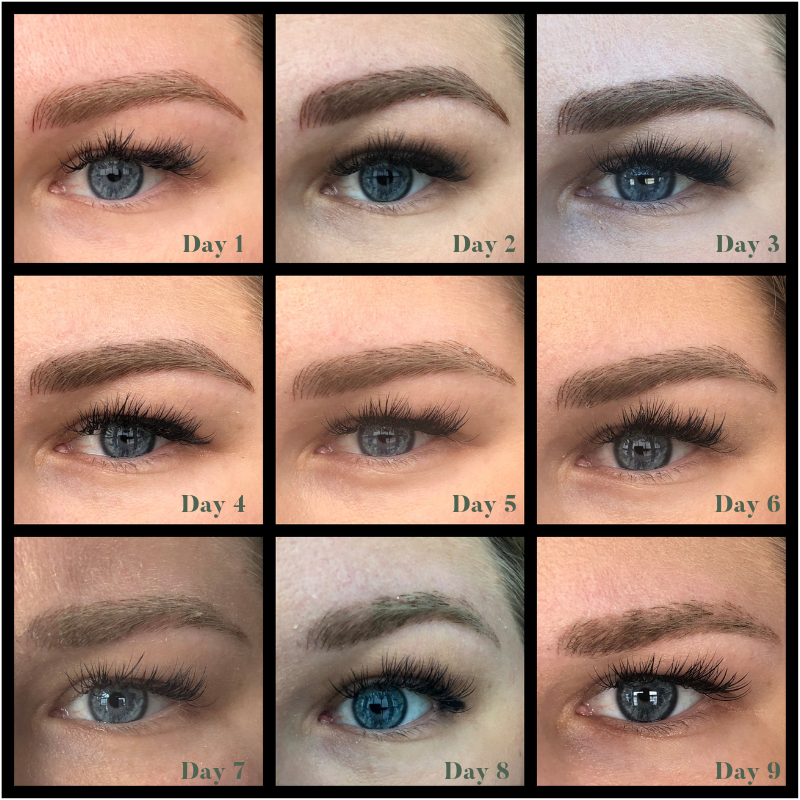 After the 28 days, a follow up appointment is scheduled to get them retouched. When I went back in my appointment, I knew I wanted them a bit darker. Adela was able to mix a color that she thought would be darker, yet still look natural and compliment my skin tone.
Below is before and after the touch-up.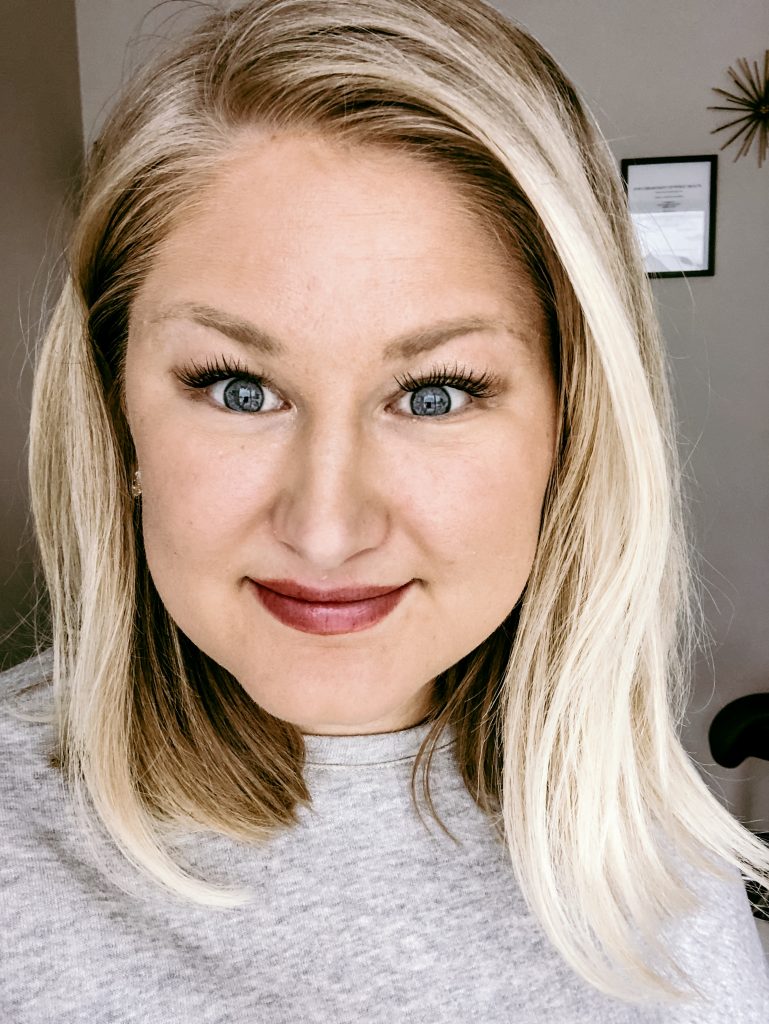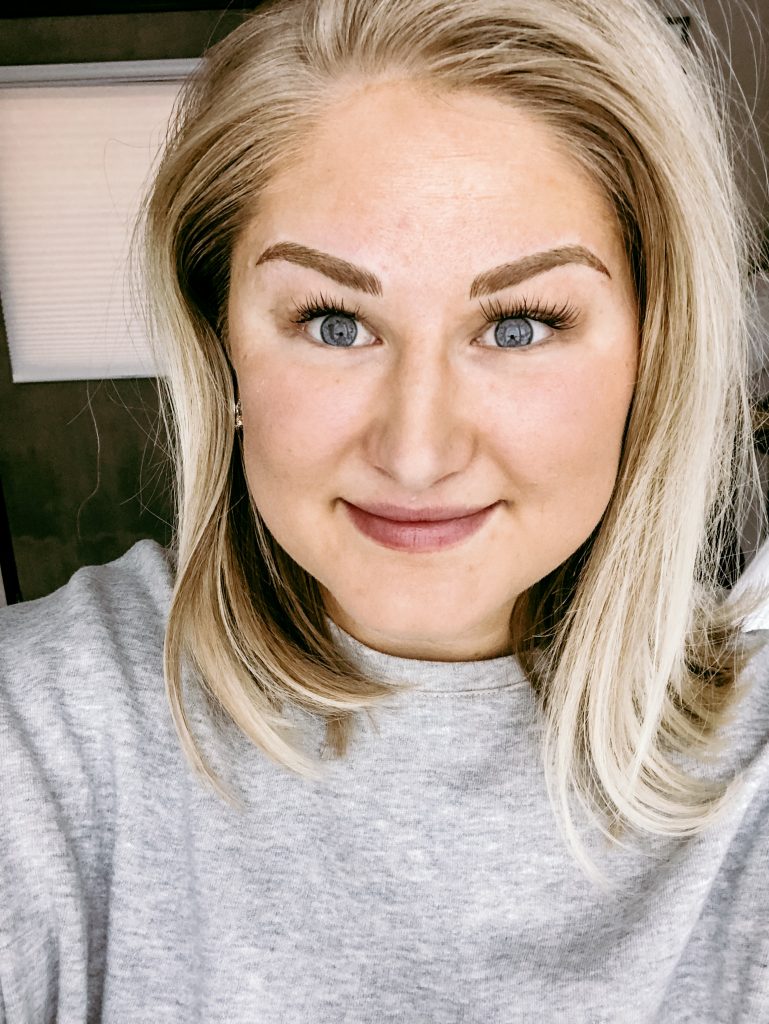 As you can see they are now darker and more defined. During the next 28 days, they will fade again (like you saw above). And after that, I will be sure to add a picture of them healed.
View my 1.5 year microblading update here!
Overall, I think this is honestly one of the best beauty decisions I have ever made.
I absolutely love the way that it looks, and how easy it is in the morning! I highly recommend it, but you also need to make sure that you find an amazing artist.
Even in Des Moines, I have had multiple people reach out and say they had a bad experience. And this was due to them going to a bad artist. So do your research. If you are local, I can't recommend Adela with MyBrows enough. She is incredible!
If you aren't local, you can always search the PhiBrow website to find the nearest artist to you!
Here is a list of FAQs that I got from many of you:
Who did you go to?
Adela of MyBrows in Des Moines, IA. She is an amazing PhiBrows artist! If you aren't local, you can always search the PhiBrow website to find the nearest artist to you! 
Is it painful?
I personally didn't think that it hurt very much. I mean, don't get me wrong, it wasn't enjoyable but it simply felt like small scratches. Pain is relative and the result is sooooo worth it!
How long does it take?
It took about 3-4 hours for the initial appointment and about 2 for the second. I never felt rushed with Adela, and I could tell that she always took extra time to make sure every hair was perfect!
What is the down time?
The healing time takes up to 28 days but there isn't really any downtime. During the first 10 days of healing my brows flaked a little bit but it wasn't anything very noticeable and it certainly didn't keep me from daily activities.
You do need to avoid excess sweating (working out) and water for at least 7 days so keep that in mind when scheduling your appointment!
What is the cost?
This will vary depending on your location and the skill of the artist. Right now, the national average is around $425. This is certainly not a procedure that you want to look for the cheapest price – if you can't afford a great artist, I would simply not do it.
How long does it last?
Depending on your skin, it can last up to 3 years. However, most people find that they need touch-ups after 1-2 years.
Have more questions? Drop them below and I will do my best to answer them!