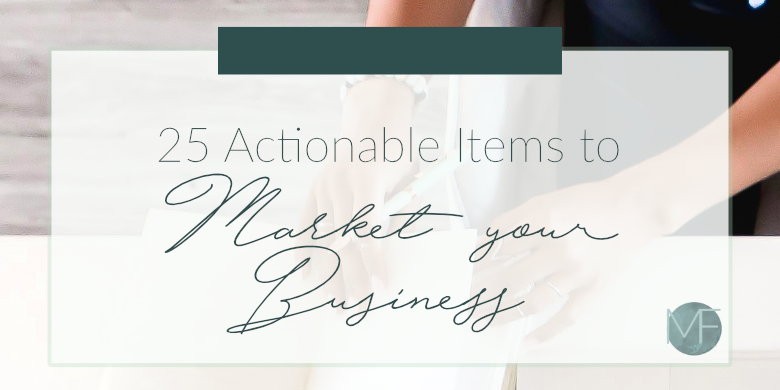 This month I turned 25! In honor of my birthday, I wanted to celebrate with all of you by sharing the 25 things that you can do this week to market your business. I am sure you are doing a few things on this list already but don't be afraid to get out and try something new!
25 Ways to Market Your Business
1. Send Notes to Past Clients
Check in on how they are doing and see if they maybe could use your help again (or know someone that can)!
2. Host a Free Training
Everyone loves free things- especially when it is a resource they can refer back to and learn from.
3. Use Social Media
This is kind of obvious, but certainly a way to get yourself out there!
Related Post: 10 Must Have Tools For Social Media Management
4. Ask for Referrals
Reach out to friends, family and business associates to see if they have any leads for you.
5. Attend a Networking Event
Networking is a great way to connect with people in your niche, to grow your reach and work with new clients. Most of my clients have come through networking!
Related Post: Why Networking Is Important
6. Email Your Subscriber List
Having an email list is an important key to growing your business and driving traffic to your website.
Related Post: A Unique Way to Grow Your Email List
7. Promote a Special Discount or Offer
Everyone likes to feel like they are getting a great deal! Get more exposure to your products by offering a discount or special limited time sale.
8. Write a Guest Post
This can help develop a relationship with another Entrepreneur in your niche, as well as get your name in front of a different audience.
9. Network in Facebook Groups
Facebook groups are one of the best tools and most helpful to have. This is a place where you can connect with like-minded people and those in the same niche as you.
10. Create a YouTube Video
Having a visual aid will cater to the learning style of multiple people, plus help shake things up a bit.
11. Find a Business Buddy
Find someone in your niche that you can bounce ideas off of. Working from home or as an Entrepreneur can get lonely – find someone to connect with!
12. Create a Freebie
Most people I have spoken to love freebies. Creating a freebie will not only help you but it will help others. When they see how their business has transformed with your help, they will come back! Also it is a great way to grow your email list.
13. Speak at an Event (can be virtual too!)
Speaking online or at an event is a way to help other entrepreneurs succeed while growing your business and creating new contacts. Check out the event that I will be speaking at here!
14. Sponsor an Event
Sponsoring an event you support is one way to promote your business while supporting other businesses.
15. Host a Giveaway
This can get your name and product/service in front of new potential clients!
16. Interview Others
17. Offer an Affiliate Program
18. Run a Social Media Ad
19. Host your own event!
(Probably not something you can plan in a week but the foundation can be laid!)
20. Comment on other blogs
Share the love!
21. Reach out to local media
You never know if someone will feature you or not until you try.
22. Get on Anchor!
23. Host a Twitter Chat
24. Go Live on Instagram Stories
This is a great way to show up in people's profiles! You can chat about your services, new business advice or even personal things! Follow me on Instagram here to see how I do it!
25. Share your success with the world! We want to hear about it!
Now, leave a comment and let me know which items you are going to tackle! Good Luck!