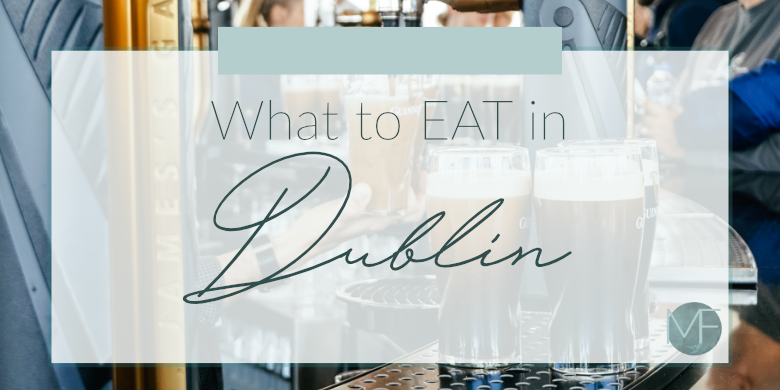 First of all, if you haven't checked out my post on things to do in Dublin then head there first! Already read that one? Great! Then we can get back to what to eat in Dublin! I have to admit that my family has always been huge foodies. Every vacation I ever went on when I was growing up, we pretty much always had our food planned out. I am super fortunate that my parents allow me to experience different foods and try new things because I think that has made me much more adventurous (in my food choices) today.
Now, when I am planning a trip, I always scope out at least 2-3 restaurants that we have to get to and then a few others that I would like to try if we find the time. Planning our trip to Dublin was no different. I like to find restaurants that are unique and not something that we can get often. Whether that means that the food is unique or the atmosphere – I love getting to experience new things!
Before we get started, I wanted to add a short disclaimer…. Manuel and I spent four days in Dublin and so we (by no means) got to try that many restaurants. However, having tried restaurants all over the world, I typically know when I have found a gem. That being said, I am sure there are many many more amazing restaurants in Dublin – we just didn't get to those! So take my suggestions with a grain of salt and feel free to branch out and try others when you visit Dublin if time allows!
What to Eat in Dublin
This was one of those restaurants that I had found before we left that was on the "would love to try if we find time" lists. Luckily for us, we had time on our last morning in Dublin before heading to the airport to catch our flight. This cafe was just a short walk from where we were staying and Manuel wasn't 100% convinced when we got there because the menu was a bit different than a "normal" breakfast place and we had to order at the counter.
However, since we had walked there already we decided to give it a try and I am so glad we did. I ordered the avocado toast with an egg and it was the BEST avocado toast I have ever had. Seriously guys. I would consider flying back to Dublin just to eat this again. It was a bit of a strange combination with peanut butter slathered on thick crusty toast, topped with avocado egg and jalapeno. The mix of savory, spicy, creamy and crunchy was just a dream.
Manuel had the porridge which was also amazing (and so much food!) And we split a cinnamon role – also delicious!
The entire time we were in this cute little cafe, it was packed. People were constantly going in and out and many of them seemed to personally know the waiters so I am sure they are regulars. If you visit Dublin, you gotta make this a stop one morning and have an avocado toast for me (I am drooling just thinking about it!)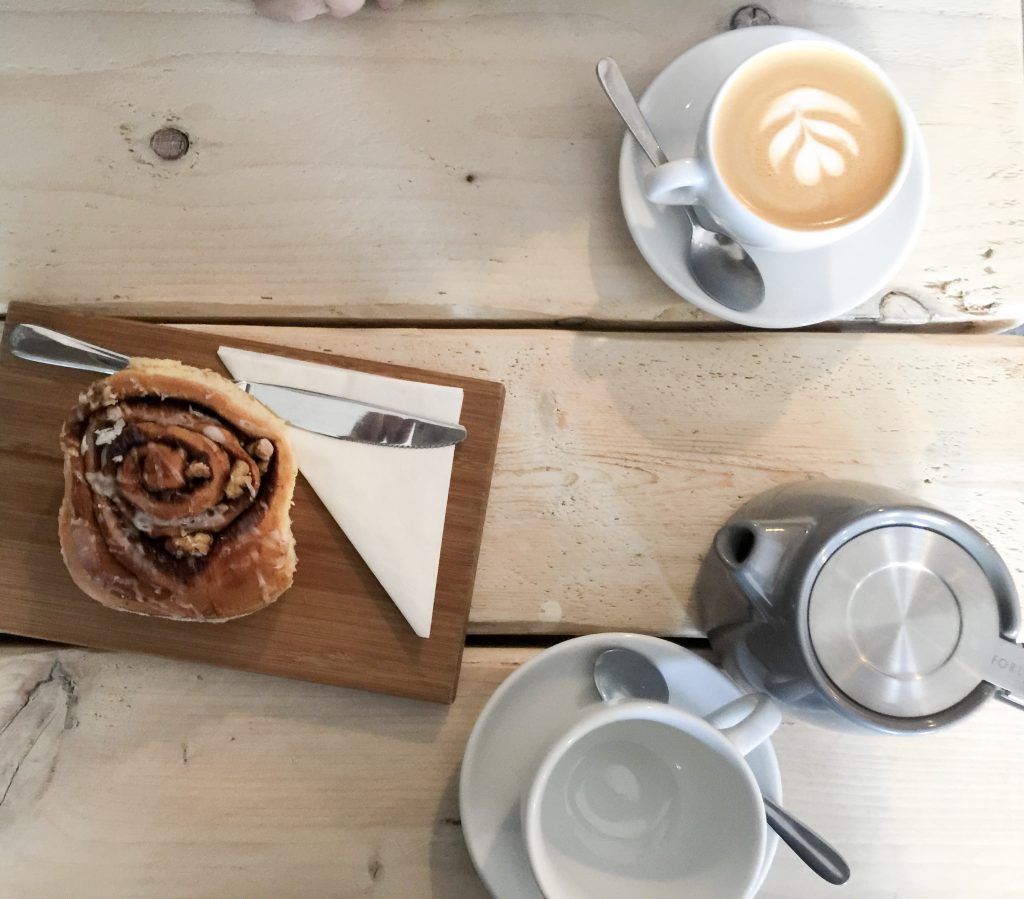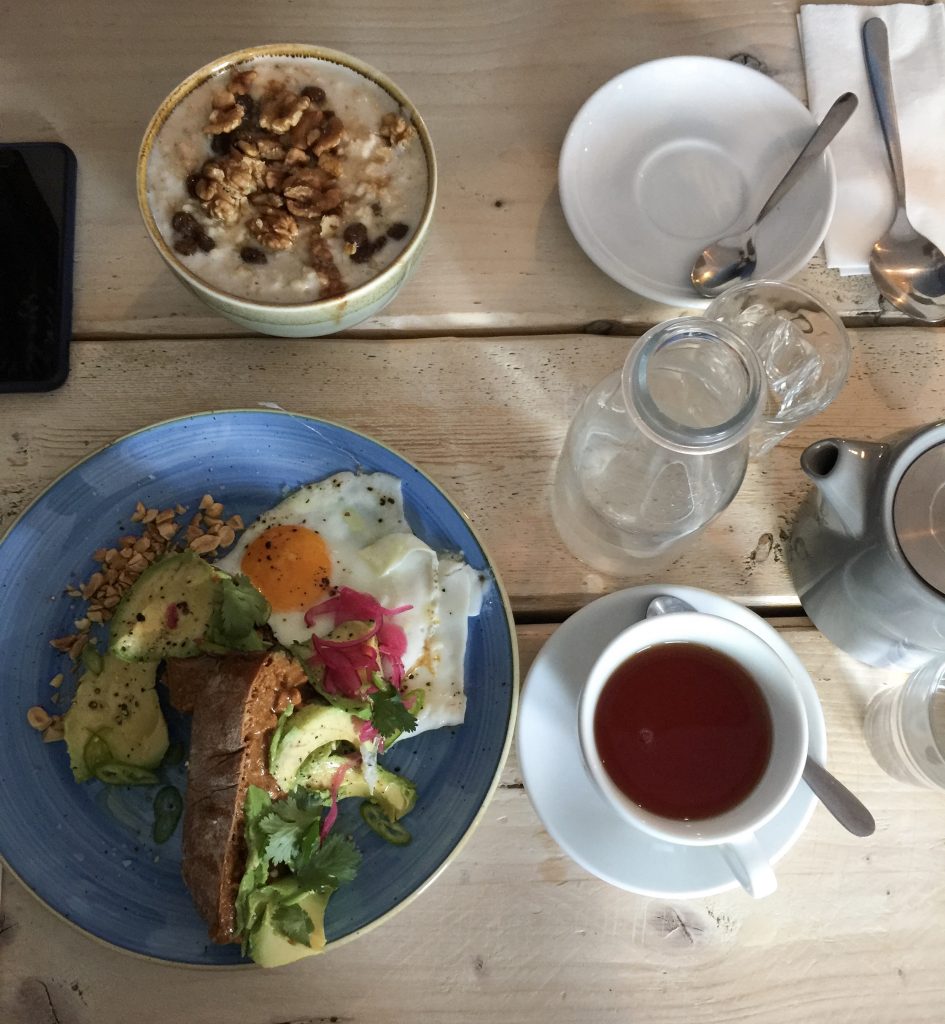 The second place that I would recommend for breakfast (or afternoon tea) is Queen of Tarts. We actually just stumbled upon this restaurant while trying to find a spot to grab a coffee and kill some time before our tour started. Walking in the door, we were instantly hit with the smell of freshly baked scones – an immediately good sign. Because we had already eaten breakfast when we came here, we decided to get coffees and share a chocolate chip scone which was delightful. The breakfast plates that were being served all around us looked so good and the numerous pastries were certainly something I wanted to try one of everything.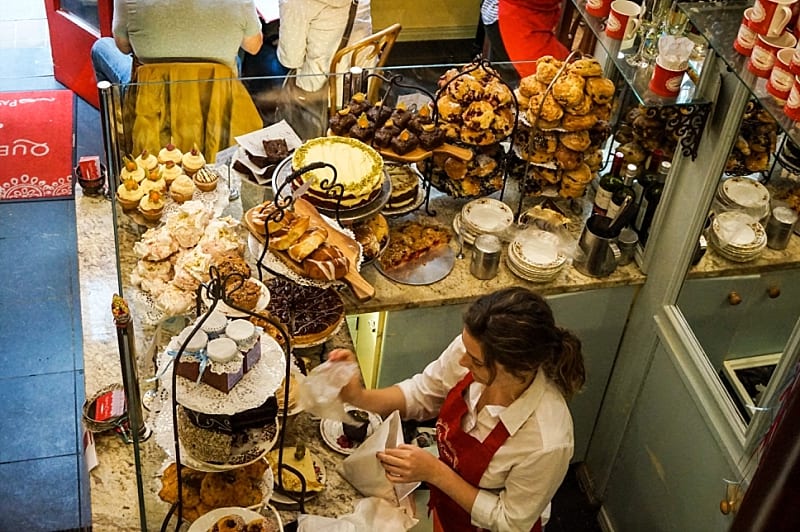 Our tour guide actually took us to Joy of Cha and I almost didn't get anything because the tiny shop was crowded. However, since it was a cold morning, a hot tea did sound good. When I got inside, there was an entire wall filled with all different kinds of tea (I was a bit overwhelmed). And when it was my turn to order, I simply asked for whatever was the waiters favorite. He pressed a bit further to try to help me asking – what kind of tea I prefer (black or green) and what flavors were my favorite (fruity), before suggesting their cinnamon pear tea. It was an excellent choice and probably one of the best teas I have had. It was so unique in the flavor profile that I wish I would have bought some to take back with me… next time!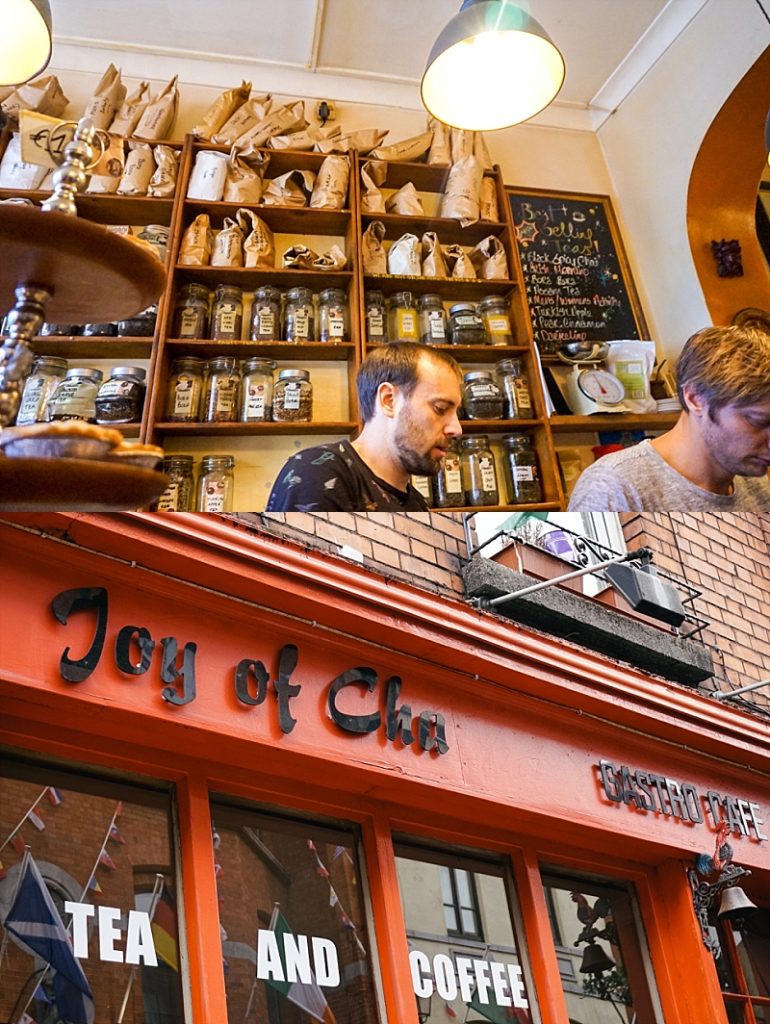 This restaurant is inside the Guinness Storehouse so it is the perfect spot to grab lunch after your tour there. We arrived right when they were opening and asked for a seat by the window. Since it is on the 5th floor, the views over Dublin are pretty great! Here we were able to have oysters (ok, I was able to have them, Manuel doesn't like them) and a Scotch Egg. It was a great place to enjoy food, a beer (of course!) and the views!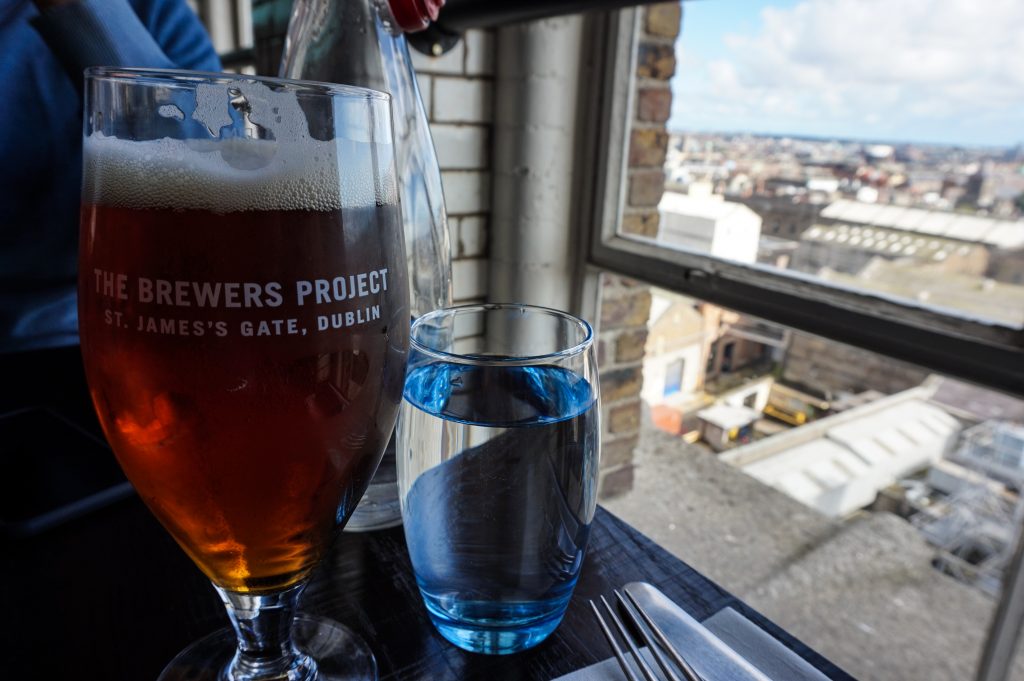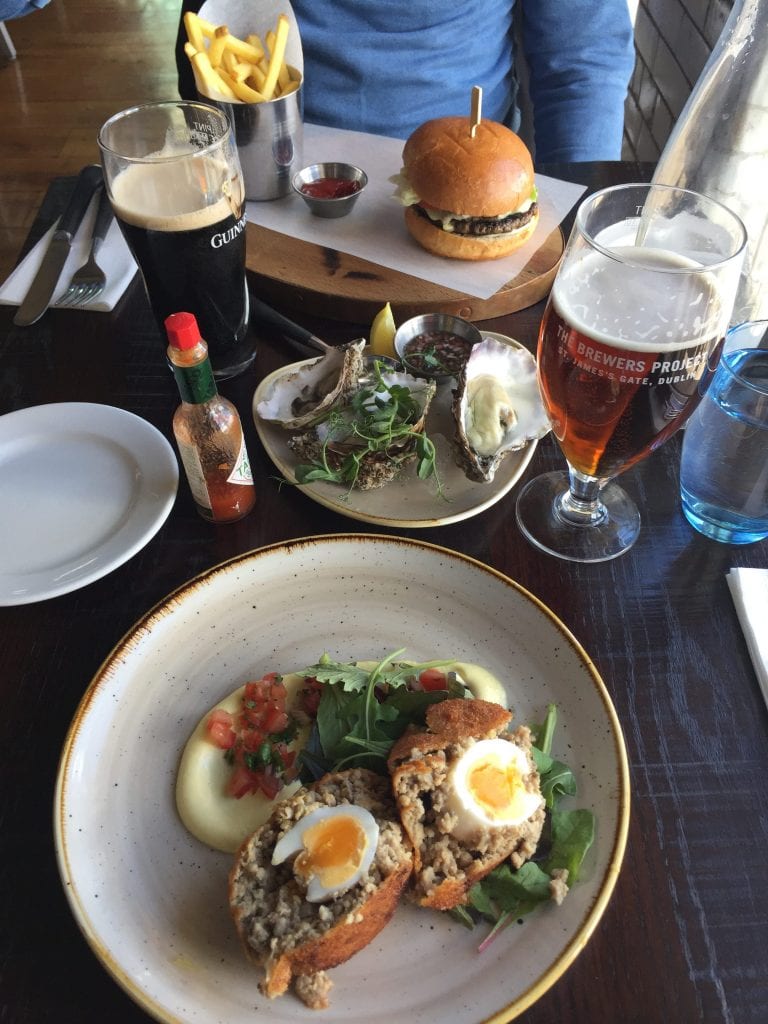 This was the first restaurant that I knew we had to go to. I made reservations the same day that we booked our plane tickets and I looked forward to it as a highlight of our trip. The special thing about The Blind Pig? It is a hidden speakeasy-style restaurant. The location and instructions on how to access the restaurant are only revealed after a reservation is approved.
The food was delicious- I had mushroom tortellini and Manuel had the pork. Each were great, while the portions were a bit small. They have a gigantic list of cocktails (their specialty) which were tasty too. I don't want to give away too much because that is the allure of this place. If you do decide to go here, make sure to make reservations and plan to spend a decent amount of money (with drinks and food about 30-50 euros per person).
We loved the seafood that we got in Howth (a short train ride away from Dublin)! We chose this restaurant because it was bustling with people and they promised fresh and local foods. They actually source their seafood from the fisherman next door (it doesn't get much more local than that!) Manuel had the fish and chips and I had the seafood paella. Both were deliciously fresh. The only word of warning is that we did wait for quite a long time before anyone would serve us so this is probably not the restaurant for you if you are looking for a quick bite.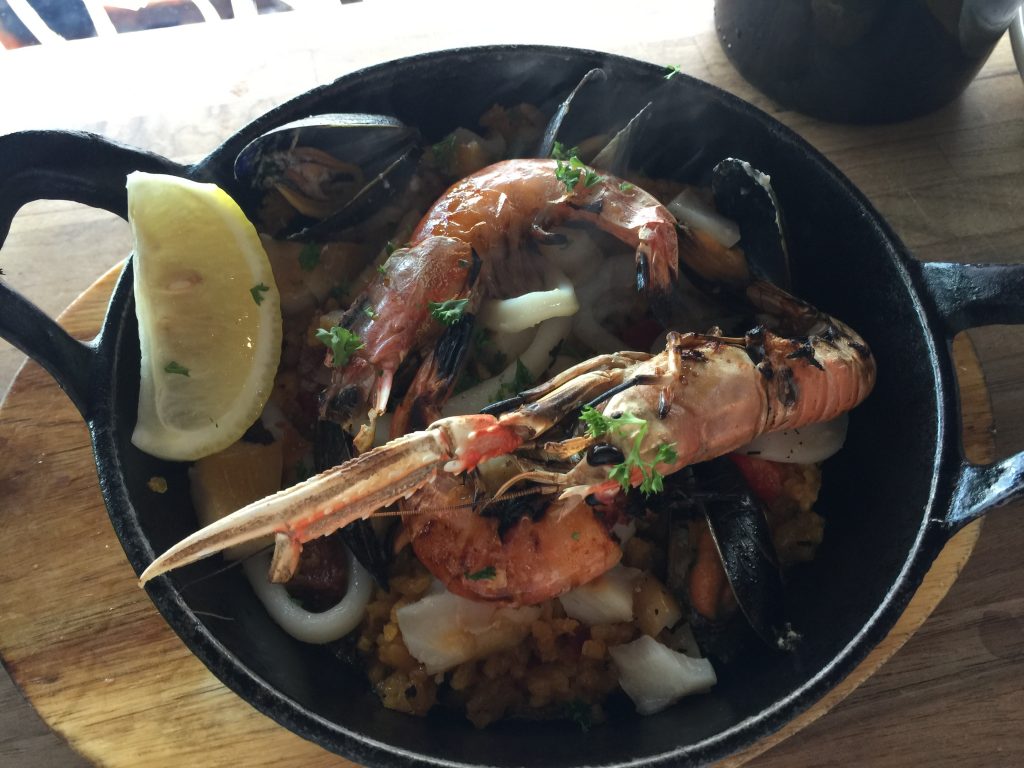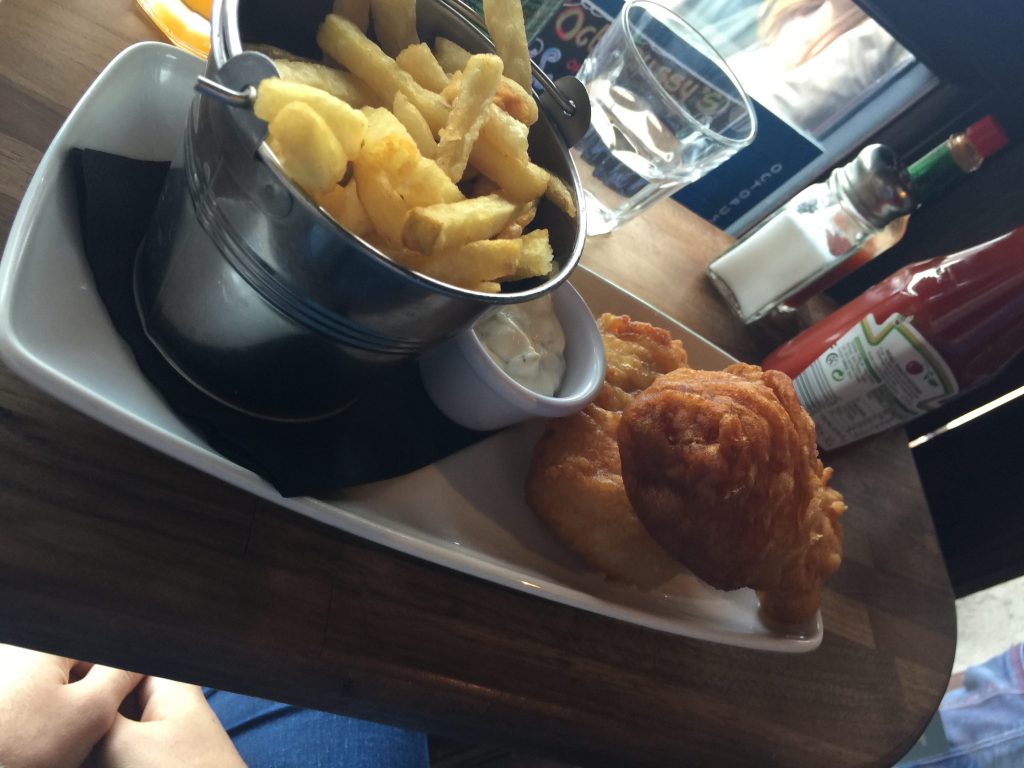 And that wraps up my list of suggestions on what to eat in Dublin. Do you have other suggestions or places that you just love? I would love to hear about them! Just comment below.