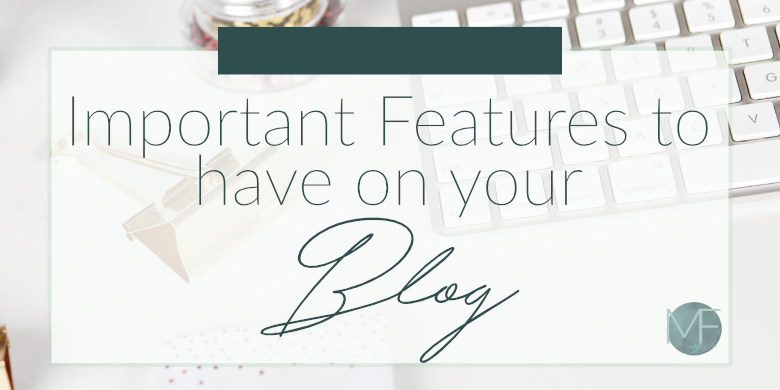 Each blog should be unique in it's own way. However, there are specific things that each and every blog should have in order to make it a successful one. In addition to solid branding (logo, colors, etc.) the layout and content, there are so many important website features that most bloggers and small business owners forget or do not think to include on their website. I put together five of the most important things that should be on your blog.
1. About Me Page
Having an about me page is important for readers to learn about you personally. Just because you are creating an online space, doesn't mean you should be impersonal. This is a spot where you can share your story, showcase your career and/or your blog's achievements. How deep you want to get is completely a personal choice. However remember that readers come to this section because they are interested in YOU! See my About Me page here.
2. Contact Page
A contact page is necessary for readers, sponsors or partners to get in touch with you. This is the page where people can find your information for interviews or features. By having an up-to-date email, this allows people to reach out to you. If you are getting too many emails from this page, it is a great idea to have a form that people can fill out, then you can filter responses based on their answers.
3. Interactive Section
Make sure you have space for readers to interact, share their experience and questions. Enabling a commenting section on your blog will give viewers the space they need. Another tip for this: try to make sure your commenting section is open to everyone. Something that annoys readers is when they have to create an account and sign up for another platform just to comment. And if you do have a comment section – RESPOND to the comments you get! It will help create a dialog and make you feel 100x more personable!
4. Organized Archive Section
An archive is perfect for those who have stumbled upon your blog and want to see what kind of content you create. I love binge reading other bloggers ideas and tips- especially on rainy days. Make sure this is easy to find and easy to navigate. I separate mine based on topic: Business Tips | Lifestyle | Travel | Fashion | Beauty
5. Call To Action
You created the blog for a reason. It is important to direct your audience somewhere. If you are a business that is blogging, create a spot on your blog for people to inquire about your services. Another call to action is utilizing and growing your email list (which I highly suggest, even if you aren't a business!).
Those are 5 of the most important features that blogs need. I would love to hear how your traffic and interactions grow as you make the changes to your blog. Feel free to comment below!
Don't want to go through all of these steps? Contact me here to have me do it for you!