Is there anything like chili and cornbread? If you are from the Midwest, like me, you might say chili and cinnamon rolls (yes, that is really a thing we like to eat together). However, I have always prefered cornbread with my chili and this one is so delicious and easy!
Manuel loves that the chili is vegetarian, and it can easily be frozen to eat later. I will certainly be making a batch or two of this while on maternity leave because you simply throw it all in the pot and you are good to go!
I start with the cornbread so that it can be completely cool when serving. I find that it tastes better once it has cooled down a bit. But if you want it warm, make the chili first.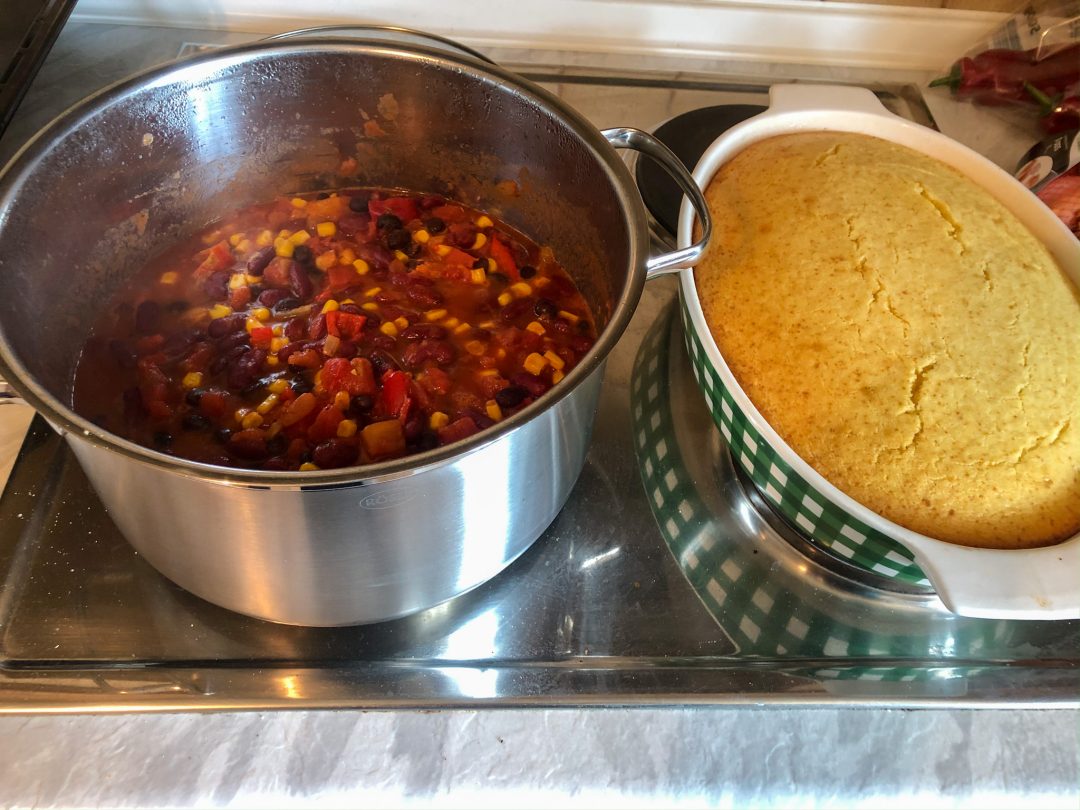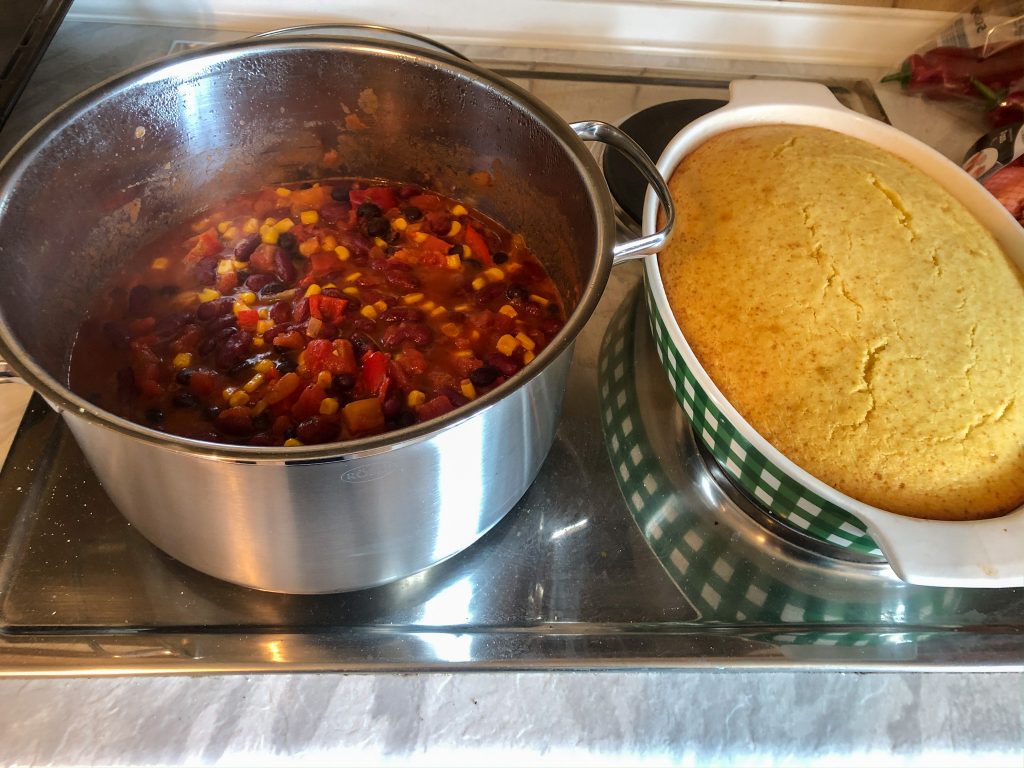 Super Easy Cornbread Recipe
Ingredients
2 cups flour
1 cup corn flour or corn meal
1 cup sugar
1 1/2 tablespoons baking powder
1 teaspoon salt
1/2 cup (8 tablespoons) butter, melted
1/2 cup oil
1 1/4 cups milk
3 large eggs
honey and extra butter for serving (optional)
Instructions
Preheat oven to 350 degrees and grease a 9×13 inch pan with butter.
In a large bowl whisk together flour, cornmeal, sugar, baking powder, and salt.
In a medium bowl mix together butter, oil, milk, and eggs.
Add wet ingredients to dry ingredients and mix until combined.
Transfer batter to your prepared pan. Bake for 35-45 minutes until golden and a toothpick inserted in the middle comes out clean or with only a few crumbs (no wet batter).
Allow to cool for 15-20 minutes in the pan before cutting into squares and serving. Serve with butter and honey if desired. Store in airtight container at room temperature up to 3 days or in the fridge for 1 week.
*Original recipe adapted from Creme de la Crumb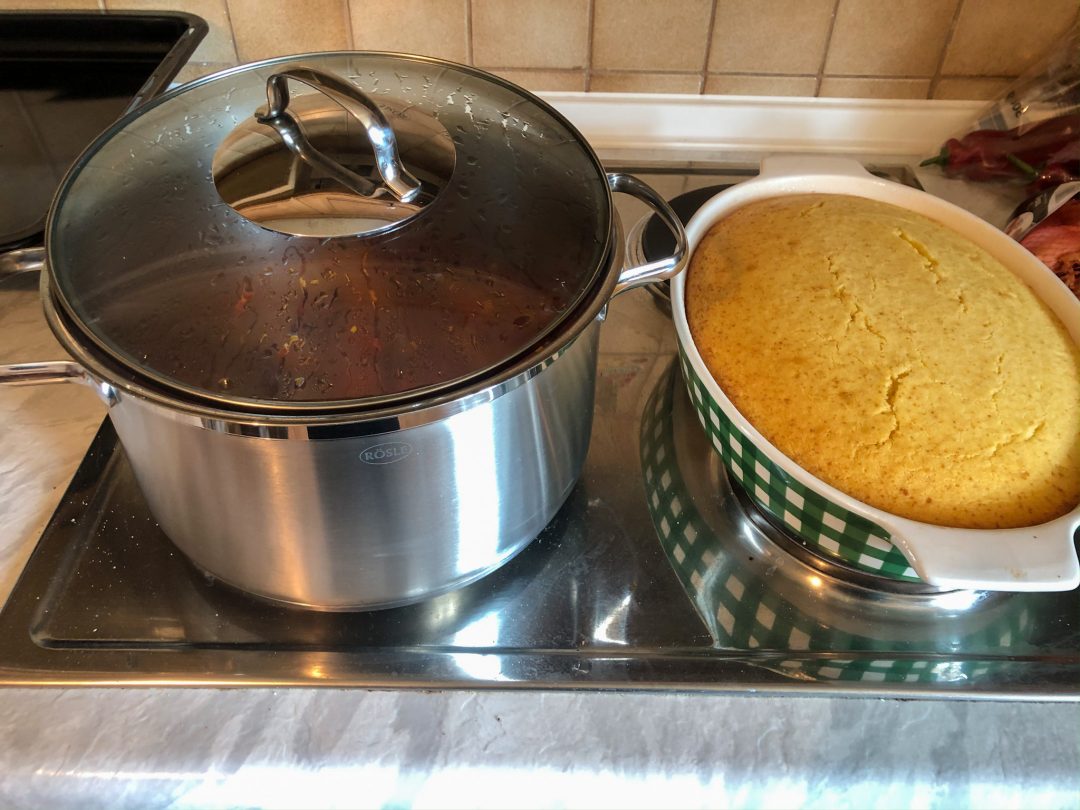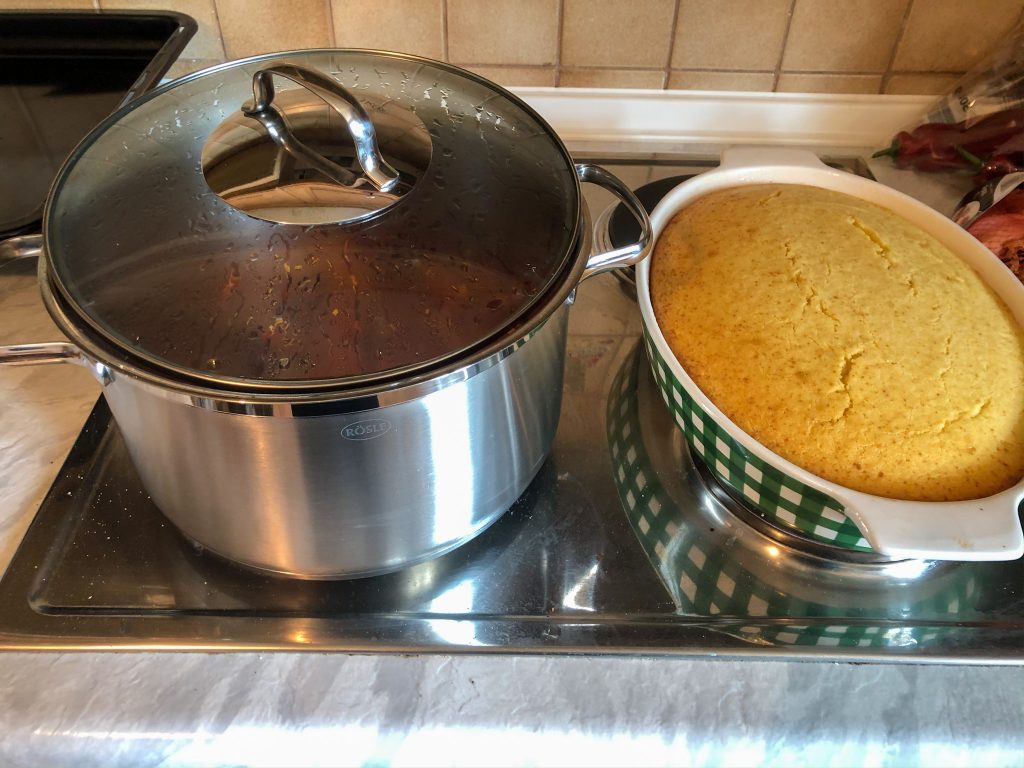 Super Easy Chili Recipe
Ingredients
2 tablespoons olive oil
1 small yellow onion, diced (1 cup)
1 red bell pepper, diced (heaping cup)
2 tablespoons ground chili powder
1/2 tablespoon dried (NOT ground) oregano
1 teaspoon ground cumin
1/2 teaspoon EACH: dried basil, seasoned salt, cayenne pepper, paprika
1/4 teaspoon cracked pepper
1/2 tablespoon white sugar
2 cans (14.5 ounces EACH) fire-roasted diced tomatoes
2 cans (14.5 ounces EACH) black beans, drained and rinsed
1 can (14.5 ounces) pinto beans, drained and rinsed
1 can corn
1 cup vegetable stock (vegetable broth will work)
Toppings: cheddar cheese, fat free sour cream, avocado, cilantro, chives, tortilla strips, etc.
Directions
Place a large heavy-bottomed pot (or dutch oven) over medium heat. Pour in the olive oil and wait until shimmering, about 20 seconds. Add in the diced onion and stir for 3-4 minutes. Add in the diced pepper and cook these veggies, stirring occasionally, until they are all very tender, about 6-9 minutes. 
While the veggies are getting soft, measure out all your spices, combining them into a small bowl: the chili powder, oregano, cumin, dried basil, salt, cayenne pepper, paprika, pepper, and sugar. Stir together and set aside until onion/pepper are tender.
Add in all the seasonings you've already measured and set aside. Cook, stirring constantly, until the seasonings are fragrant, about 45 seconds – 1 minute. Be careful to not burn.
Carefully add in the UNDRAINED diced tomatoes (they might sizzle splatter up a bit) and stir. Add in the drained and rinsed black beans, drained and rinsed pinto beans, corn, and vegetable stock.
Stir to combine everything. Reduce the heat as needed to maintain a gentle simmer, and stir occasionally, for 25-30 minutes.
Remove 1 and 1/2 cups of the chili and transfer to a blender. Ensure the lid is securely fashioned and blend. Once smooth, pour this mixture back into your chili. Stir to combine.
Season to taste. Garnish individual bowls with everyone's favorite toppings.
*Note: chili just gets better the longer you cook it. I recommend letting it simmer for 1.5-2 hours before serving. This helps bring out all the yummy flavors!
**Original recipe adapted from Chelsea's Messy Apron