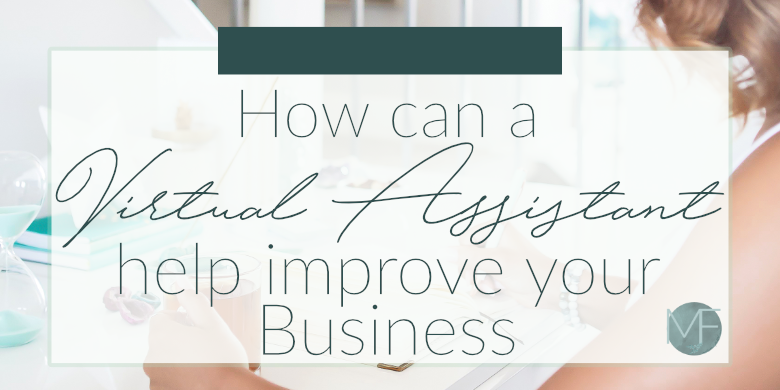 Do you find yourself consistently wishing there was more time in the day?
Or maybe you hate doing certain tasks that you feel obligated to do in order to keep your business running smoothly?
Get some Virtual Help!
Once upon a time, when businesses were all brick-and-mortar, if they needed help, they would post a Help Wanted sign in the window and get a local employee on-boarded. However, times have changed. Now, with 52% of small business being home-based a Virtual Assistant is the perfect solution to getting help with your business without having to cover the same overhead costs that an employee would incur.
So, you might be asking:
How Can a Virtual Assistant Help Improve Business?
Let me explain. Virtual Assistants are freelancers who work remotely on tasks that you (the business owner) assign to them. Meetings can be set up virtually in order to check in, documents can be shared online and you are not having to cover the same costs as hiring an employee (health care costs, paid breaks and holidays, etc.) The following are some tasks that outline how can a Virtual Assistant help improve business:
Manage calendars and your schedule – While you're busy with other work, your VA books appointments, sets up interviews, and completely manages your schedule. How nice would it be to just be able to check your calendar and all of your appointments and commitments are already all scheduled?
Handles all correspondence – this means that your VA can take care of all of your emails and/or phone calls. They can make sure that the important information is seen by you, while all the "fluff" is handled so that you can achieve Inbox-Zero.
Newsletter Preparation – if you are like every other super busy business owner, then you might have realized that marketing your own business often gets pushed to the end of your to-do list. Make sure that your business marketing remains a priority with the help from a VA. They are able to create newsletters and mailings so that your business remains front and center in your customer's eyes.
Invoicing – for most small business owners one of the tasks that comes with the trade is sending invoices. This alone can be a huge time suck that you can outsource to a VA. They are able to create invoices, send them to clients, and follow up when necessary.
Screens Guest Posts – If your business accepts guest blog posts, it can be a huge burden to consistently filter through all the requests and get the information that is need to feature a post. Let your Virtual Assistant handle this task so that you can stay on-top of these submissions.
Create Blog Content – there are huge benefits in having a business blog. Make sure that you are taking advantage of these benefits by creating quality blog content – which can take time. Guess what? This is where a VA comes in handy! They can help brainstorm new ideas, draft blog content, and make sure that the blog is SEO optimized in order to help expand your reach in search engines.
Keeps you on Deadlines – as busy as being self-employed can make us. It is so important to stay on top of important deadlines and tasks. A VA can help you stay on track so that you never need to miss another deadline again.
Compiles Info – Perhaps you need to research a new client or find out all of the names of companies in your geographical location. Then allow your VA to compile this data for you, saving you your time.
Benefits of Hiring a Virtual Assistant
There are numerous benefits of hiring a VA. Whether you are trying to expand your business or take more time for yourself, a VA can help. They don't require a large amount of time or monetary investment (compared to an actual employee) and they just might bring you more of both!
Allows you more time to create – after all it is your business! You should be able to do what you love and leave the not-so fun (but still necessary) tasks to your VA.
Be more Timely – in our digital age, customers expect an immediate response. As a busy business owner that is not always a possibility. By allowing your VA to correspond with customers, it can help make them more satisfied with your services.
Stay in Budget – VA's are able to work with your budget constraints so that you remain financially stable. And without the added costs of hiring an actual employee, you are already saving money!
Interested to see specifically how can a Virtual Assistant help improve business? Contact me here to set up a consultation!
I hope that you found this virtual information valuable if you have more ways a VA has helped you, please leave them in a comment below!