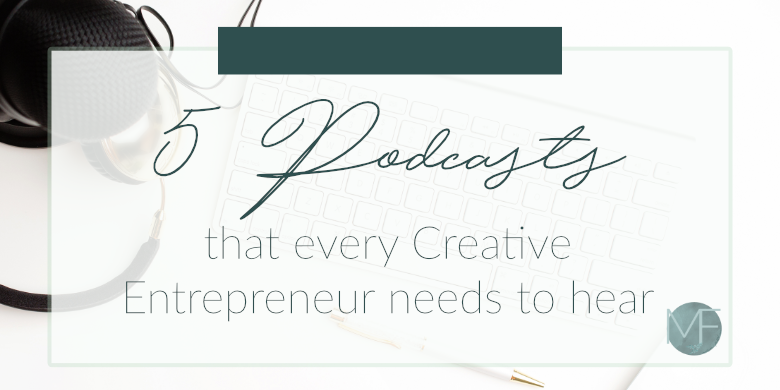 Recently I have found a new obsession…. Podcasts. I first started to listen to them occasionally when I was working but I now listen to them every single morning. I love starting my day with either a dose of encouragement, learning a new tip or skill, or dreaming big. Whatever type of inspiration or mood I am in that day, I have found podcasts to cover them all!
If you have never listened to podcasts before, I highly suggest you give it a try! Finding a channel that you can relate to on a business and emotional level is really important.
When I first started listening to podcasts, I didn't really get what the hype was. They seemed boring and mundane and I would have rather gotten my info elsewhere. What I later realized is that it was just the podcasts that I had chose in the beginning (they weren't the best fit for me, to put it nicely).
Now that I have found the podcasts below, I am an avid listener. They all center around a main topic so that I know what to expect when I tune in. They provide entertaining and engaging content that I find hard to turn off (always a good sign!)
Give them a listen and let me know what you think below!
Being Boss (for when I want to learn new biz tips and tools)
Being boss is owning who you are and making things happen. Emily Thompson and Kathleen Shannon believe in building a business you love, making bank, and being unapologetically who you are 100% of the time. They have a combined experience and expertise in branding and coaching small online businesses to be more boss in work and life by focusing on "boss" mindsets, habits & routines, tools, tactics & strategies, blended with a little bit of hustle. And they interview other bosses such as Brene Brown, Marie Forleo, Ramit Sethi, Danielle LaPorte, Tara Gentile, and more!
The Goal Digger Podcast (for when I am struggling and need encouragement)
Girlboss Radio with Sopia Amoruso (for when I want to dream big)
On each episode of the Girlboss Radio, Sophia interviews boundary-pushing women who've made their mark—eschewing polite conversation and extracting solid advice from the lessons they've learned along the way. Expect hilarious co-hosts and vulnerable, honest conversations you won't hear anywhere else. Conversations that humanize the known, champion the unknown, and laugh a little at the absurdity of life.
Pursuit with Purpose (for when I need something good for my soul mixed with a dash of business tips)
The Strategy Hour (for when I am looking to improve my processes)
Get actionable strategies and killer marketing tips to grow your creative business inside The Strategy Hour podcast. Say goodbye to the "side-hustle" mindset and hello to getting paid (and paid well) to do what you love. Your hosts Abagail Pumphrey and Emylee Williams from Think Creative Collective share all the ins and outs of their experience growing a successful 6-figure online business. You'll hear from some pretty amazing entrepreneurs like David Siteman Garland of the Rise to the Top, Nathan Barry of ConvertKit, Natalie Franke of the Rising Tide Society, and Ankur Nagpal of Teachable. These in depth interviews go straight to the meat and potatoes (a.k.a. Actionable steps you can take away and use in your business today). Our episodes cover a wide range of topics, including growing an online audience, email automation, diversifying your products and offers, generating more sales online, social media, outsourcing, affiliate marketing, productivity, systems, and how to treat your passion like the real business it is. It's time to become a total creative BOSS! Find show notes and resources at thestrategyhour.com.
There you have it friends! I hope that you find inspiration and business advice when listening! Leave a comment below if you have found other podcasts that you really love!