Last weekend, Manuel and I had to pleasure of visiting LeClaire, Iowa for a weekend getaway. Now, we have travelled to many locations around the world and I have to say that this ranks as one of the top weekend getaways that we have taken!
The town of LeClaire, Iowa has so much to do and see – you are certain to find something for any age and interest! This historically-rich river town is full of surprising and exciting activities, shops and more. If you plan on visiting (which you certainly should!) check out what we did below!
*This post is sponsored by Travel Iowa, however, all opinions are my own.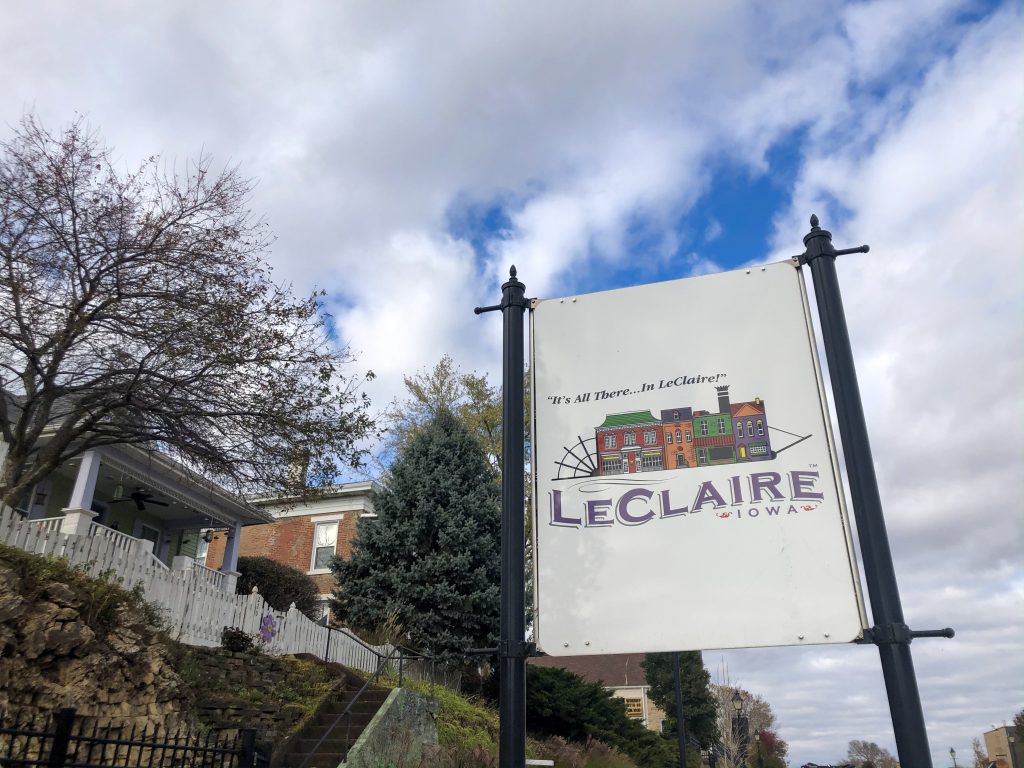 What to do in LeClaire, Iowa
Location: LeClaire, Iowa
Where we stayed: The Grasshopper Two
When: November 1st – 3rd
Favorite Activity: Paradigm (in Davenport, Iowa)
Favorite Place to Eat: Crane & Pelican Cafe
Would I go back: Yes! We are already trying to plan another trip!
Friday Evening
Antique Archeology
We arrived in LeClaire on Friday evening and headed straight for Antique Archeology. If you aren't familiar with the History Channel show American Pickers, this is the home base for the show! They have tons of super unique antique finds from the show, as well as lots of merchandise to commemorate your visit.
We had a blast getting to look through the two buildings. I loved hearing some of the stories about the picks that Emily, the store manager, was kind enough to share with us. I felt like we could have spent a ton of time here just taking everything in – everywhere we looked there was something new to see!
Certainly make this a stop on your trip, even if you aren't in the market for any antiques you can still grab a souvenir (or two!) And you might even be lucky enough to see Mike Wolfe himself!
The Grasshopper Two
Next, we headed to our B&B, The Grasshopper Two to get settled in. This little house was so adorable! I loved that we had the entire thing to ourselves and it had all the amenities we could want. Plus, the owner even left us fresh local chocolate croissants (my absolute favorite!)
This would be the perfect place to stay for a group of up to 4 people. It is directly in the downtown area so we were able to walk to lots of shops and restaurants. And if you are planning to stay a bit longer, they even have a full sized washer and dryer for you to use.
First Fridays
After all this exploring and travel, we were ready to experience the main street of LeClaire! We were fortunate enough to visit on the first Friday of the month where the shops stay open late, restaurants have live music and food/drink specials, and the distillery even hosts a party!
Blue Iguana Restaurant
After looking through a few of the adorable shops, we headed to Blue Iguana Restaurant for some dinner. They were celebrating Dia de los Muertos (Day of the Dead) which was super fun to see! They had live music and the atmosphere was really fun.
The food we had was super delicious! I had the carnitas tacos (Mexican Style) and Manuel had enchiladas verde with chicken. It was a ton of food, but it was hard to stop eating because it was that good!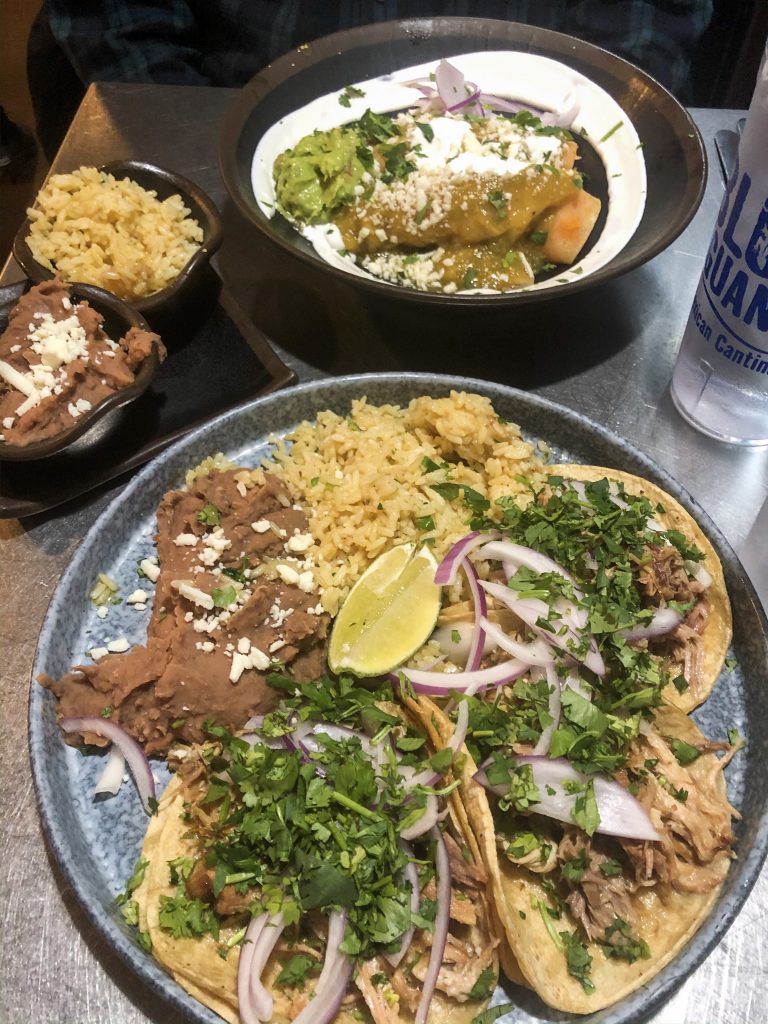 Saturday Morning
Breakfast At Berries
It was so great to sleep in and wake up super relaxed on Saturday morning, but boy were we hungry! We headed out to Breakfast At Berries to fill our bellies.
I had heard their blueberry pancakes were the way to go, so I ordered those. Manuel got the normal pancakes. Our food came out super fast and was really delicious. Also the atmosphere is super cute. Everyone seems to know each other, and they were super friendly!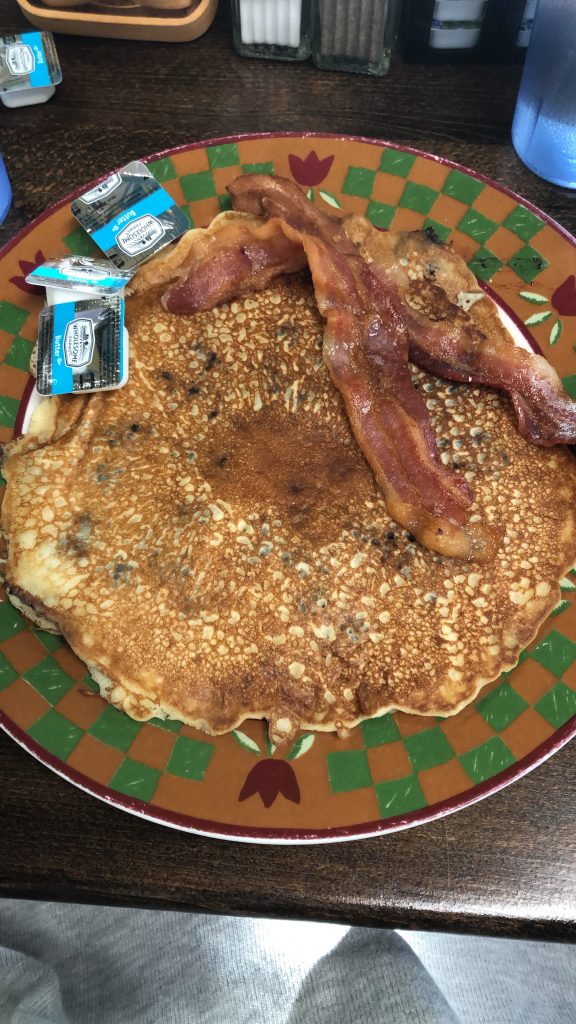 Buffalo Bill Museum
We were now ready to continue to explore so we headed to the Buffalo Bill Museum. Upon entering the museum we were able to check out the 1920's one room school house exhibit which was fascinating. It really transported us back in time and made me feel like the teacher was going to tell me to sit down and start learning at any minute.
Next we were able to even climb aboard The Lone Star Stern Wheeler! I couldn't believe that we could actually get on the boat and explore. I loved getting to see the crew cabins, engines and the ship's wheel!
The Lone Star Stern Wheeler (built 1869, retired in 1889. In 1890 a new Lone Star was built and decommissioned 1967) is the only surviving example in the United States of a wooden-hulled boat built in the traditional Western Rivers fashion.

http://buffalobillmuseumleclaire.com/
The museum of course also covers tons of Buffalo Bill and Wild West history. And overall, it is a must-see when you are in LeClaire!
Paradigm
Manuel was super excited to head to Paradigm in Davenport next. It was a quick drive next to the river over to Davenport to get there, and it was gorgeous with all the leaves changing.
Paradigm offers many different "gaming experiences". They do virtual reality gaming, gaming tournaments, free roam virtual reality, individual gaming computers and they even have a bar and lounge area with board games!
With so many different offerings, there is something for everyone there. We wanted to check out the virtual reality gaming because it was something that we have never done before.
Once we were fitted in our headsets, we were ready to play! Manuel and I were able to get adjoining "stalls" to play in so even when we were playing single player games, we could still interact with one another.
The games were so much fun! Everything looked very realistic. My favorite game was Beat Saber which is similar to Guitar Hero but you have lightsabers that you have to break through every approaching "beat" boxes. It was a blast!
Manuel loved some of the more intense games like Arizona Sunshine where you have to fight off zombies. Even if you didn't want to play a game, there were virtual reality simulations such as Nature. In this one, you could pick you setting and roam around in it. The coolest was underwater. I really felt like I was experiencing a blue whale swimming over top of me and seeing fish all around (so so cool!)
Even if you don't want to play, it is really fun to watch others play. There is a TV screen where you can see what they are viewing, and it can be hilarious to watch them interact!
Crane & Pelican Cafe
After all the virtual reality, we were hungry again so we headed back to LeClaire for lunch. The Crane & Pelican Cafe was our chosen stop. This Cafe is located inside a historic brick house built in 1851. On top of the decor and chandeliers, the food was delicious! I loved that they had a choose 2 or 3 menu for lunch, and the garlic salad was soooo tasty! I highly recommend getting lunch here during your stay!
Saturday Afternoon
Shopping on Cody Road
There are lots of fun little boutiques and shops along Cody Road in LeClaire, Iowa. Everything from a baby store to olive oil to home decor. There is something for any interest! I particularly loved Dwellings which was all decorated in Christmas (and they had fresh baked cookies!).
I also thought the Shameless Chocoholic and LeClaire Canning Co. were wonderful! We brought home an apple for the Shameless Chocoholic that was delicious and Blueberry jam from LeClaire Canning Co. that is amazing on my morning toast!
Enjoying Libations Lane
Manuel was willing to drink for two during this part! I still loved getting to tour the Mississippi River Distilling Company, plus they have tons of drinks (both alcoholic and non). And Manuel tasted lots of local beers from Green Tree Brewery.
Saturday Evening
Bierstube
We had to check out the local German restaurant Bierstube, because Manuel is German and it always makes him proud when he can find a good German restaurant. Even though it seemed as if we had been eating all day, we LOVED the pretzels. They are huge and so delicious!
The Faithful Pilot
We heard a lot of great things about The Faithful Pilot so we figured it was the perfect way to end a wonderful day. This restaurant is classy without feeling pretentious.
The menu offers a wide variety of different options, including small and large plates. I highly recommend checking out the charcuterie board – their cheeses were amazing! I also heard they just started serving Brunch (Wednesday-Sunday from 10am-2pm) and I am sure this is fabulous too!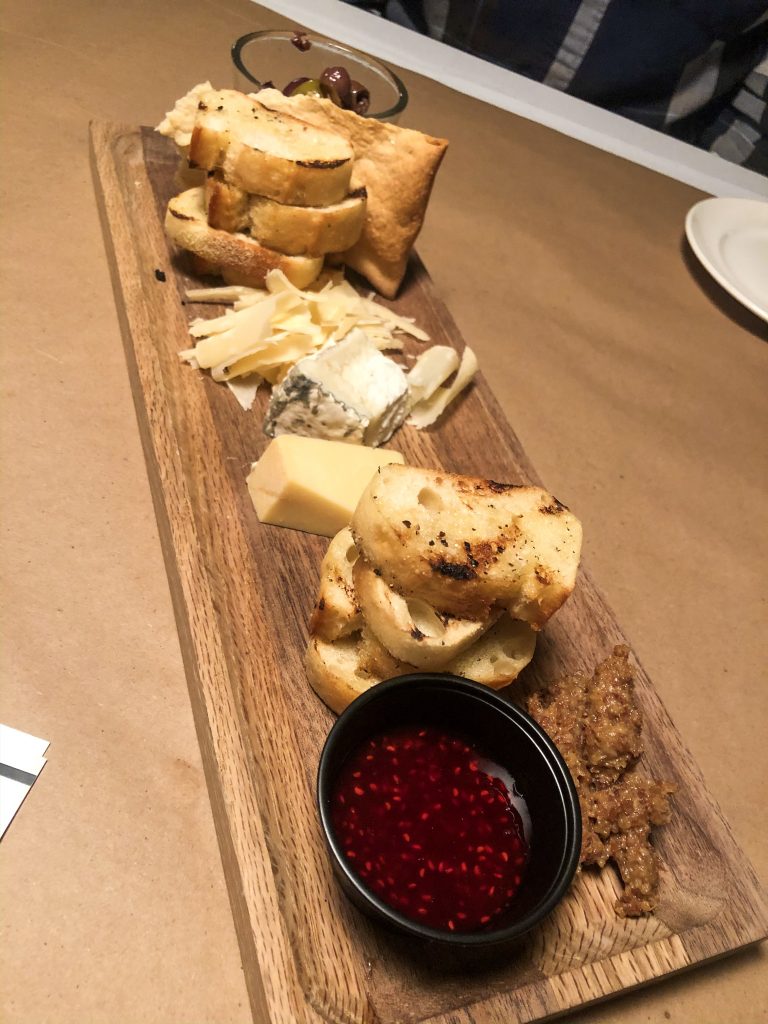 Overall
We had such an amazing time visiting LeClaire, Iowa. It felt like the perfect mix of history, shopping and fun! No matter what age, you are sure to find something to do in this gorgeous town! It's no wonder LeClaire was recognized as one of America's Coolest Small Towns by BudgetTravel.com. I highly recommend visiting and experiencing all the magic that LeClaire has to offer for yourself!