I got LASIK Eye Surgery to correct my vision.
And I have gotten so many questions about the costs, procedure, etc. that I wanted to create a resource on my blog for all of you who are curious.
I had heard about LASIK in the past, but I really only thought it was for older people. I didn't realize that many people in their early 20's and 30's were getting it done.
Now, that probably seems silly – why would it matter the person's age? And I am not sure. It is just one of those ideas that I had in my head. That is, until I started asking around and was shocked by how many people I knew that had it done.
For me, my eyes have always been a struggle.
I couldn't wear weekly or even monthly contact lenses because they never seemed to fit my eye right and would constantly be "refocusing" every time I blinked.
The only contact lenses that I could bare to wear were the daily ones. I also wore glasses a lot because I hated dealing with the contacts.
One day I was listening to Pandora and an ad came on about LASIK which got me onto the subject and I scheduled my first appointment that day. (It goes to show you that ads do actually work!)
When my appointment came, I really only went because it was free. I wasn't sold on the idea and I had no clue what this was actually going to cost me.
After doing multiple eye tests, it was determined that I would be a great candidate for LASIK.
At this point, I was given two options for different lasers that they could use in the procedure. The two types were:
VISX Star S4 IntraLase (Bladeless all-laser LASIK)
Wavelight IntraLase (Bladeless all-laser LASIK)
The Wavelight came with a Lifetime Advantage which just means that if I would ever have any issues, I could visit any of their locations and they would correct it (if possible) free of charge. For me, this wasn't something that I felt like I needed especially because we don't know how long we will be in the USA for.
The VISX Star S4 came with a 1 year Advantage which means that I have support for up to a year on anything I need.
Now, I am certainly not a doctor but from what I understood, the Wavelight was a faster, newer laser that could potentially have better results. That didn't mean that the VISX Star S4 was a bad option though. After discussing the two with the doctor, he said that with my lower prescription (-1.75) I would be fine using the VISX Star S4.
To give you an idea on the costs of the procedure, here is what I was quoted. Both are total costs including eye drops and everything needed:
VISX Star S4 IntraLase (Bladeless all-laser LASIK) – $1,497.70
Wavelight IntraLase (Bladeless all-laser LASIK) – $3,675.70
This will certainly vary place to place, I went to LasikPlus in West Des Moines, Iowa for reference.
For me, I could totally justify spending the lesser amount. Especially since I was currently spending about $700 per year on contacts alone. That doesn't include new glasses or trips to the eye doctor. And ultimately determining that the LASIK would "pay for itself" within two years, not to mention how much easier it would make my life, it was sort of a no brainer.
So I took a leap of faith, scheduled my procedure appointment and was on my way.
LasikPlus did a great job prepping me for the day of and what to expect. I had it done on a Friday afternoon, since I needed Manuel to drive me home afterwards.
We arrived at the office at 2:30. Signed the paperwork and paid the bill. Then I was given numbing drops for my eyes. Shortly after they took me into the procedure room and began. It all went super fast.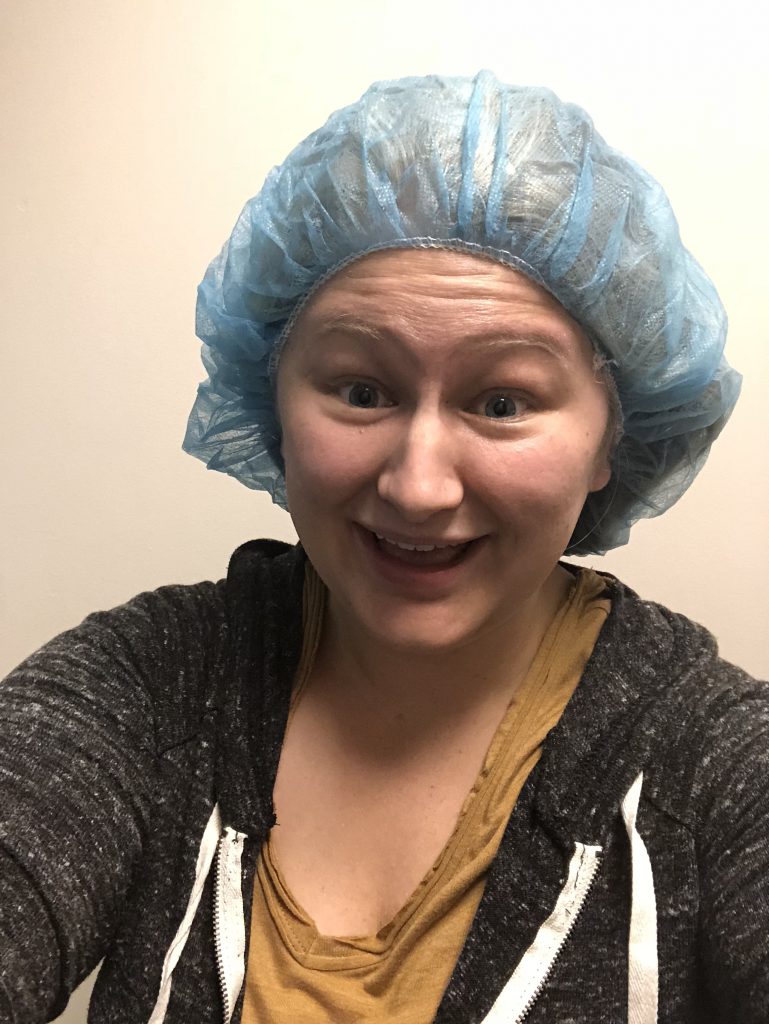 Here is the part where I get super honest with you. I am not going to sugar coat anything, the procedure was painful. I have a decent pain tolerance and I thought this was pretty drastic.
One of the reasons why I think it shocked me so much was because everyone kind of played it down. The website states:
"Most patients experience very little, if any, discomfort during the procedure. With advances in technology and the experienced team at LasikPlus, you can relax and look forward to a better view."
I'm sorry, but did the person who wrote that ever have the procedure done?! When the flap was cut on my first eye, I honestly considered telling them not to do my second eye because it hurt like hell.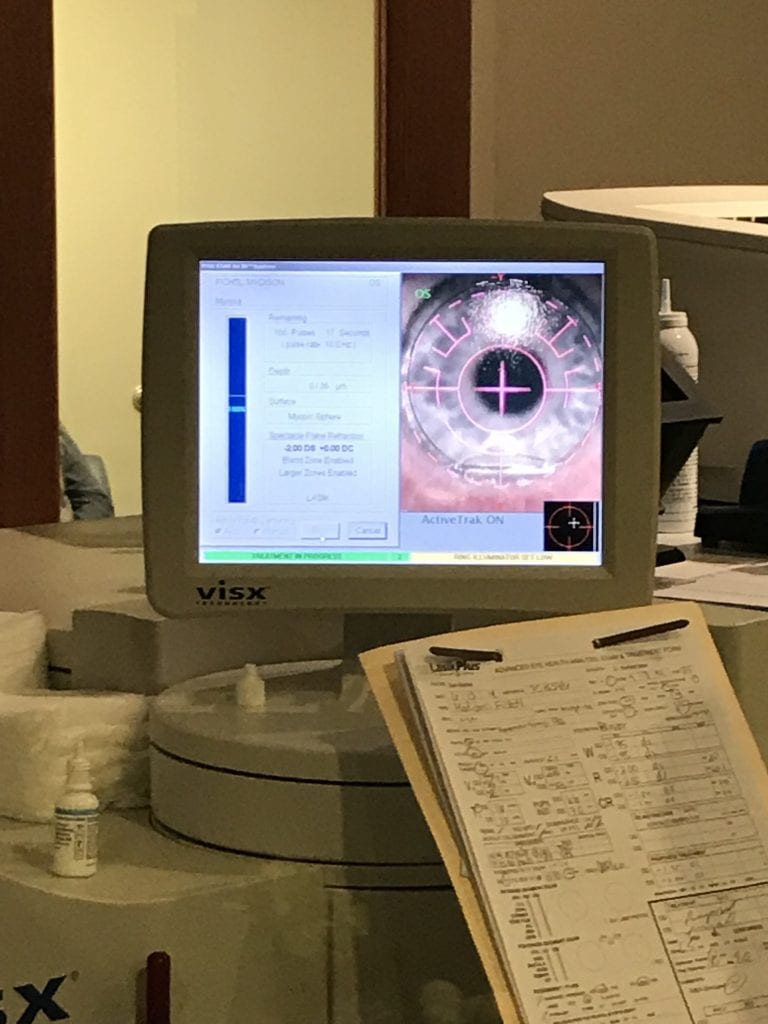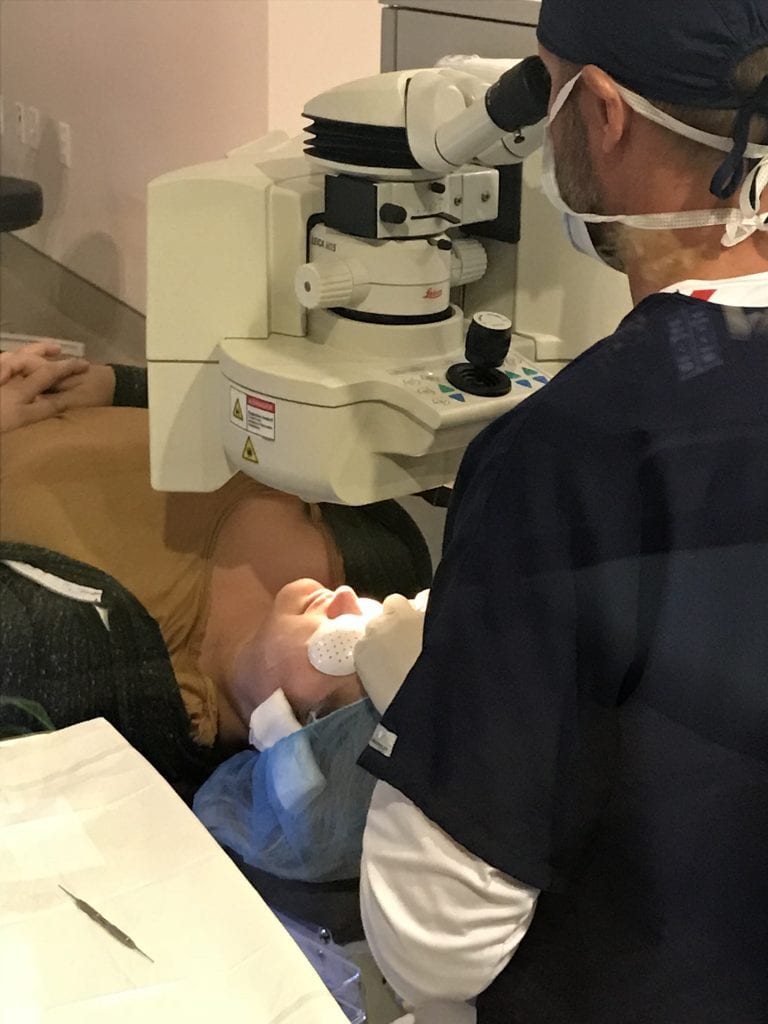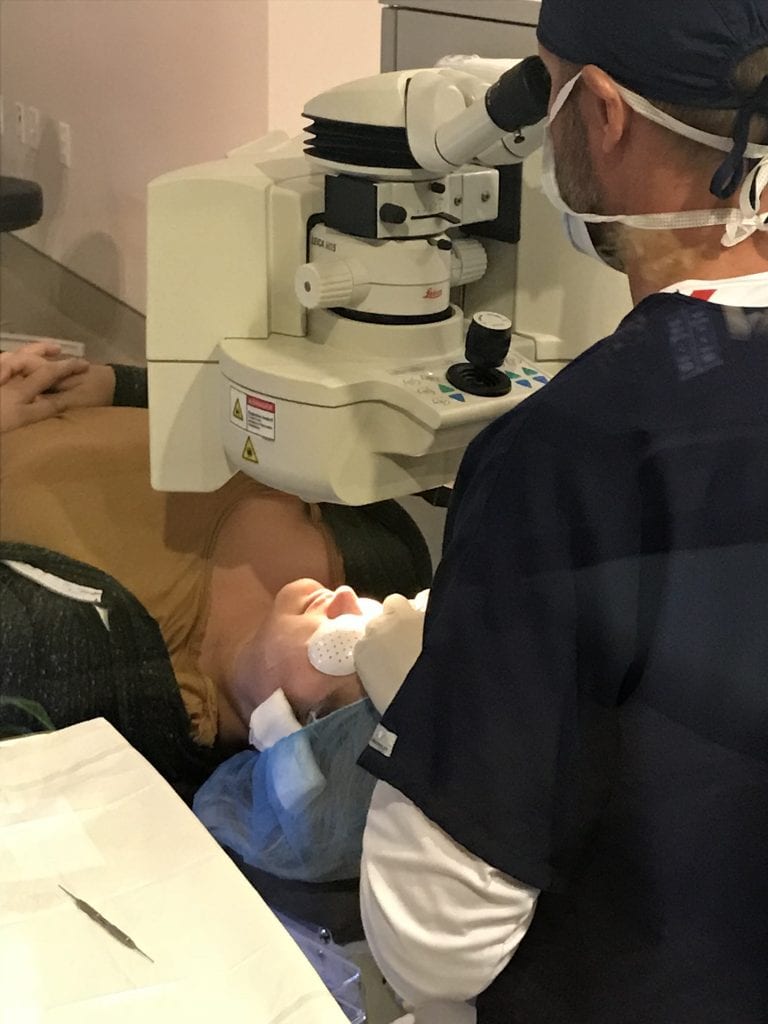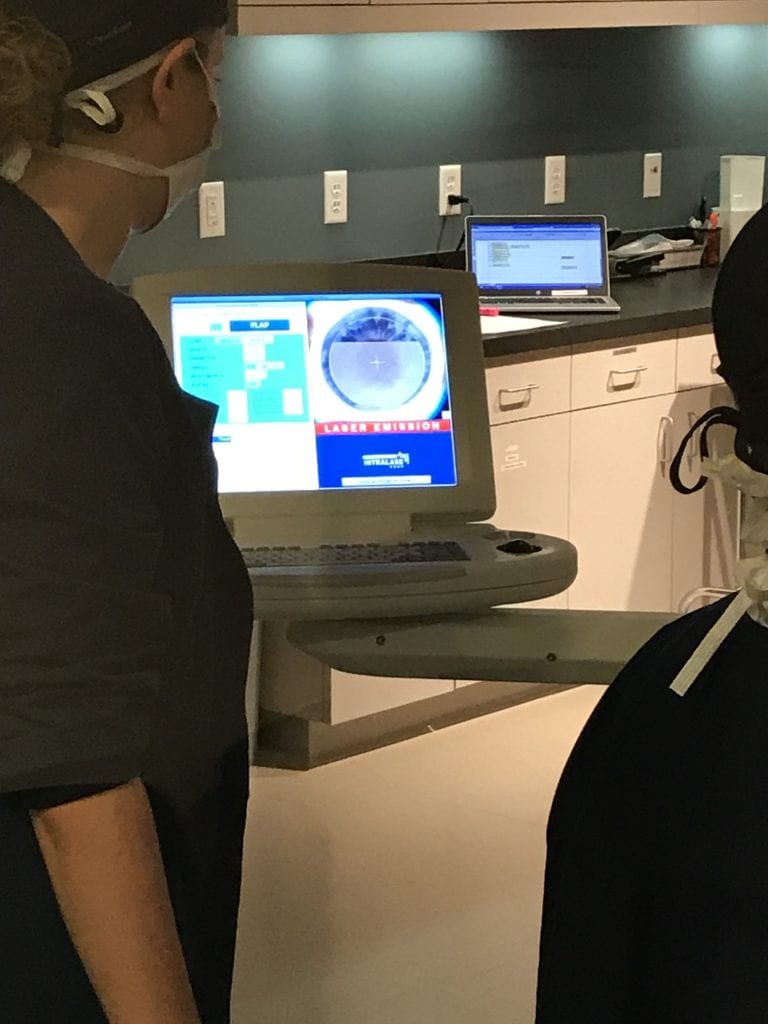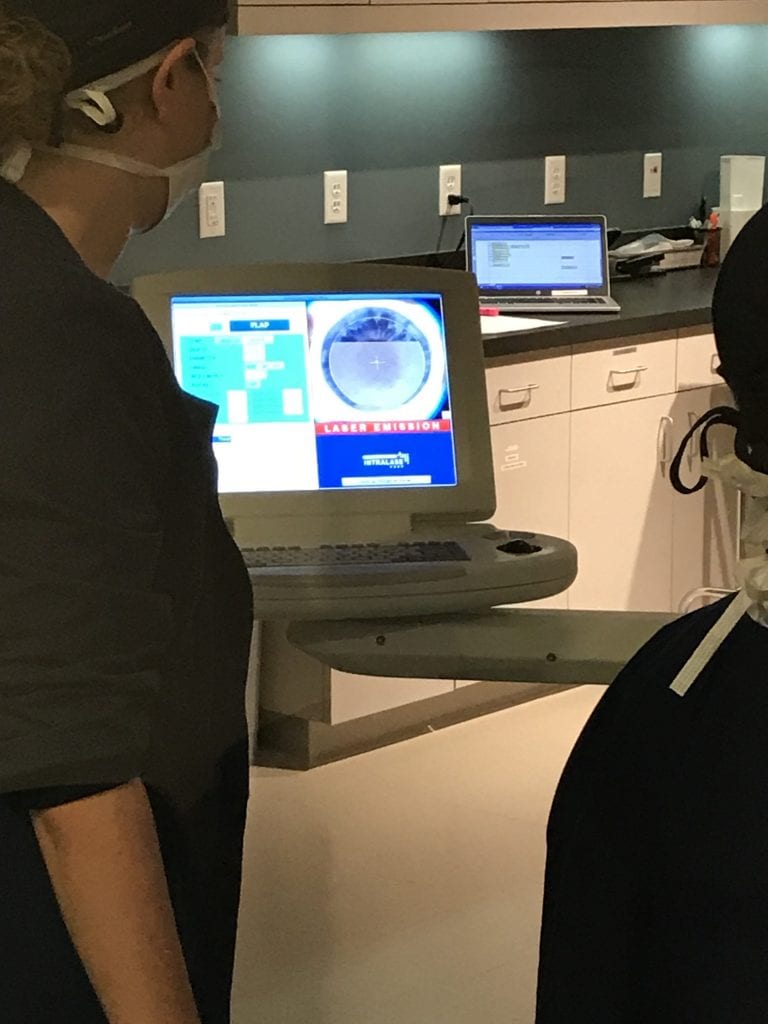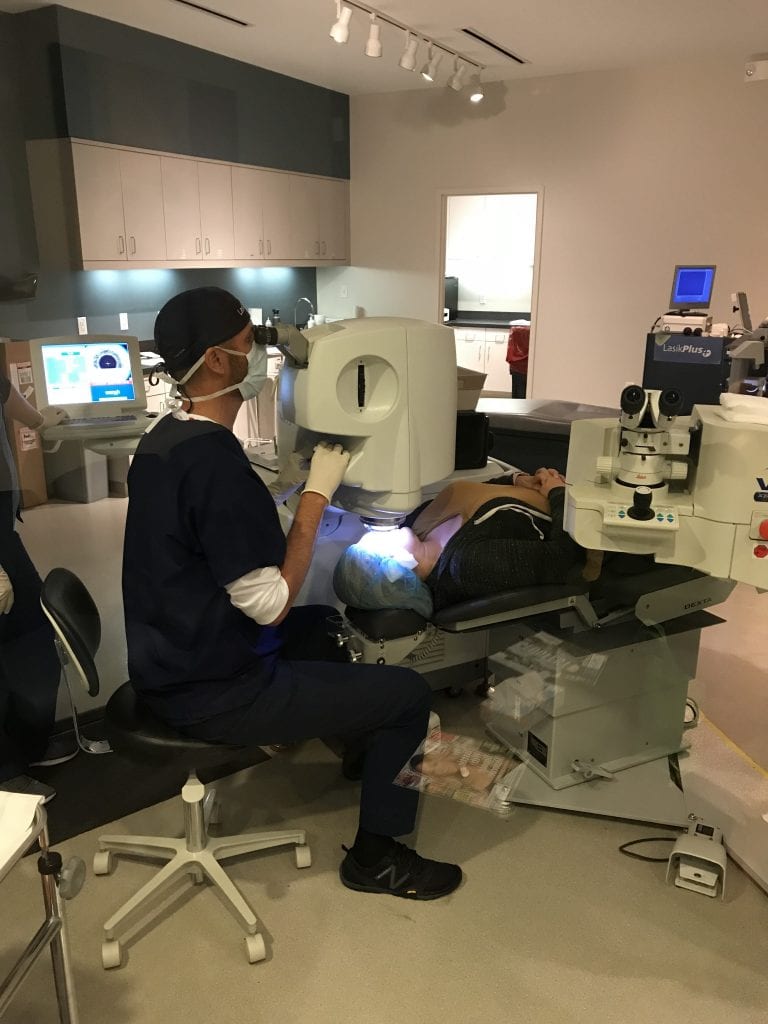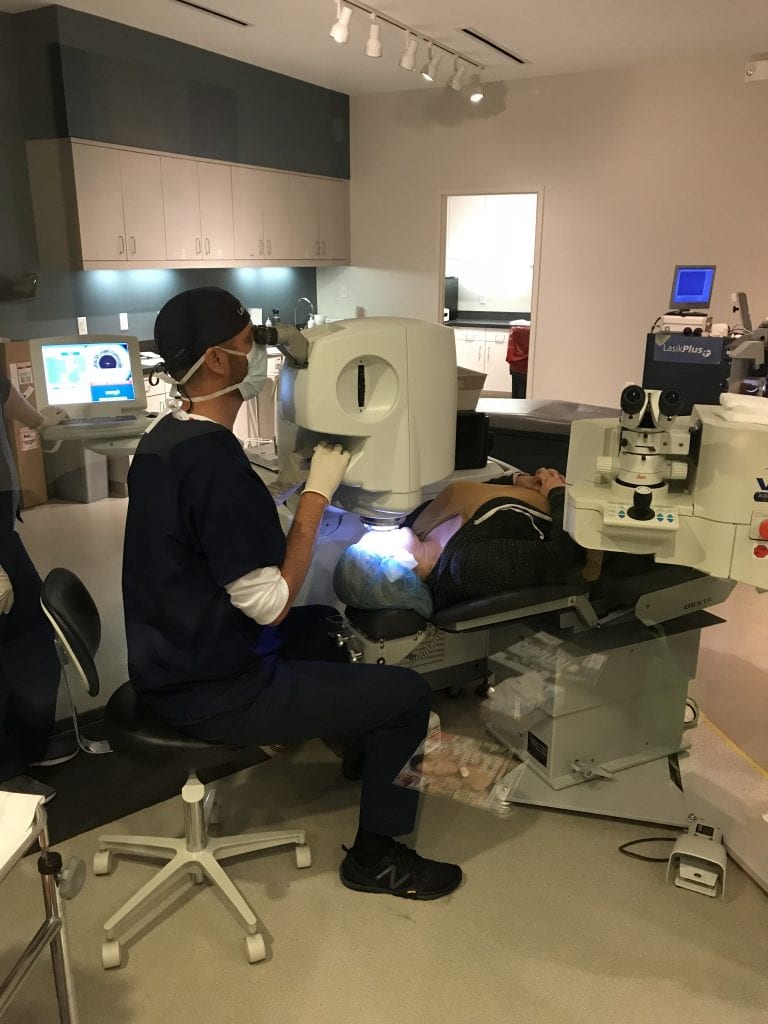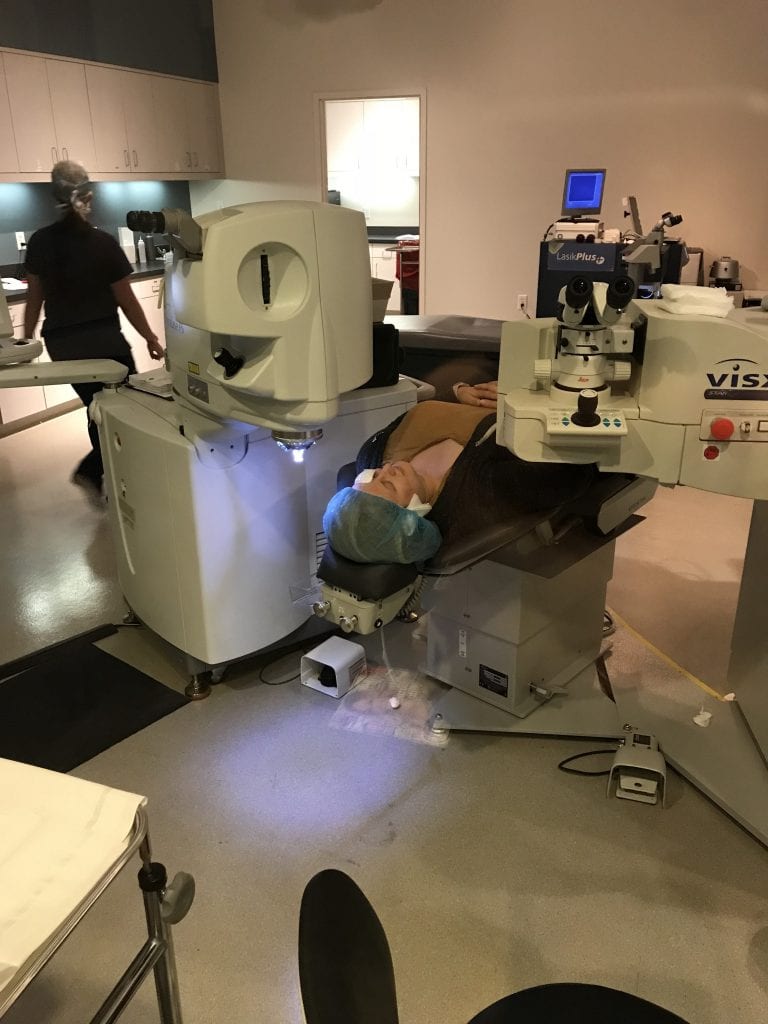 Who knows, maybe I am a huge wimp and no one else felt like this.
The positive side of things was that it only took about 15 minutes from the start of the procedure to the end. Thank goodness because I certainly wouldn't have been able to take much more.
As soon as it was over, I was given sunglasses and sent on my way. Manuel had to guide me to the car because I couldn't open my eyes.
They advise you to go home and take a nap after the procedure is over. And I was looking forward to this.
I can nap anywhere, anytime. I actually even once took a nap at a Shania Twain concert, sitting right next to the huge speaker. So, I figured that napping would be no problem for me.
Boy, was I wrong. For the next 7 hours, I laid with my eyes closed in pain. I couldn't open them if I wanted to and they were watering like I had been watching Seven Pounds. Poor Manuel had to deal with me complain immensely – he even had to feed me dinner with my eyes closed. It was a super fun night…
After about 7 hours, my eyes honestly felt totally fine again. It was so crazy how one minute I was in pain and the next was completely fine.
For the first week, I wasn't allowed to wear eye makeup, get water in my eyes, and I needed to wear sunglasses pretty much everywhere. I also got these really awesome goggles to wear at night and in the shower so that I accidentally wouldn't rub my eyes. Then I needed to put drops in my eyes every couple of hours when I was awake.
A few days after the procedure, I went back to the office to get checked to make sure everything was healing as it should.
During my visit, they tested my vision which was 20/15 (even better than 20/20) and they thought it would continue to improve over the next couple of months! Finding this out, made the 7 hours of pain totally worth it!
As I am writing this, I am about a month post-procedure and I couldn't be happier! I love that I can see as soon as I wake up and I don't have to worry about contacts or glasses. I still have no pain and only occasionally need some drops as my eyes get a bit dry. This was to be expected and should go away in a few months.
If you are even slightly considering LASIK Eye Surgery, I highly recommend that you explore your options. It was one of the best decisions that I have made about my health and I am so thankful for the LasikPlus team – they were amazing!