Manuel and I have been trying to eat better. Ever since we moved back to the USA, the temptation of eating out or grabbing take-out has become really hard to ignore. It can be so easy to give in to though because we are both busy people and we don't always have the time to grocery shop or search for new and exciting recipes.
Which is why we started searching for a meal delivery service. Now, we had considered this option before but spending $60+ a week for three meals just wasn't realistic for us. And we certainly didn't see the benefit of spending that amount on services like Blue Apron.
*This post contains affiliate links, which means I may receive a small commission, at no cost to you, if you make a purchase through a link. You can find my full disclaimer here. 
Now, I first came across Dinnerly advertising that there meal kits were just $5 per serving.
I was certainly intrigued to say the least. We quickly decided that we would give it a try for one week to see how the quality and quantity was.
Dinnerly is the first subscription meal kit service to offer $5/serving meals, delivering simple recipes and fresh ingredients for unfussy, affordable weeknight cooking.
When our first box arrived, I was pleasantly surprised! All of the ingredients looked great and it was more food than I was expecting.
For our first three meals (there are 5 to choose from every week), we picked:
BBQ Chicken Sandwich with Grilled Shallots & Crisp Salad
Seared Chicken & Alabama Sauce with Pickled Green Bean & Corn Salad
Grilled Zucchini Tacos with Goat Cheese & Cilantro Pesto
In order to keep the cost down, your recipe cards arrive by email so you have to download them and read them from your phone/computer. For me, this was a bit of a hassle.
One, I already get so many emails, that keeping track of another was more work for me (even though it was slight). And I truly like to disconnect from my phone during family time- which this didn't allow me to do. I found that I would be cooking dinner and then an email would pop up and I would try to deal with it quick.
The recipes were super easy to follow and they tasted great. I also liked that every week, Dinnerly offers a vegetarian option.
We loved the chicken sandwich and the seared chicken. The tacos were not our favorite. They certainly were one-note on the flavor and it didn't feel like they were worth the $5 per serving.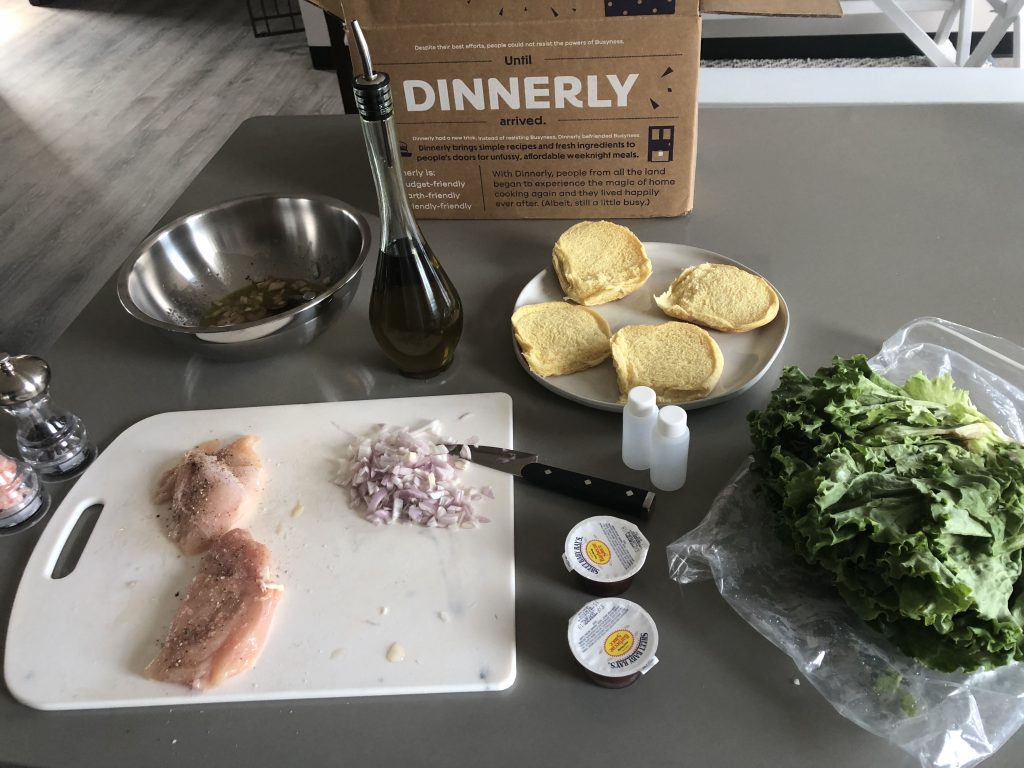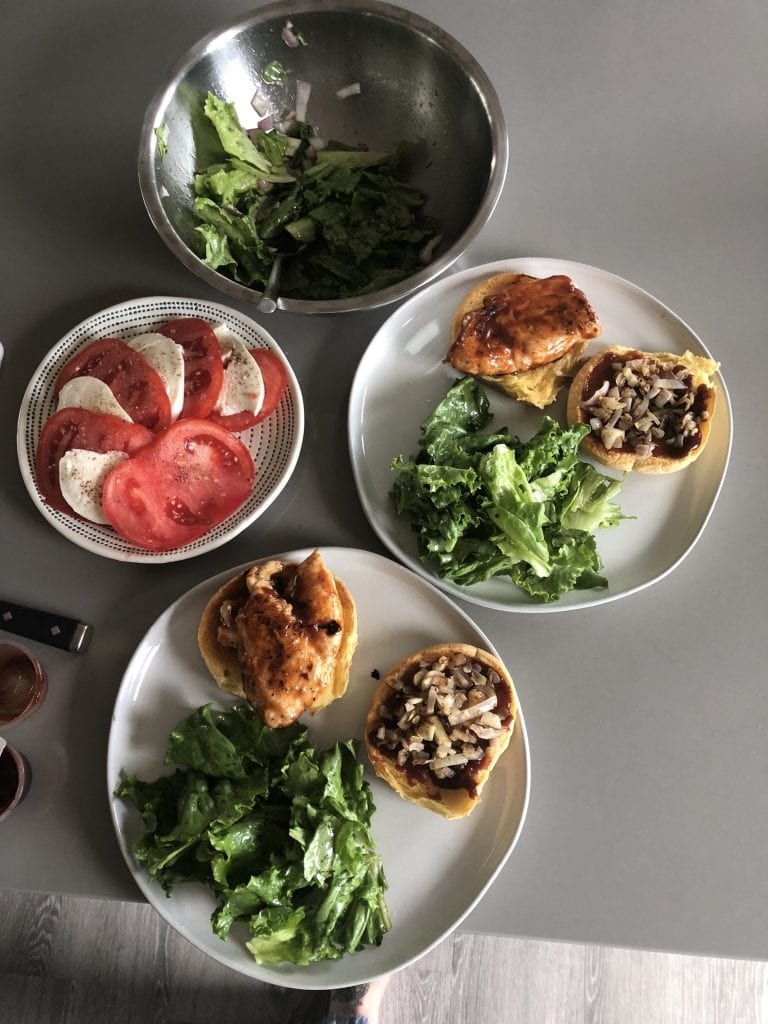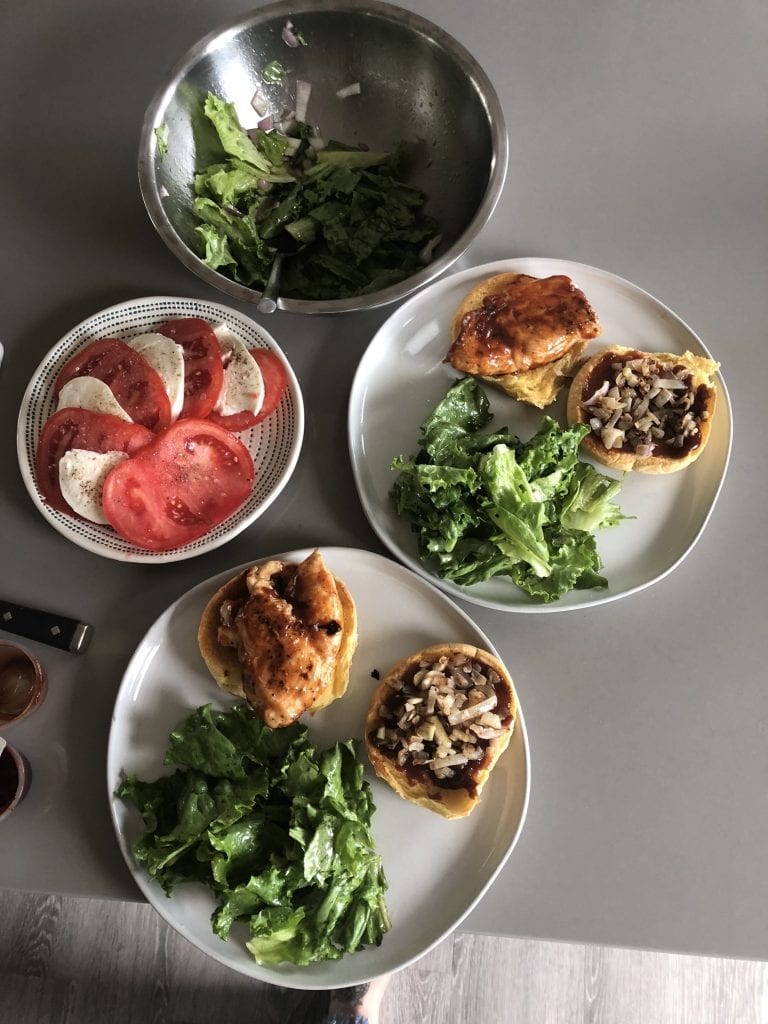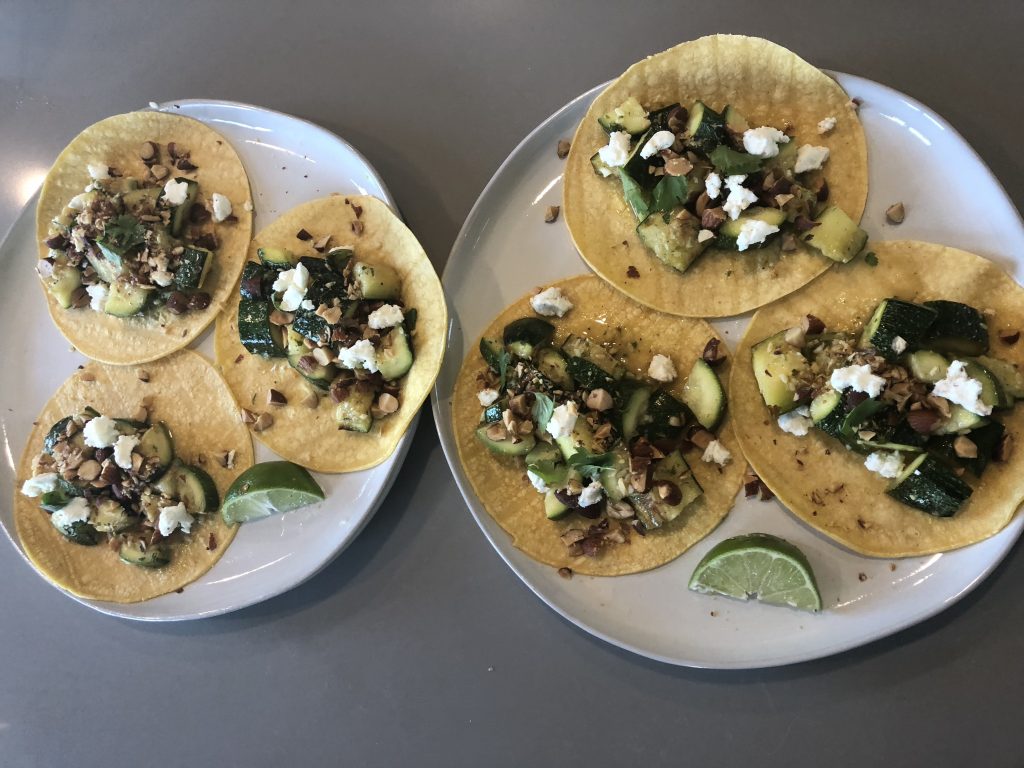 Once our week ended, we were happy but not ecstatic so we went in search for other options that were the same costs.
This is when I found EveryPlate.
Deliciousness Everyone Can Enjoy
We make amazing meals happen every week, at a price everyone can get behind
When our first EveryPlate box arrived, it was similar to the Dinnerly one. I again was super happy with the quality of the ingredients and EveryPlate also sends recipe cards so no need to use your phone during dinner. Already this was a huge plus for me.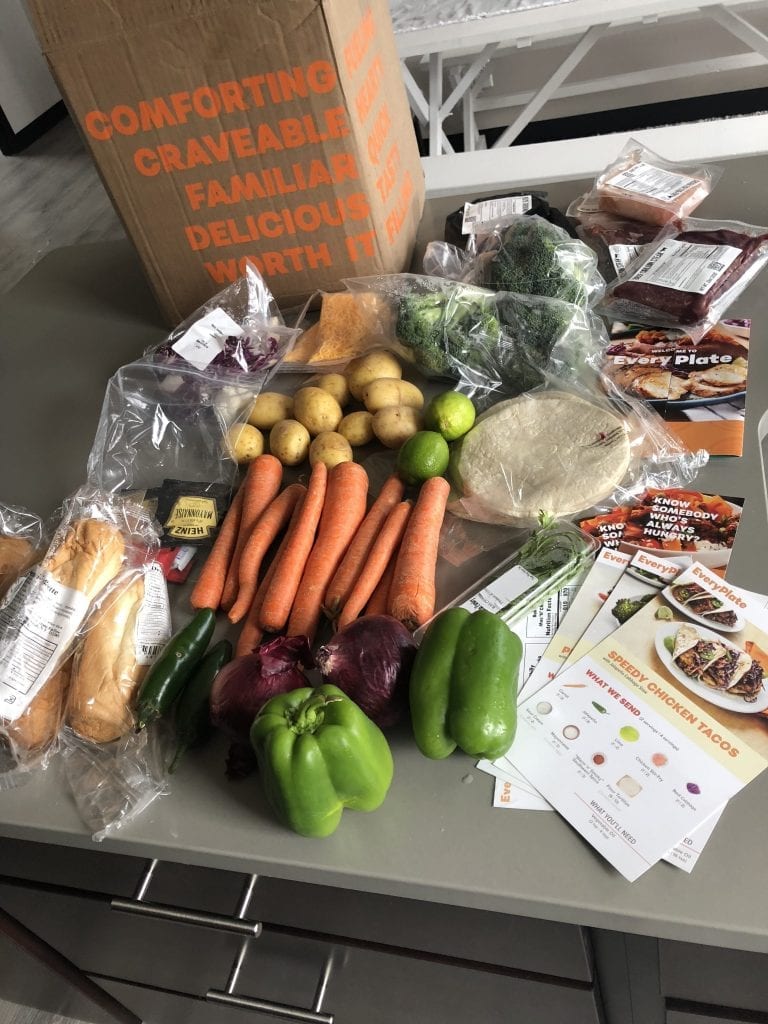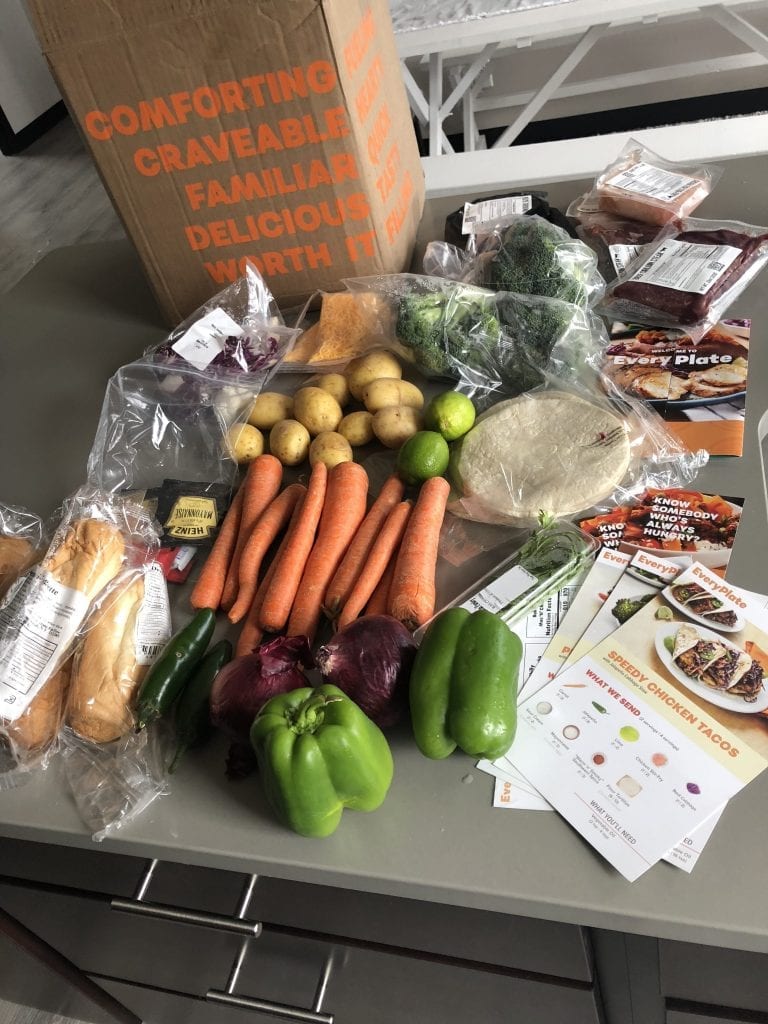 For our first three meals (there are also 5 to choose from every week), we picked:
Philly Cheesesteaks with Carrot Fries
Speedy Chicken Tacos with Jalepeno Cabbage Slaw
Herb Butter Steak with Broccoli and Cheesy Roasted Potatoes
The portion sizes were similar to Dinnerly and they were also super easy to make. Now, we LOVED each and every meal. Each one seemed to be better than the last (Manuel still talks about the Cheesesteaks, weeks later).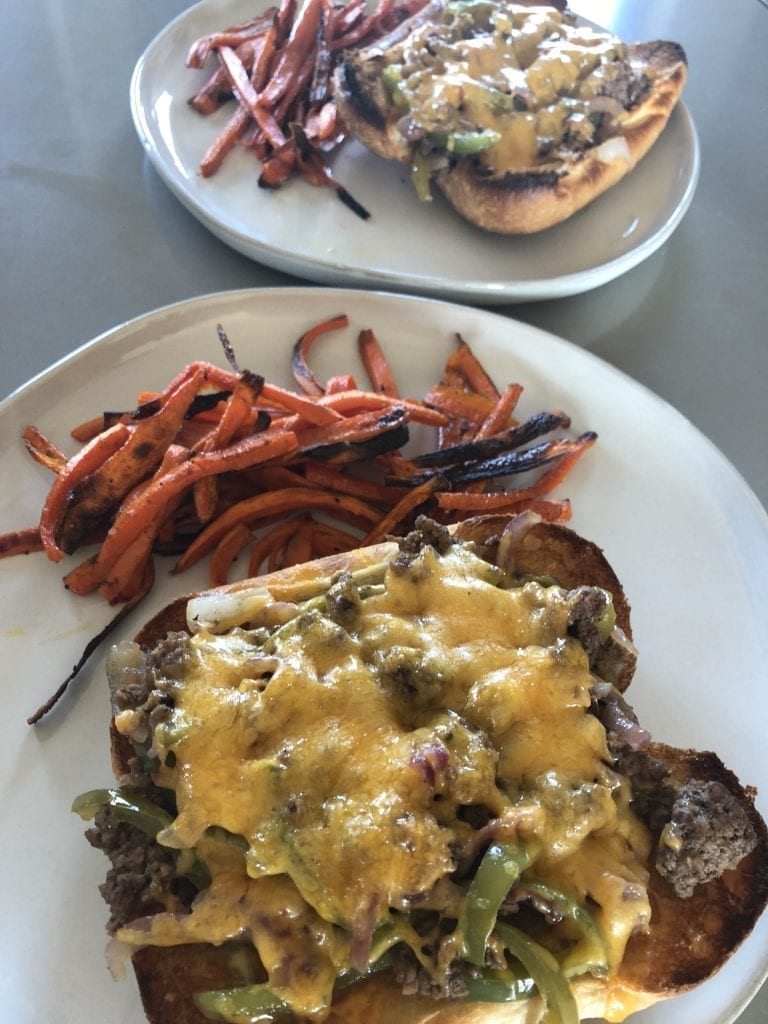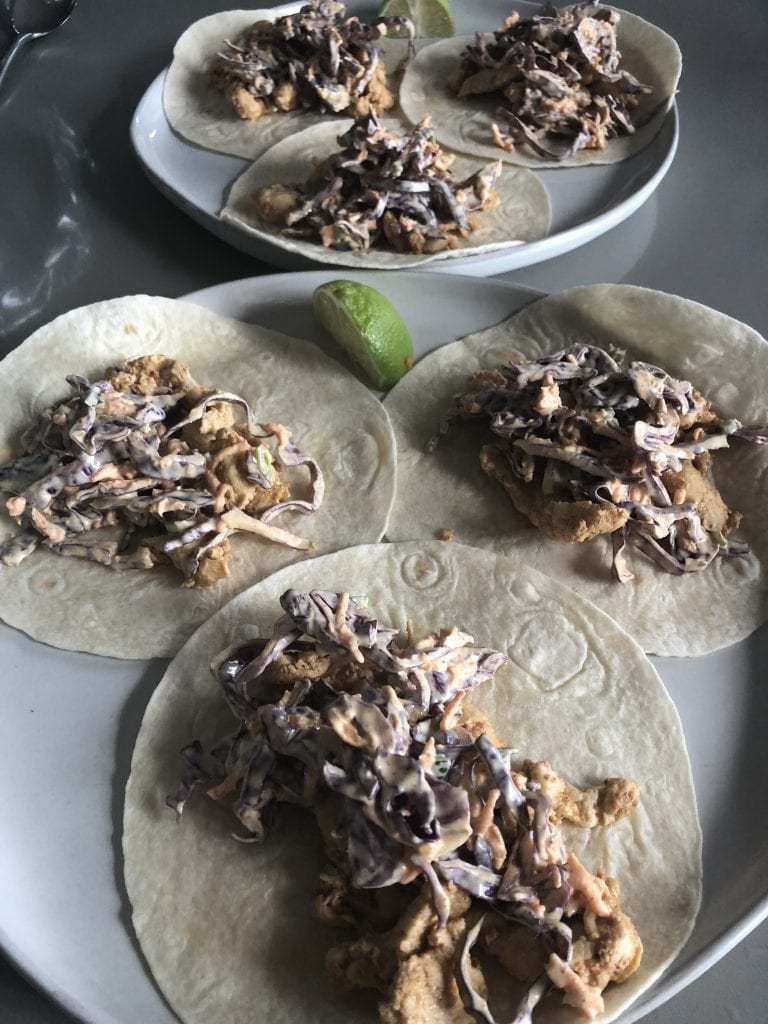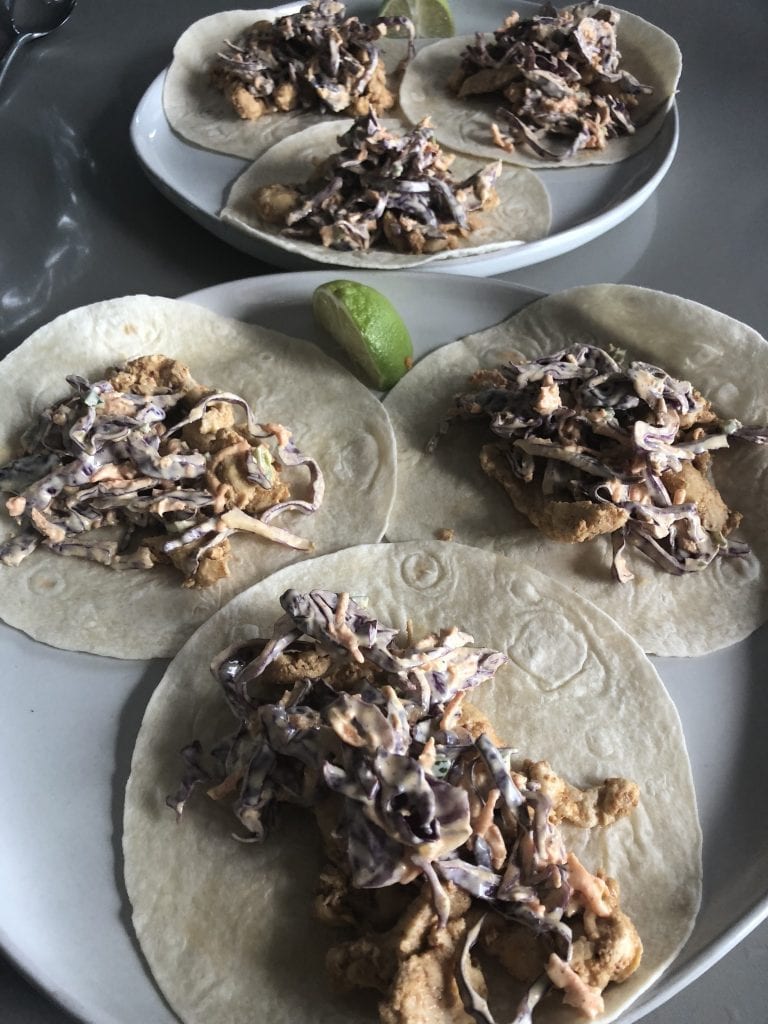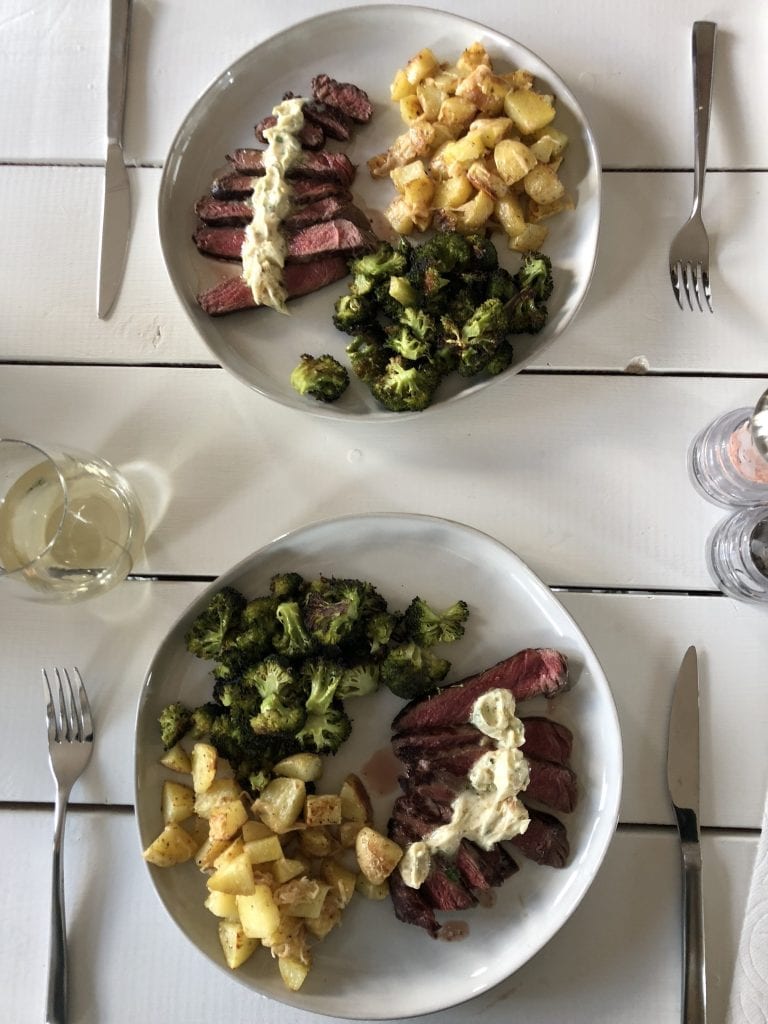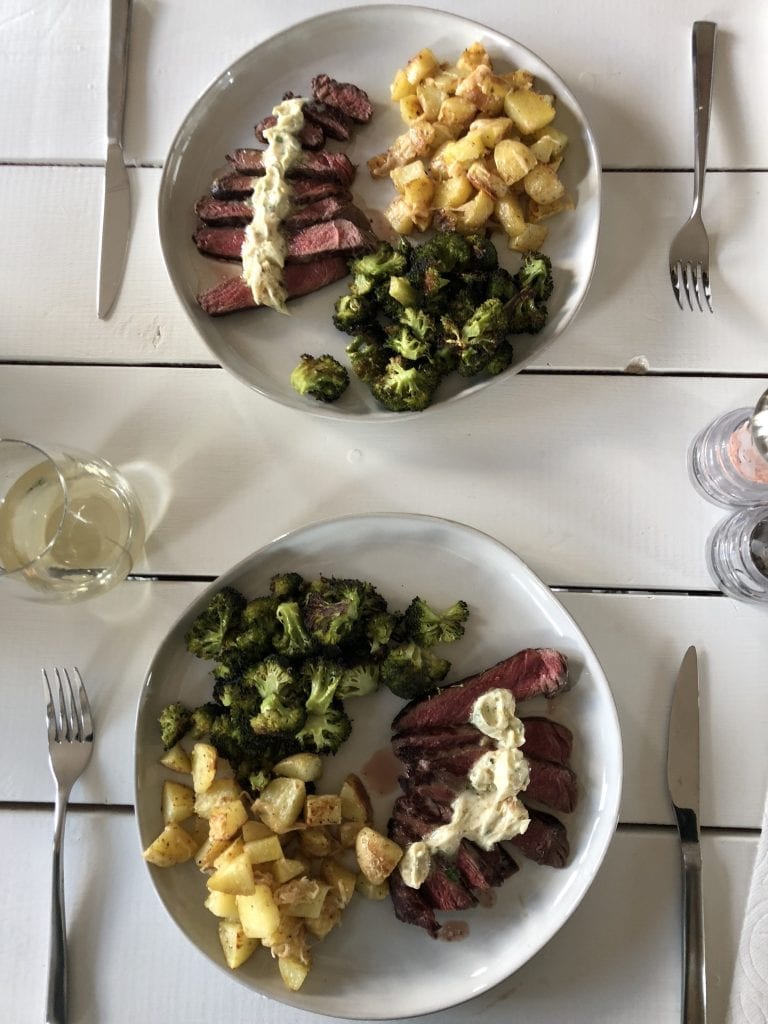 And I really love that steak is offered as a protein – it does cost $3 extra per serving but for a great piece of steak this still seems crazy inexpensive. As a kid growing up in Nebraska, I know my beef.
At $8 per serving, I was hesitant about the steak being quality. However, I was so surprised! It was a great quality for the price and it tasted delicious!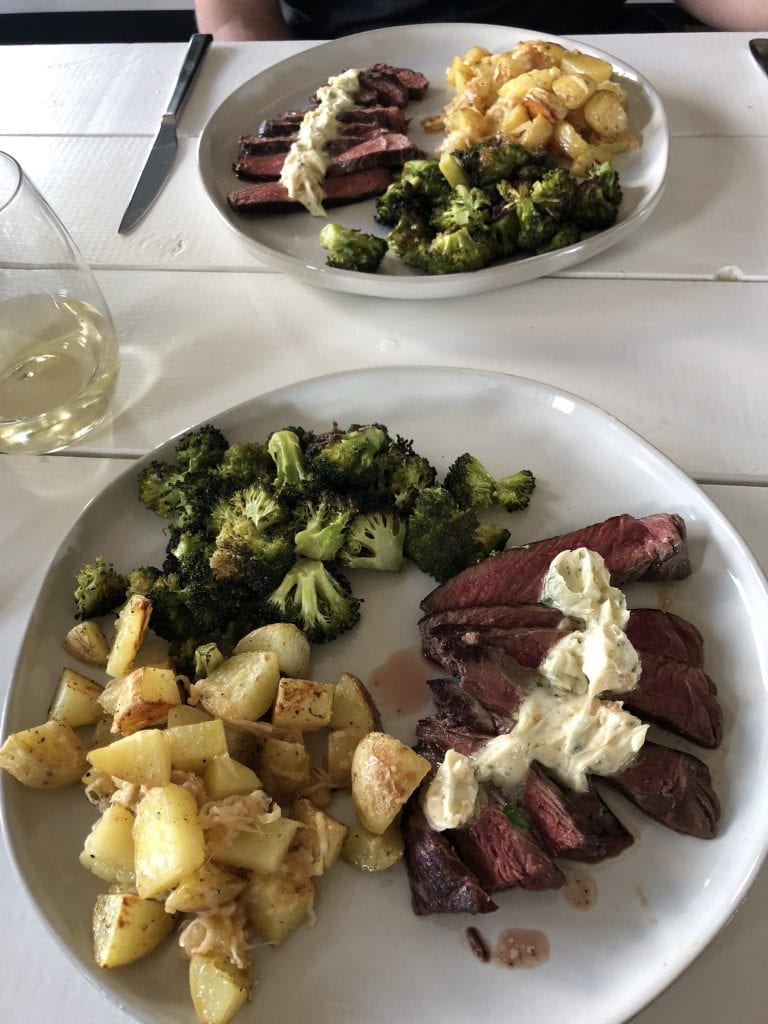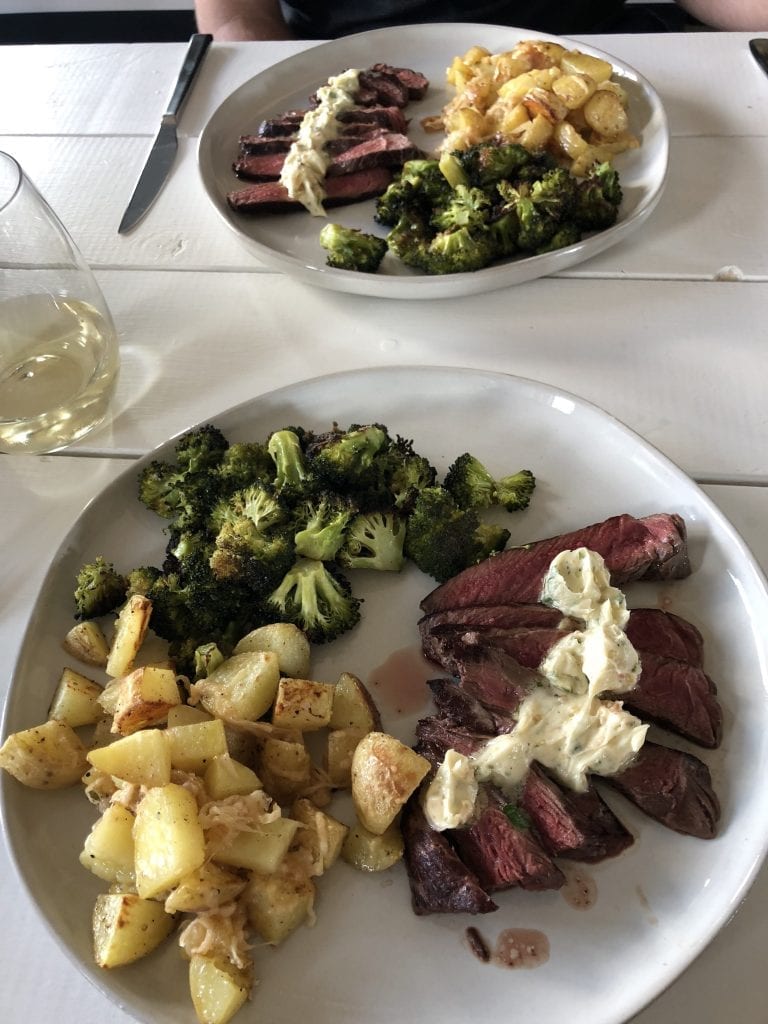 Honestly, the only downside to EveryPlate is that they only deliver on Wednesday, Thursday, or Friday (depending on your address) so we get ours on Thursday. I would love to be able to have it at the beginning of the week since we typically go out or are gone on the weekends. Yet, we haven't had any issues with the food staying fresh until the start of the next week.
We still can't stop talking about how much high quality food we get for only $30 per week (plus shipping).
We have continued to use EveryPlate for multiple weeks and I can't imagine going without it now. Every meal we have had with them has been great. The variety and selection is perfect and they always deliver on time.
AND because I love it so much, I want to let you experience the ease and convenience EveryPlate offers as well. If you sign up through this link, you will receive $20 off on your first delivery!
So what are you waiting for? Give it a try for at least a week – I know you will get hooked!