On Thursday night, Manuel and I had the opportunity to go to Fleming's Steakhouse in Des Moines in order to try Chef Matt's Chef Table Menu. We had never been to Fleming's in Des Moines before so we were really excited to give it a try!
The Chef's Table menu changes with the season and it is different at each of the Fleming's locations. The Chef Partner works to create a menu that highlights the best features and local produce available at that location. I love that the Chef Partners are able to showcase their creativity and skill throughout these menus!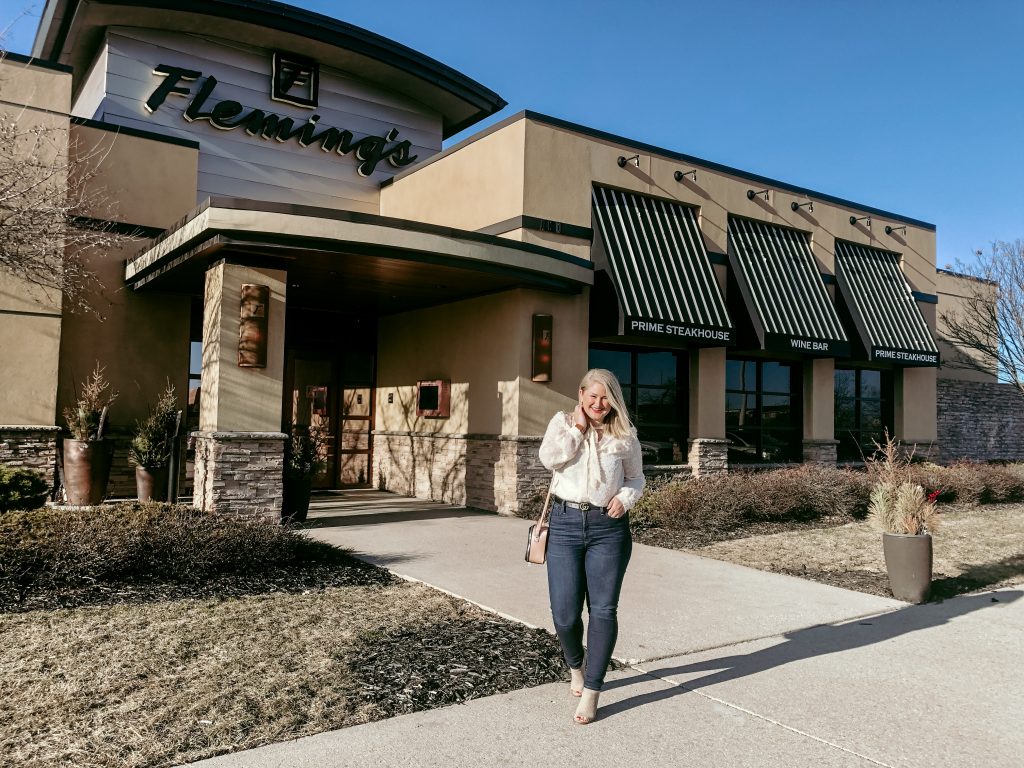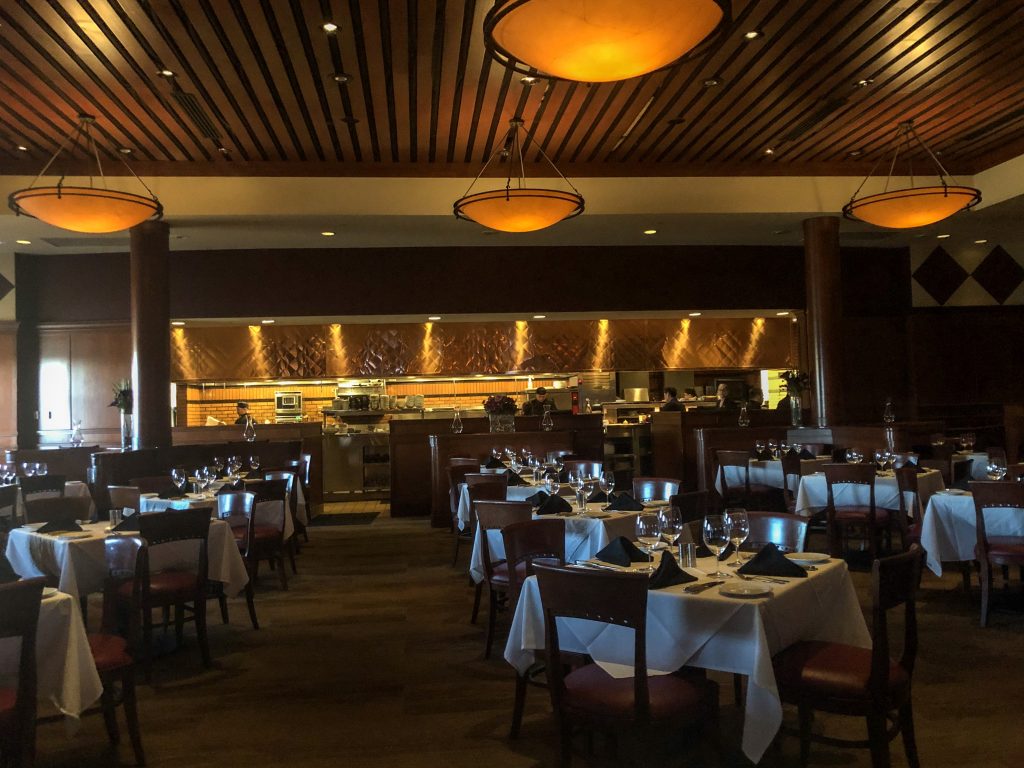 Upon arrival, I was really surprised how gorgeous the restaurant was inside. It had a great vibe between romantic and cozy – without feeling stuffy like a lot of steakhouses can.
Drinks
Manuel's Selection – Old Fashioned
Madison's Selection – SoCal V&T
After being seated at a huge booth, we focused our attention on their extensive drink menu. While I love having wine, I was in the mood for a cocktail. The SoCal V&T was super refreshing and light and featured Absolut Elyx vodka, craft tonic, California seasonal herbs, and ripe fruits! And the Old Fashioned was an elevated classic.
As we enjoyed our drinks, we were brought a bread basket with two different butters. Normally I wouldn't bother mentioning the bread basket, but you guys… the butters were amazing! There was a Champagne Brie butter and a Sweet Onion Cabernet butter.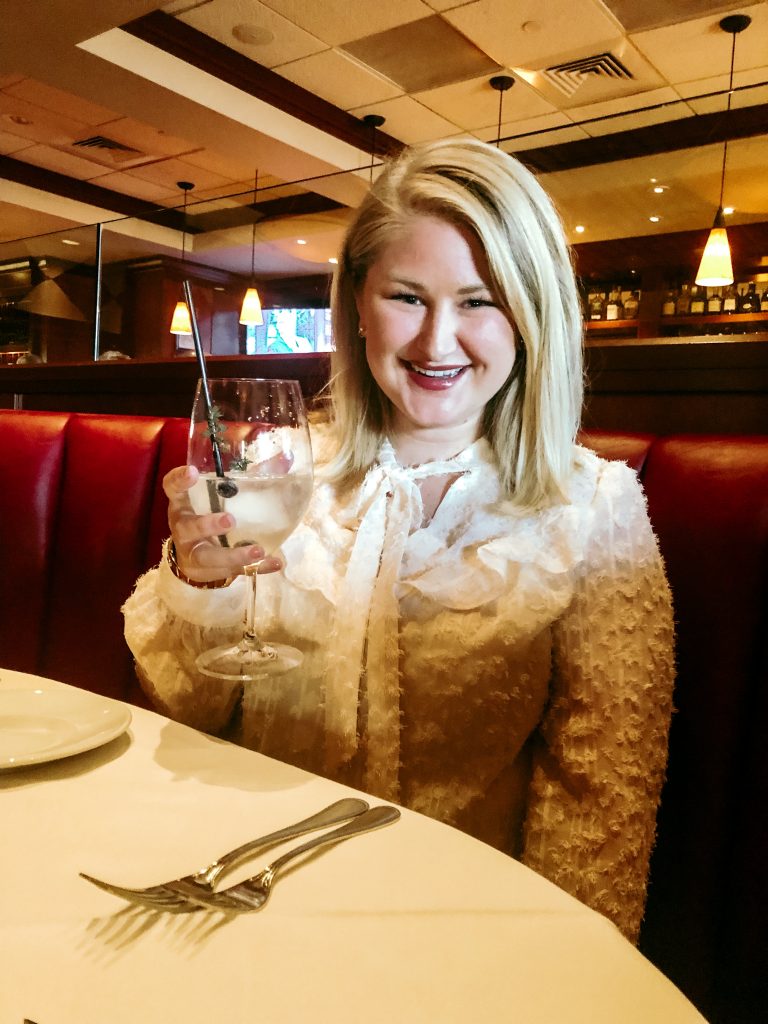 Appetizer
Shared Selection – Wagyu Steakhouse Sliders prepared medium rare
These sliders were served on a pretzel bun with burrata (a fresh mozzarella) cheese and a balsamic reduction. If you have never had Wagyu beef before, it is pretty tasty! There were three sliders which was a filling appetizer for sure!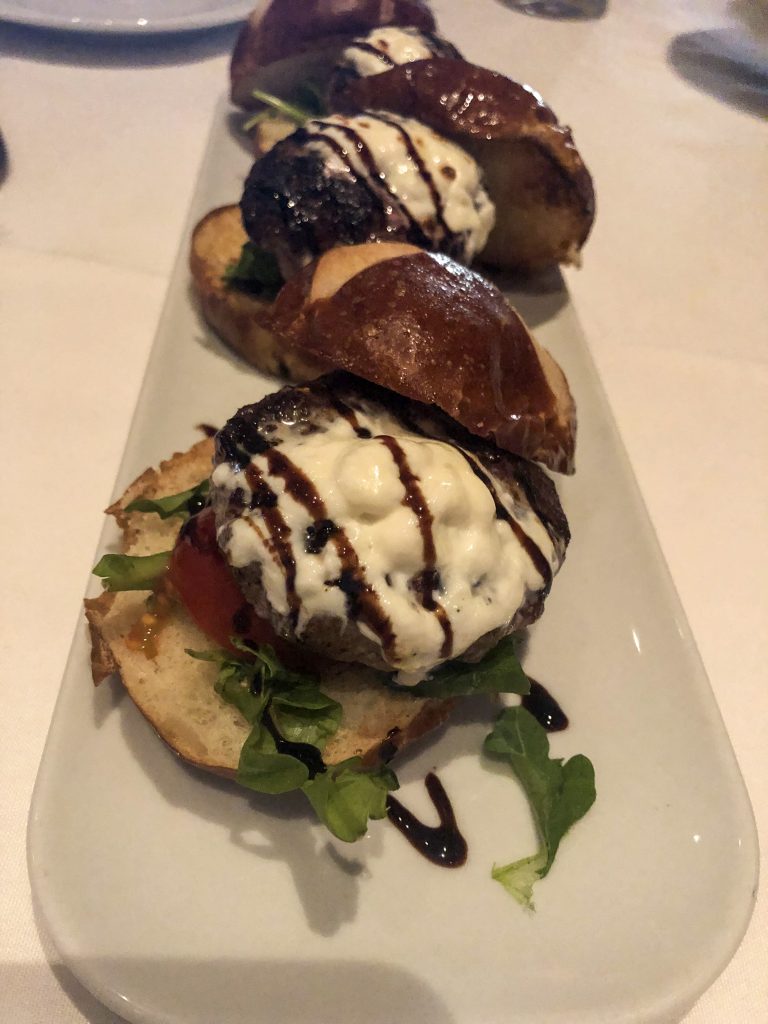 Entrees
Manuel's Selection – Smoked Duck Cordon Bleu
Madison's Selection – Seared Yellowfin Tuna prepared rare
I am always a bit hesitant to get fish in the Midwest. I feel like it can be a hard thing to ship in quality fish and most places don't. However, I was assured that the fish is fresh and so I took a chance on the Seared Tuna.
Since I ordered it rare, it was cooked table-side by Sous Chef Tyler Barsetti. It was a really unexpected treat to get to chat with him and see him prepare the entire dish right in front of us.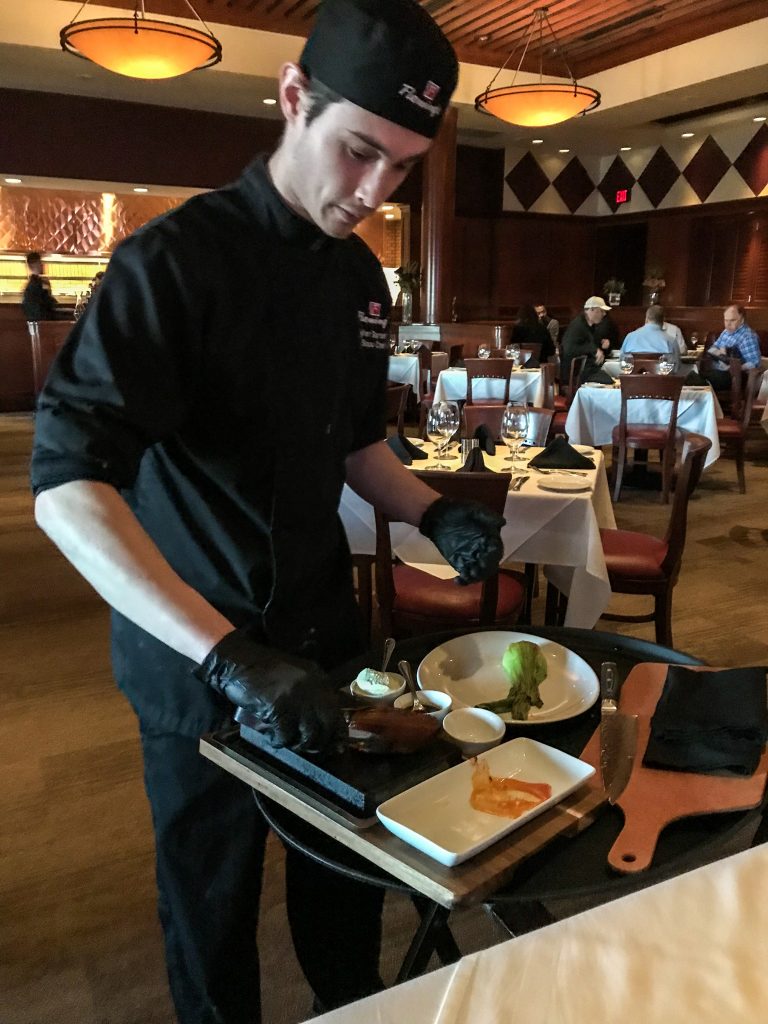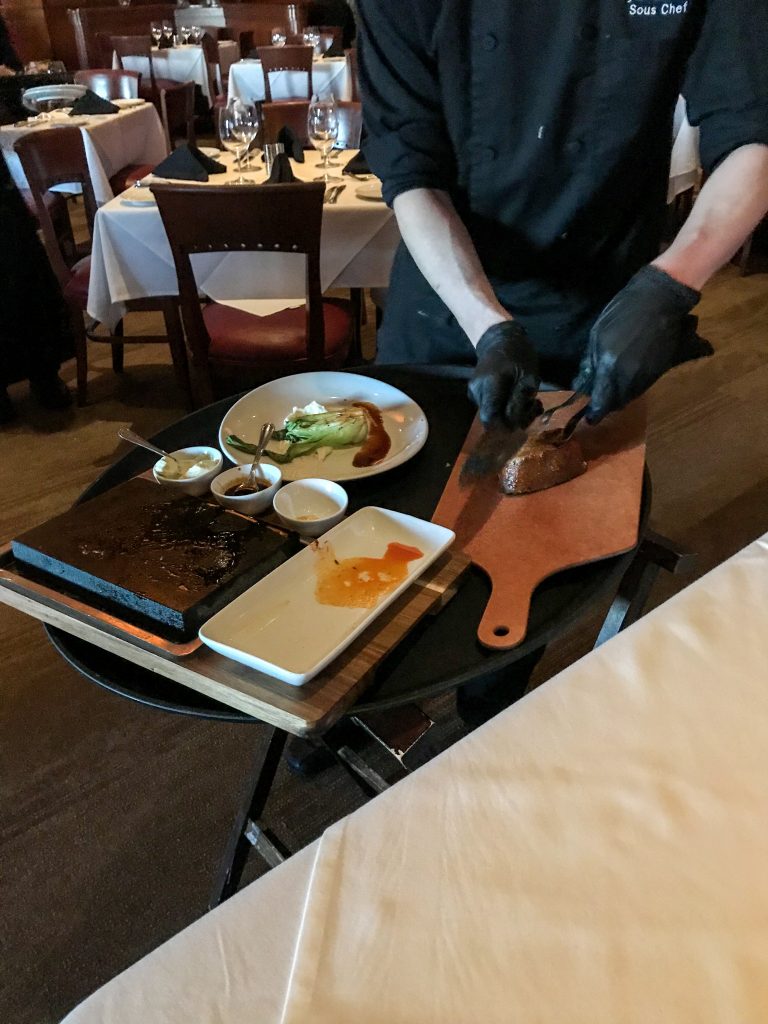 The tuna was served with this wasabi honey cream that was unlike anything I have ever tasted – it complimented the tuna so well! And honestly, even after just being in Hawaii the week prior, I would have to say this is the best Tuna I have ever eaten. Now, I don't say that lightly and it shocked me because we were in Iowa!
Manuel's Smoked Duck Cordon Bleu was also phenomenal! It was served with this shiitake ravioli which tasted so good and the duck was done perfectly and was super moist and tender!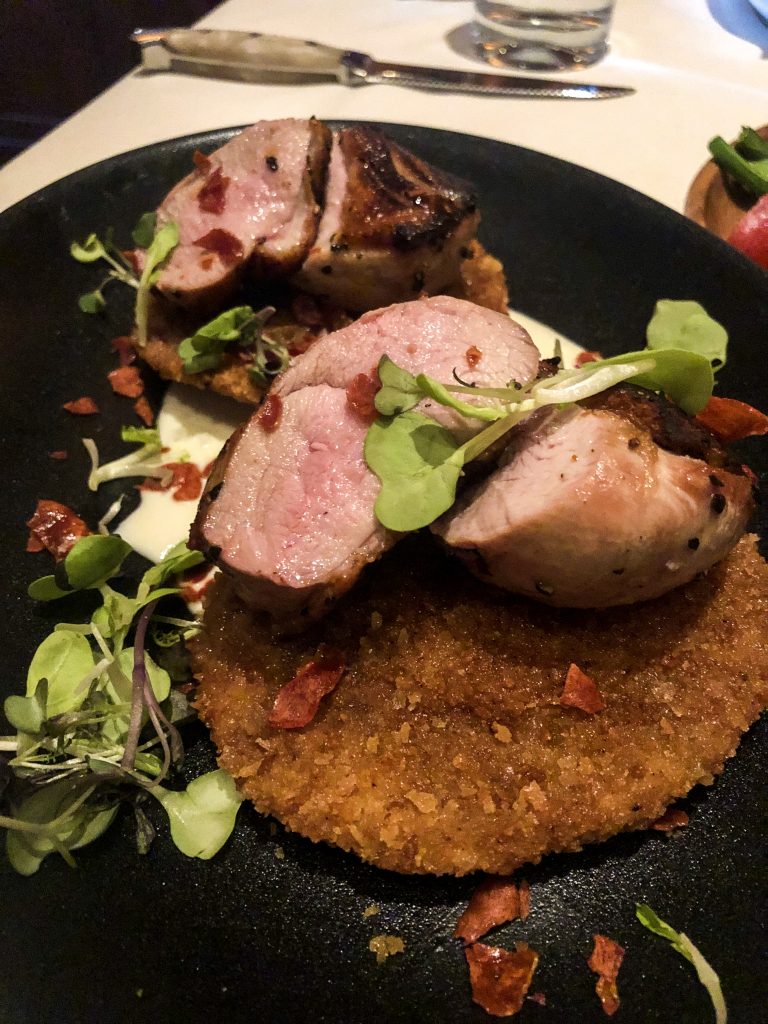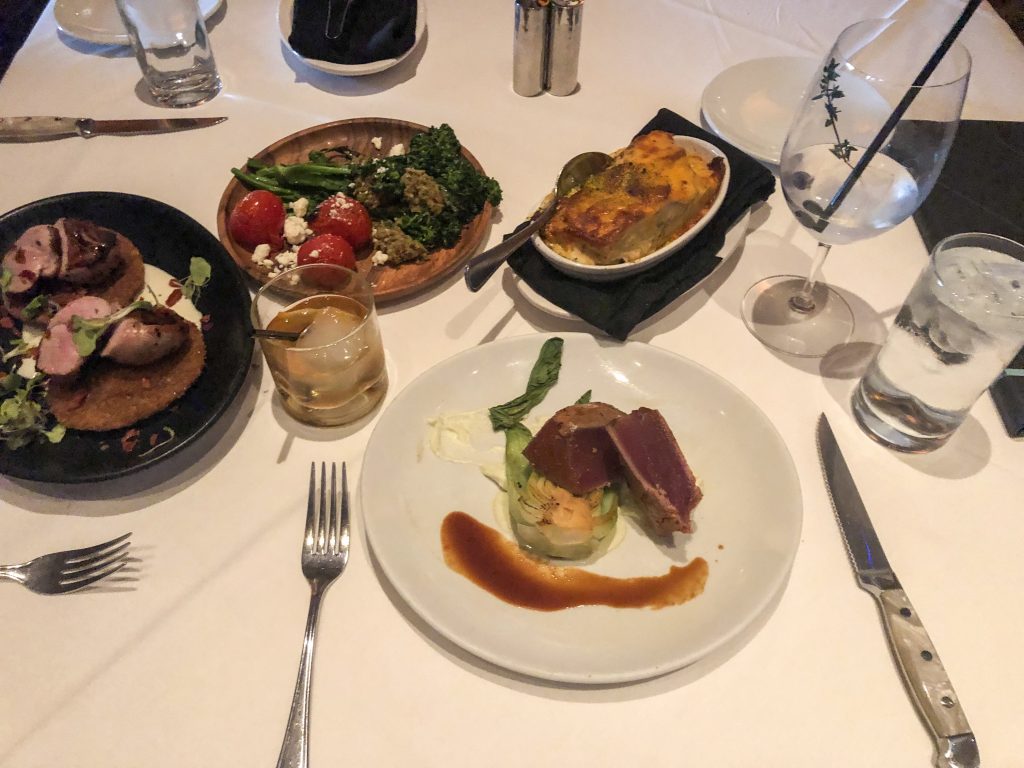 Sides
Manuel's Selection – Fleming's Potatoes
Madison's Selection – Roasted Broccolini
The roasted broccolini was a part of the Chef's Table menu and so I knew I needed to try that! It was super fresh and the perfect compliment to the meal.
At the suggestion of our amazing waiter Andres, we also tried the Fleming's Potatoes – which are an au gratin style potato. Manuel loved how delicious and creamy those were!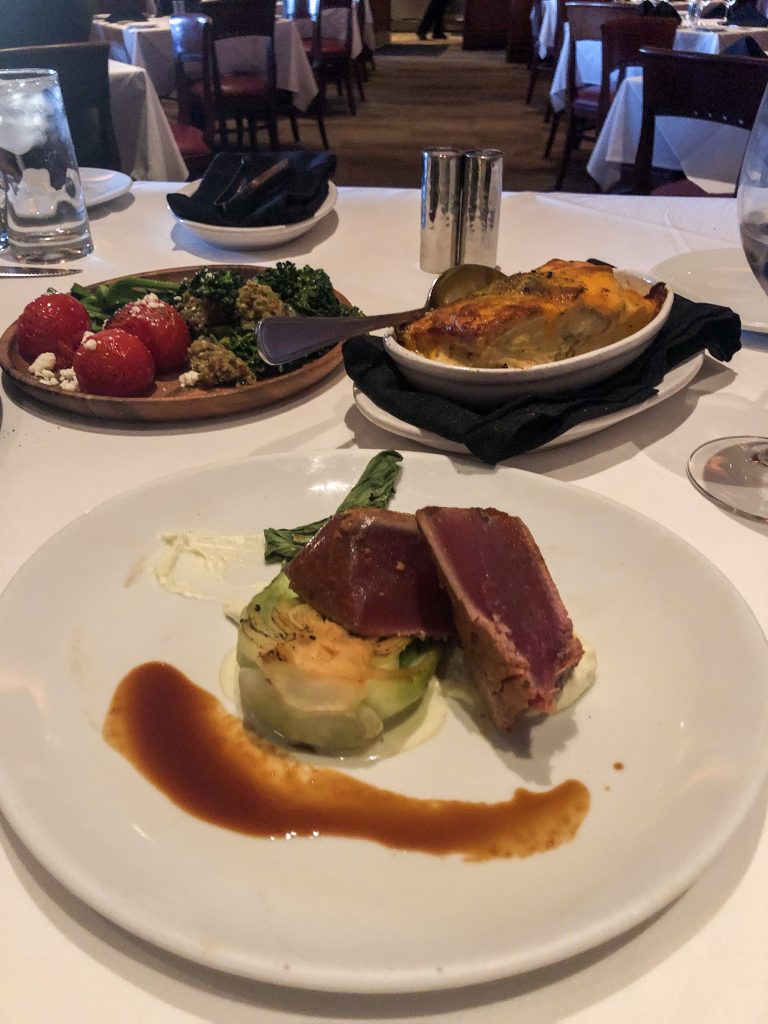 Dessert
Shared Selection – Waffle Tiramisu with Chantilly Cream
After all of the previous food, we were super full! However, I have such a sweet tooth and Chef Matt had created such an amazing tasting menu that we knew we needed to try the dessert!
When they brought it out, I was surprised by how gorgeous it was! Essentially it was a waffle tiramisu tower served with a side of Chantilly Cream. I could have easily eaten the entire bowl of cream myself – it was so delicious! And the tiramisu had a great balance of sweetness, it was the best way to end our meal.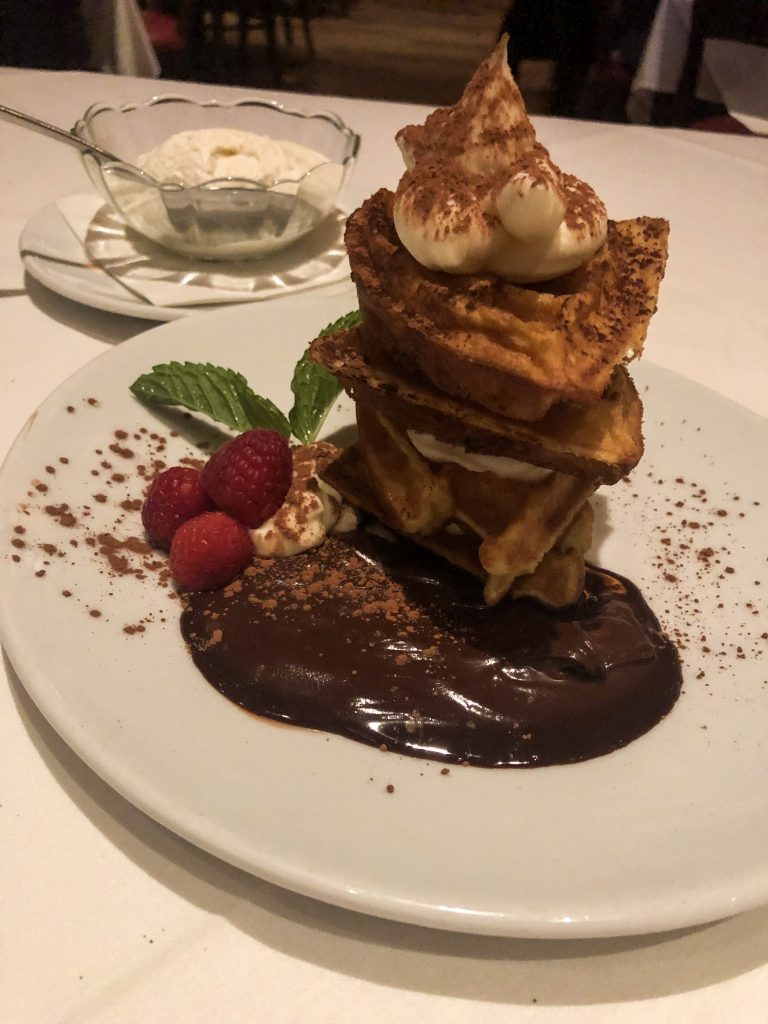 Overall Impressions
I think that it is fair to say that both Manuel and I were pretty blown away by Fleming's. The wait staff was so friendly and helpful, the menu was diverse and showcased the talent of the Chef's, and we loved how welcoming the atmosphere was. It is the PERFECT date night, family gathering, business meeting, anything spot!
So, needless to say, if you haven't checked out Fleming's in Des Moines make sure that you get there to try Chef Matt's Table and all of their other amazing dishes. Make sure to visit https://www.flemingssteakhouse.com/locations/ia/west-des-moines to check out the newest dishes exclusively available on their Chef Table menu. You can find them here: 150 South Jordan Creek Parkway, West Des Moines, IA 50266