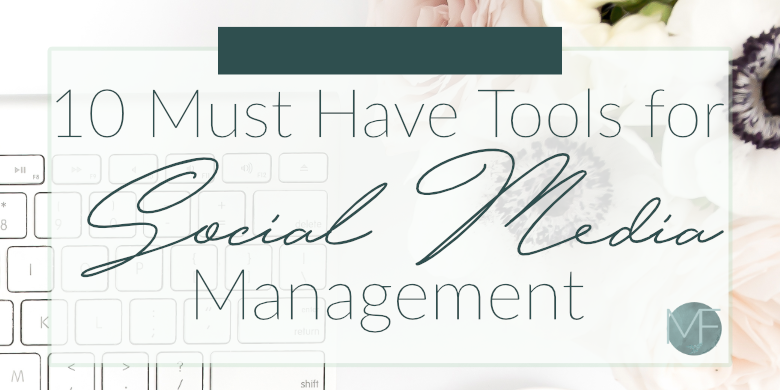 Social media plays a key role in business and brand development. It is useful for marketing and exposure and unlike other marketing strategies, most of the marketing can be done for free! This can help take a small business from no sales to having over 6 figures in profit- when it is leveraged correctly.
The tricky part is that social media can become overwhelming trying to schedule, envision the layout of multiple platforms and then manage them. As a small business owner myself, I know that time is a luxury and we have to be able to make the most of it. These are ten tools that make it easier to manage multiple social media platforms: saving you time while promoting your business.
10 Must-Have Tools for Social Media Management
Programs I use for Instagram:

This app is free for up to 30 posts per month. Later allows you to schedule one month in advance and gives you the visual option so you can create a cohesive social feed. Everything can be given a time and date stamp and then the app will notify you when it is time to post. All you need to do is open the app and it will guide you through publishing your post. I love using Later because it's FREE (woohoo!) and I can make sure that I have an entire month of content planned out (even if it is just the pictures) so that I remain consistent on Instagram.
Also free! This app adds one link in your profile that you can connect to multiple platforms. See my Instagram for an example. This is a great tool to use for accounts who are consistently having to change the link in their profile. Now you can set up Linktree one time and never have to worry about changing your link again! If you are still changing out the link in your profile everytime you have a new post, you need this tool!
Programs I use for Pinterest:

Tailwind is the "holy grail" of Pinterest account management! Perfect for scheduling and organizing pins for your aesthetically pleasing Pinterest boards. Tailwind allows you to add a browser tool that you can use to schedule pins from any site you come across. It does all the heavy lifting for you- automatically creating a schedule to pin your content at the best times. Making it super easy to keep your Pinterest account thriving with minimal effort. Check out Tailwind here!



Fantastic for looping pins and pinning to multiple group boards. You can set BoardBooster up once and never have to worry about it again! It will automatically loop and repin from the parameters that you set forth.

Allows you to find Pinterest group boards. In case you don't know what a group board is, it is just like it sounds, a board with multiple Pinterest accounts able to pin to it. It can be great for getting your brand exposure because your pins to the group boards will be seen not just by your followers but by all the followers on the group board as well! I recommend joining 5-7 quality active group boards within your niche.
Programs I use for Twitter:

A free app that is great for customizing your Twitter dashboard, managing one or multiple accounts and scheduling tweets. The dashboard also allows you to track brand-specific hashtags and followers so that you will never miss an important tweet. Ready to schedule your Twitter for an entire month (or more) in one day? Head over to TweetDeck.
Programs that help with Content Ideation/Creation:

A daily "magazine" is created with all of the content you are interested in, allowing you stay up to date and informed.

Canva is a fantastic tool to use. It is built specifically for non-graphic designers to create gorgeous and professional graphics. There are a variety of projects to start and choose from- resumes, social media banners, flyers and more. Plus, they have a ton of free templates (and who doesn't love FREE!).
Overall Scheduling Programs
SmarterQueue has saved me hours and hours of time when it comes to social media! Why might you ask? Because it has the ability to recycle content. This means that I have to create a post for my content one time, and it will be shared repeatedly (until I tell it to stop.) This works so well because my content is able to get constant exposure on Facebook and Twitter with me doing essentially nothing. I always make sure to have my queue scheduled with enough content so that nothing recycles for at least 40+ days.

Hootsuite (For a Free Alternative to SmarterQueue)
The alternative to a paid for scheduling platform is Hootsuite. This is great for managing and keeping track of all social media platforms. You can also see what others are saying about you, your business or brand. The free version does have limitations, but for most small business owners, it works well enough! Hootsuite of course also offers paid versions so if you ever feel like you need more room to grow, you can upgrade.
Do you have another app that keeps your social media organized? I would love for you to share it below!
Related Posts that you will LOVE: