I get tons of questions around how to set up a website hosting as a new business owner! Which means that I am super excited to share this post with you about how to set up your website hosting with SiteGround!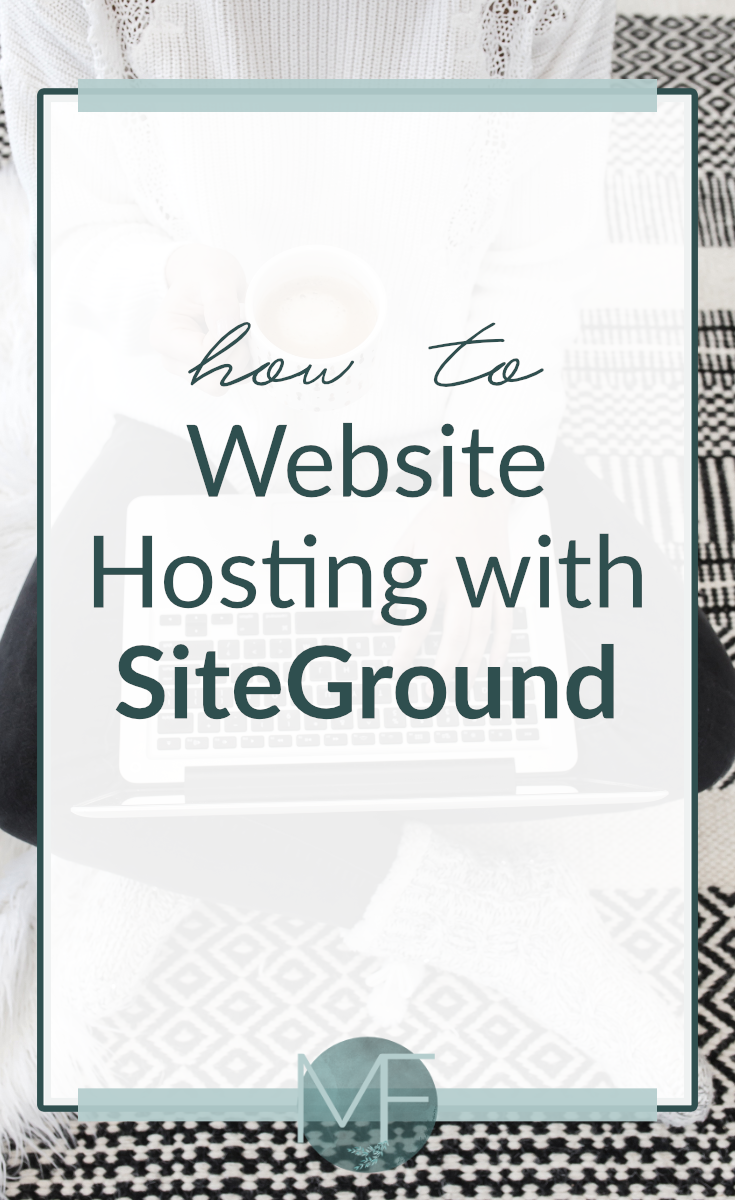 *Heads up, this post contains affiliate links. Read my full disclaimer here. 
Before we get into the steps for setting up your website hosting with Siteground, I want to tell you my story when I first set up my own site. I really had no idea what I was doing in the beginning. (So if that is you, trust me, we have all been there!)
First, I actually originally signed up with WordPress.com and quickly found out that was a big mistake. So, I knew that I needed to switch and so I did a quick search of where to host my site and found Bluehost.
Now, other people's experience might be a bit different than mine, but this is the story of what happened to me (and many others if you ever check out an entrepreneur Facebook group or two).
When I switched to Bluehost from WordPress.com, it was a struggle. I could never reach their support and when I did, they treated me like I knew how to code a website (I had to even google multiple words they were using because I am not a web designer! Just a girl trying to start a business.) And for what I was paying them, I thought that I should be getting a bit more help.
After struggling for a couple of months with BlueHost, I was finally so frustrated that I didn't even care if I lost the money I had paid for the rest of the year, I just needed a company that would help me.
Now, this time, when I took to the internet to find a hosting site, I did my research. Time and time again, I kept hearing all of the great things about SiteGround so I decided to contact them first. Yep, before I even gave them any money, I wanted to see if I could speak to a kind person.
Want to guess what happens next?
Not only did I get immediately connected with a support person, but they were amazing. They didn't pressure me into buying into them, they just gave me the facts and the resources I needed to make a decision.
Needless to say, I was pretty impressed and so I quickly signed up for their StartUp plan.
After signing up, I was completely expecting to have to work for hours trying to figure out how to even move my site over to them. Since I had such a great experience with the first tech person, I thought maybe they could give me a few pointers. Do you know what they did instead? They did everything for me.
Let me say that one more time, they did everything for me. WHAT?! How amazing is that?
They have certainly earned my trust and loyalty as a lifelong customer. Anytime I have an issue, their support team is seriously the greatest!
A little more about the company:
Founded in 2004 by a few university friends, SiteGround gradually but steadily turned into a leading web hosting service provider. With only a handful of people working from their university dorm rooms in the beginning, today the company has more than 400 employees and is constantly growing. We process 1500+ tickets, 1000+ phone calls and 3000+ chat requests per day. We proudly host more than 1,000,000 domains with this number growing by the hour.
OK, let's talk about how to get you set up on SiteGround!
1. Choose your hosting plan
SiteGround has three plans and you can sign up for any of them, but to help you make your choice, here is a bit about each one:
The StartUp plan is perfect for people with one website that they are starting now
The GrowBig plan is a great value for your money offer, it gives you the ability to have multiple websites and the SuperCacher which greatly improves a WordPress and Joomla website speed
The GoGeek plan is perfect for people with e-commerce and larger sites, or more geeky development needs like staging and GIT integration
Again, if you are just starting out, the StartUp plan is a great choice! But if you are maybe switching from another hosting company, the GrowBig and GoGeek plans are great options as well!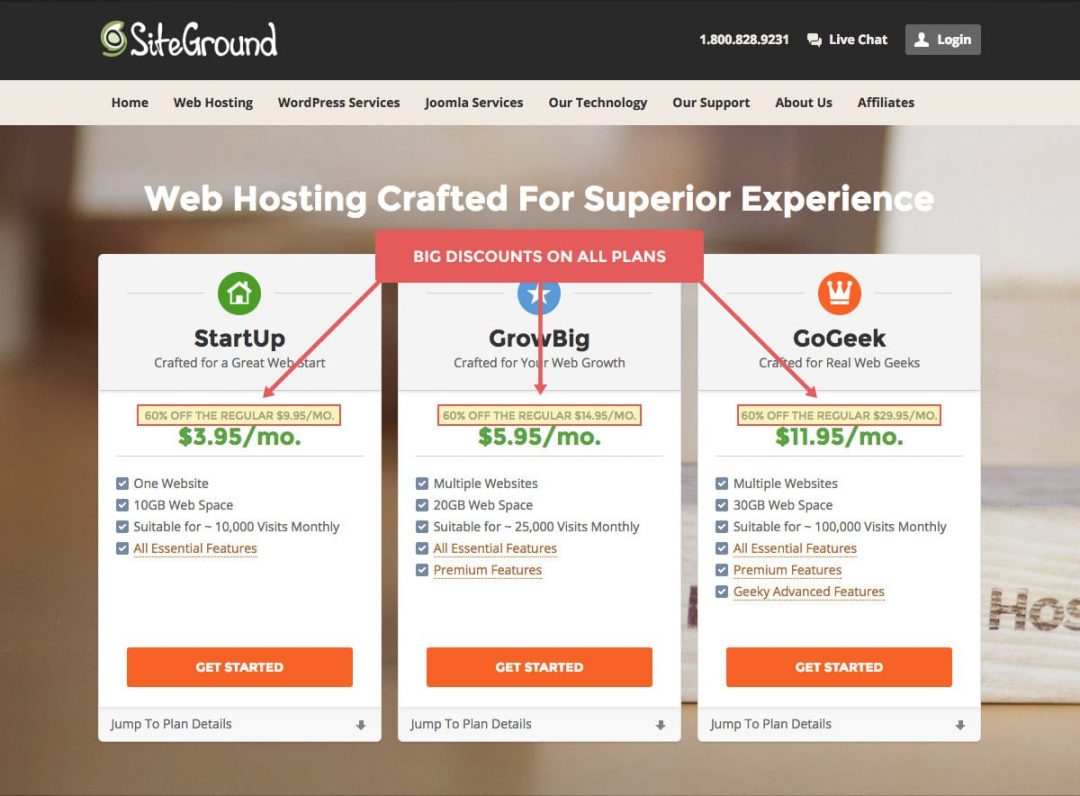 Step 2. Choosing your Domain
Within SiteGround, you can choose to buy a new domain, or sign up with an existing domain.
If you are just getting started, then here is where you buy your domain. (The domain, aka the web address that will lead to your website like www.madison-fichtl.com)
If you are transferring over then you certainly need to take full advantage of the free website transfer, it is included in all of the SiteGround hosting services! WOOHOO!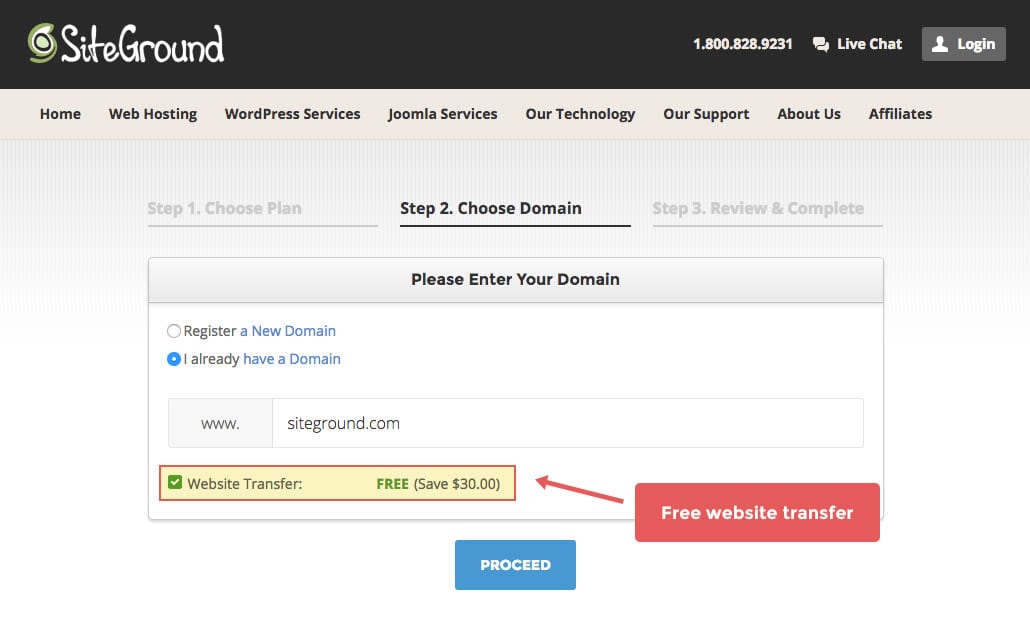 Step 3. Review and Complete
The best part is that when there is a discount offered by SiteGround, they honor it for the entire period of time you sign up for! Most other companies only give you a discount on your first month so this can save lots of mullah! Win!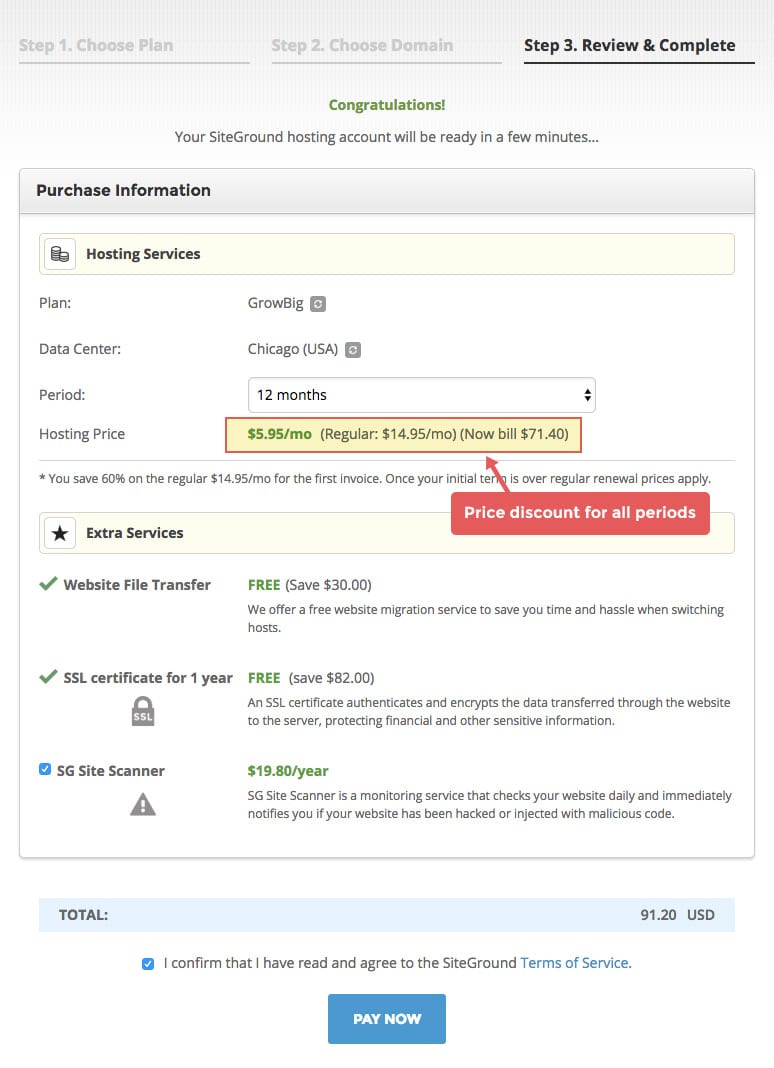 And in case you are starting from scratch or you want a new look for your current site, check out this post on the best WordPress DIY Website Themes!