Whenever I used to go shopping for intimates I always seem to get frustrated. My DD chest never seemed to fit right into bras. They were either too tight on the band, my cups seemed to overflow, or they pushed up so far I had a literal shelf under my chin (not a good look).
I'm sure most other women can relate to this because bra shopping can be hard, but I have good news ladies! It doesn't have to be! No matter what size you wear, or what style you are looking for, I have a solution just for you.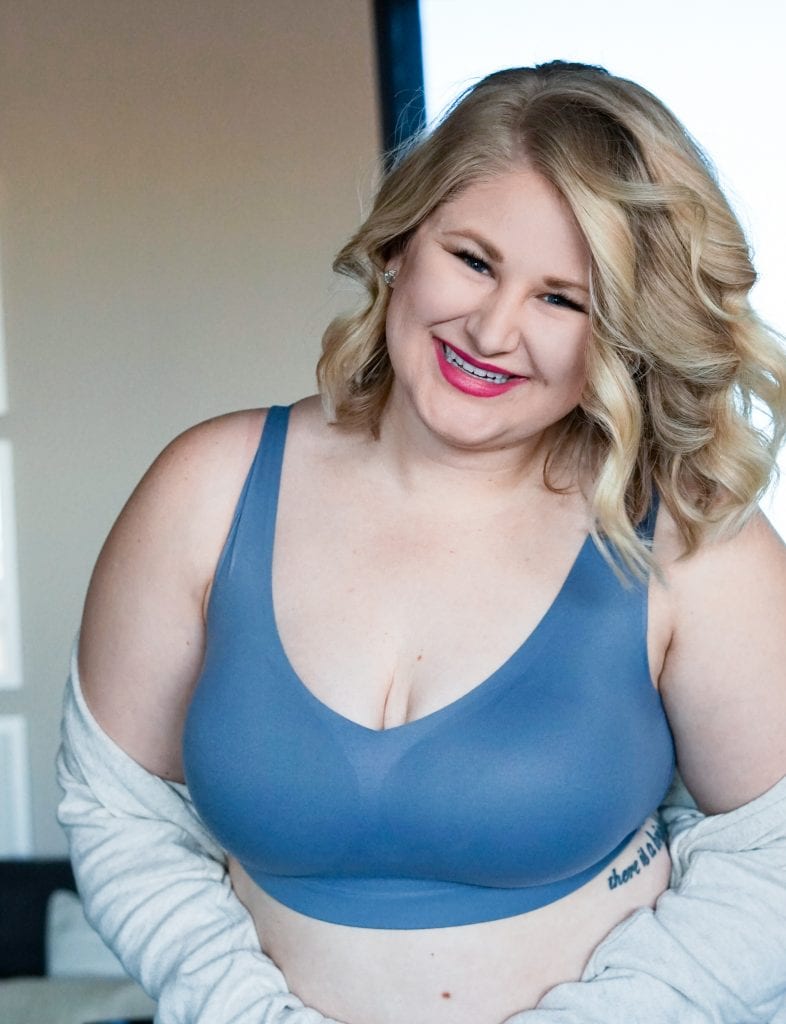 Now, you might be skeptical, and that's OK because I was at first too. However, after finding Soma and religiously wearing their bras everyday for the last year or so… I am ready to spread the word about how truly awesome they are. I love that Soma offer solutions for all women, in all stages of their lives. It can be so hard to find a brand that is pretty and practical, yet soft and supportive. And Soma encompasses all of those.
*This post is sponsored by Soma however, all opinions are completely my own. Check out my full disclaimer here.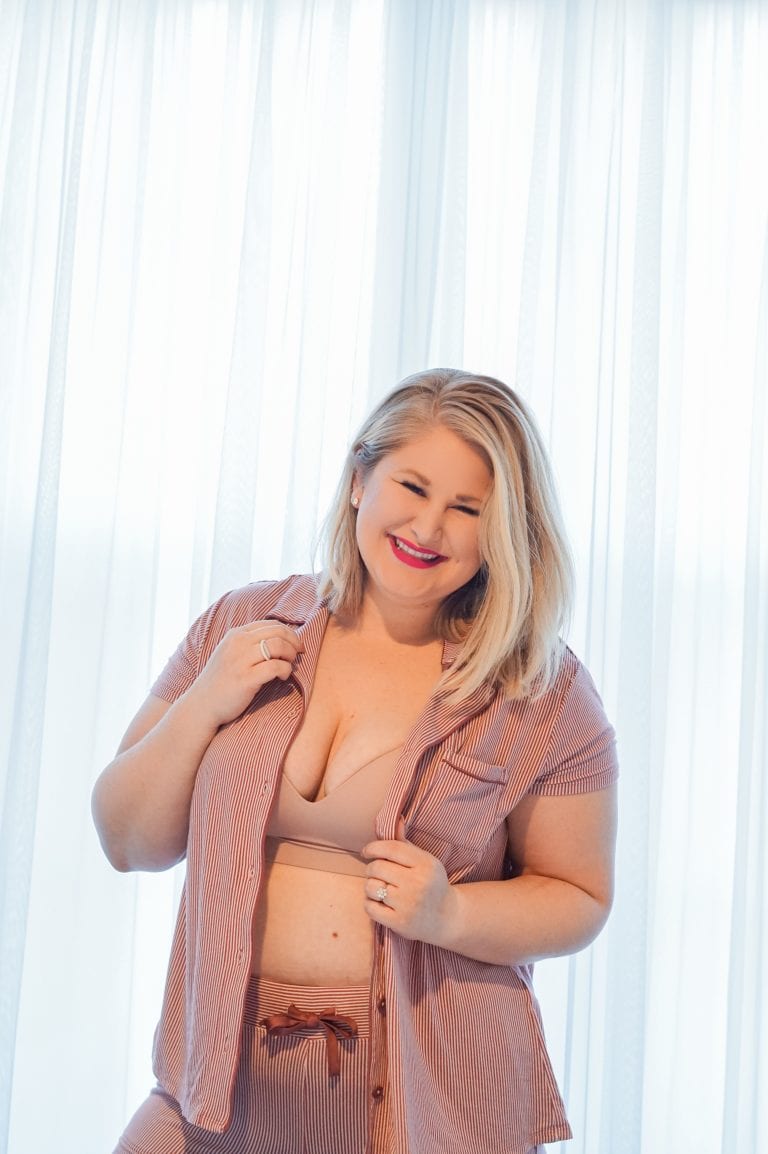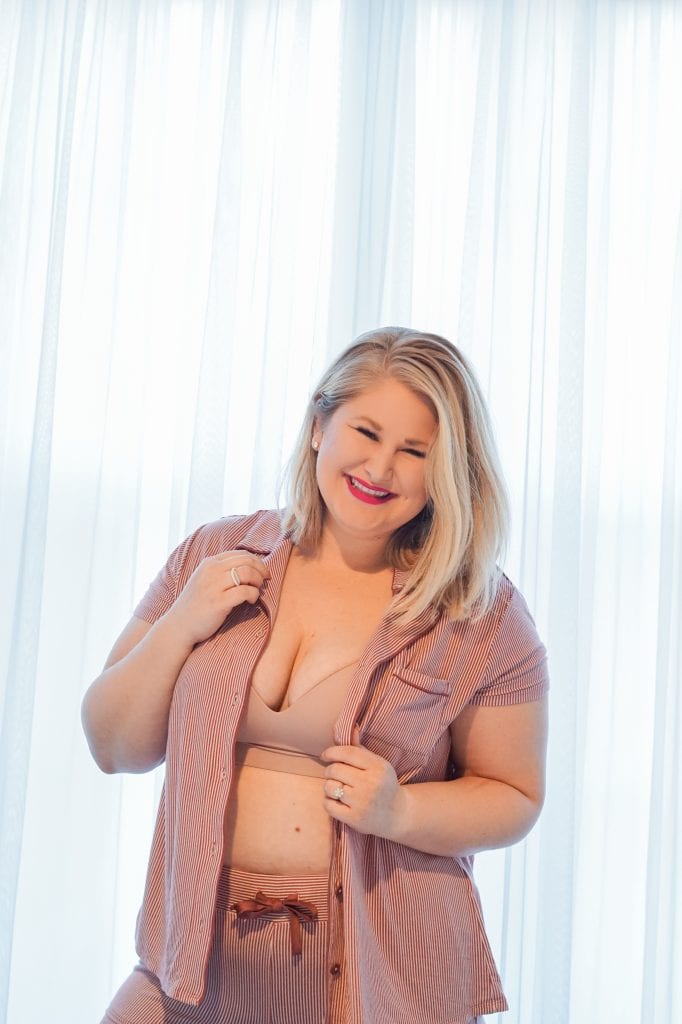 Think about this for a second… intimates are something we likely wear daily. So why isn't it something that we talk about more? Why do women like to assume they are forever going to be uncomfortable while wearing a bra? (Don't worry, I was felt the same way before finding the right one!)  And more importantly, without a great foundation (i.e. the intimates) then an entire outfit can look off.
Which brings us to what we need in a bra. At least this is what I need, and I am sure most of you feel the same. Here are my must haves:
They need to be comfortable first and foremost because no one wants to be in pain all day.
Next, they need to fit right. Whether that means that you need a little push-up or you just don't want to look like you have four boobs when wearing a t-shirt, it has to be right for your body.
Finally, I want to have variety. Just because I have a larger cup size, I still want to feel good about putting something on – and I want to be able to choose between different styles and looks. Maybe a lacy bra for date night, and a wireless bra for everyday wear.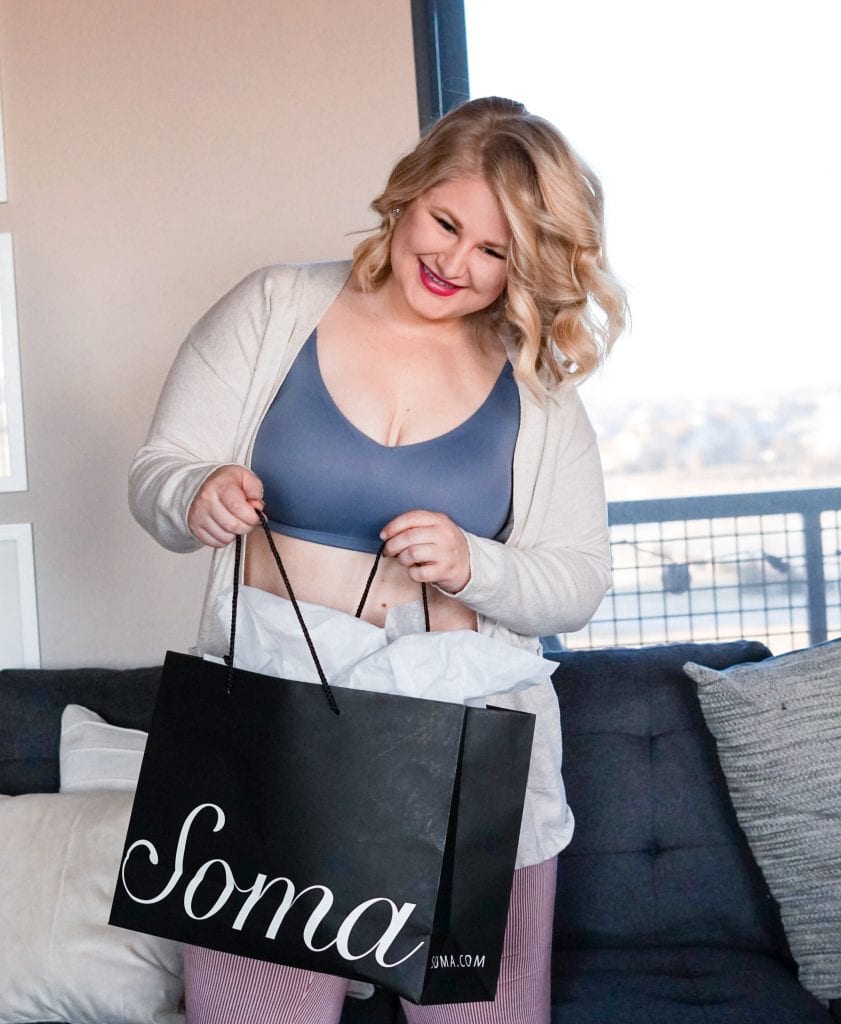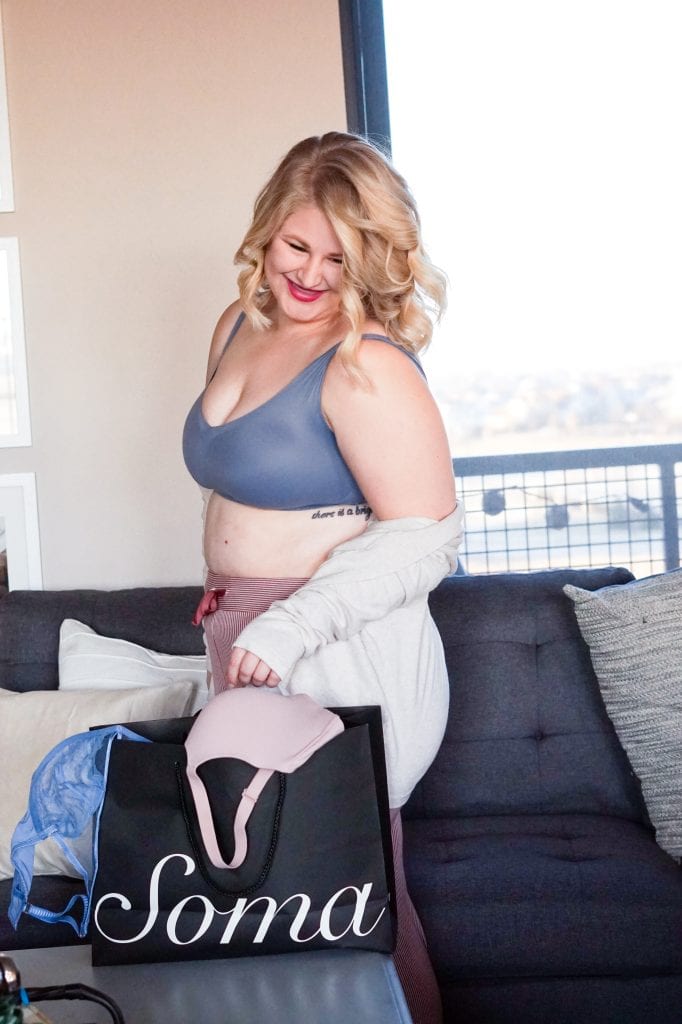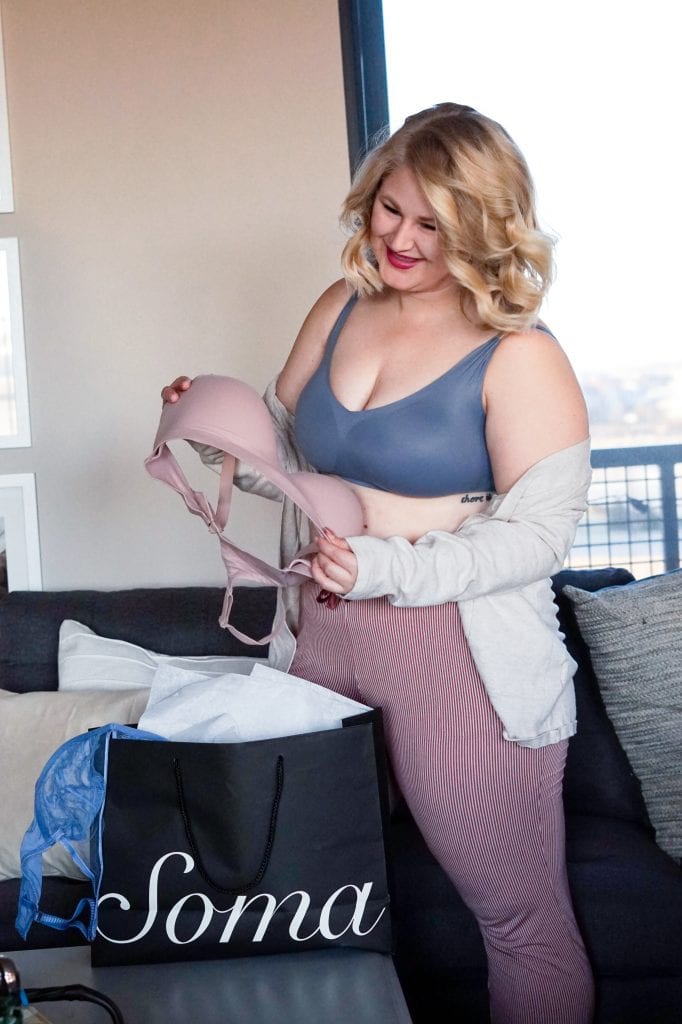 Luckily for us, Soma covers all of these with flying colors. If you live close to one of their locations (find out here) then I really recommend going in and getting fitted.
I am such an awkward person but the women in the store made me feel super comfortable and they were quickly able to find me my correct size. From that size, they offered suggestions on which bras I might like the best.
And once you have your size, then you can easily order online! Or if you already know what size you are, then shop away!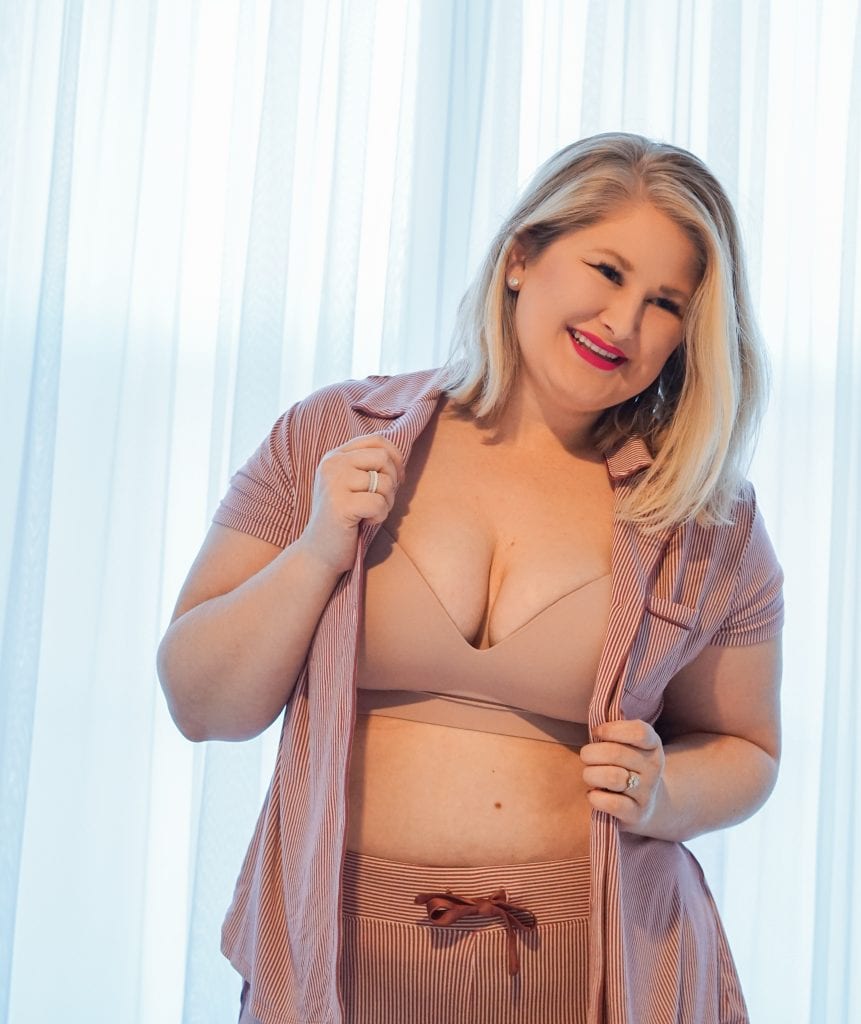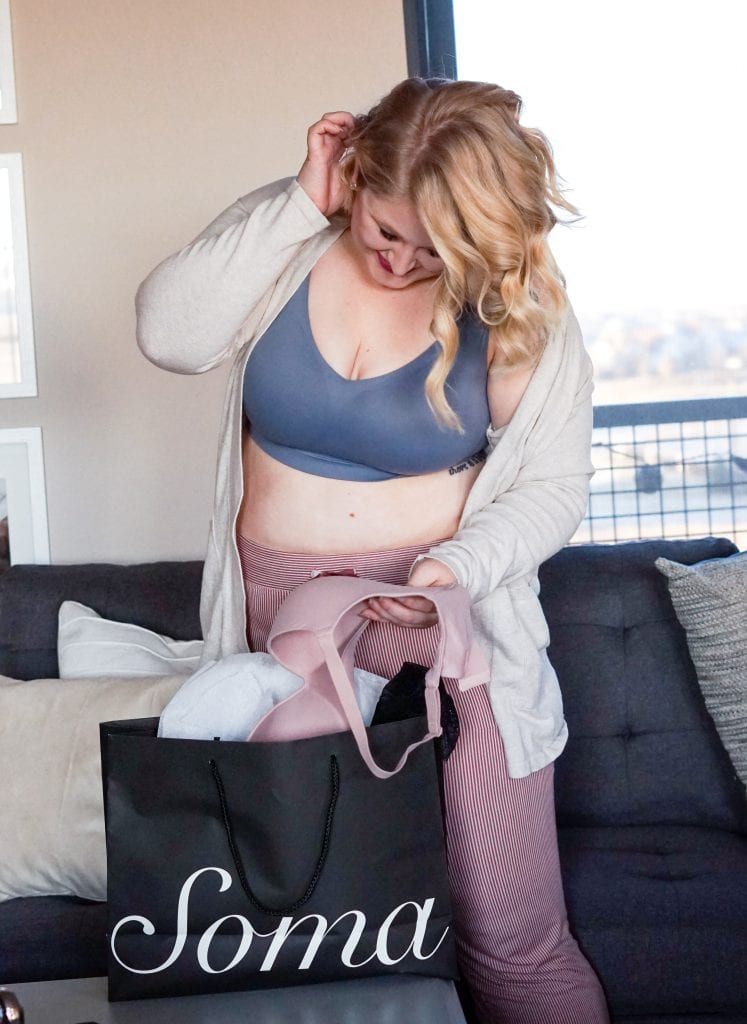 My absolute go-to, every girl must have, best bra ever is their Enbliss Wireless Bra. It seriously is the most comfortable bra ever! It hardly feels like I am wearing anything at all. And it stays in place, while giving me the support I need.
Honestly, I wish I could be like Oprah and give every women who struggles to find the right bra the Enbliss. Can you picture it now? "You get a bra! You get a bra! And you get a bra!" It would be epic!
The Enbliss Wireless Bra is so soft to the touch, I easily wear it all day long. And with the full coverage contour cups it has, there are no more cup overflow issues. Hooray! And with its hook-and-eye closures, it easily converts into a racerback which is awesome in the summer.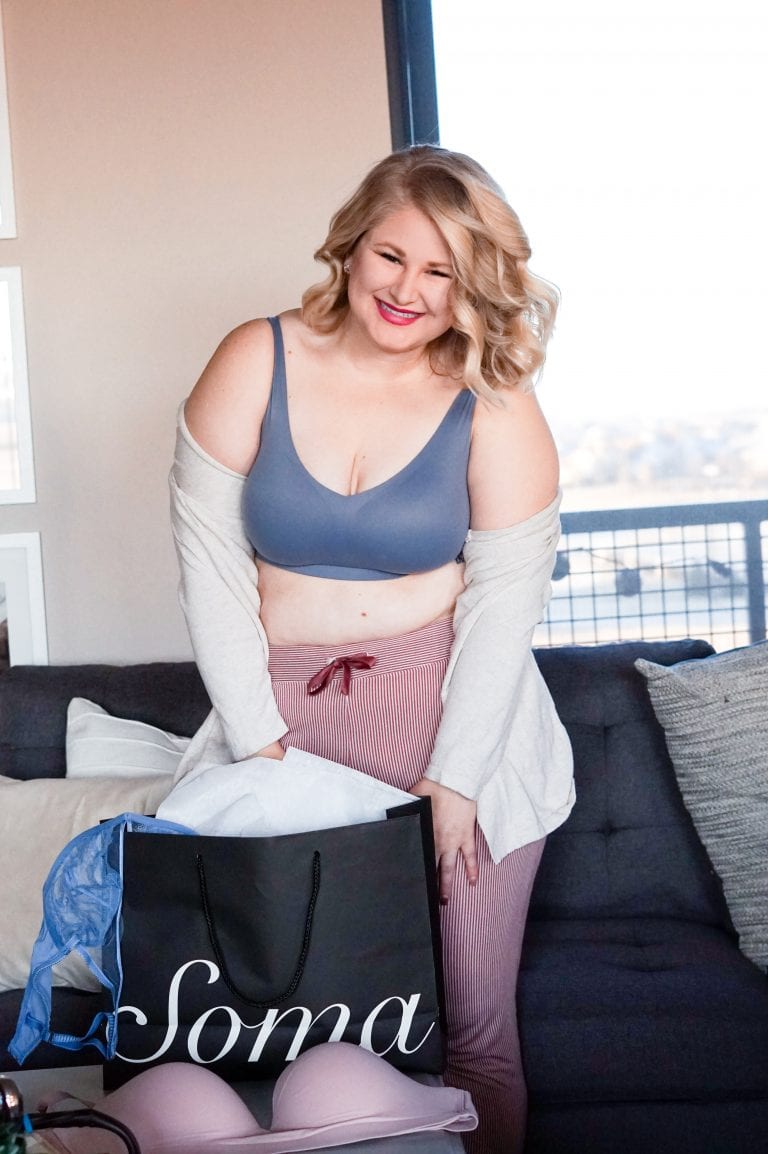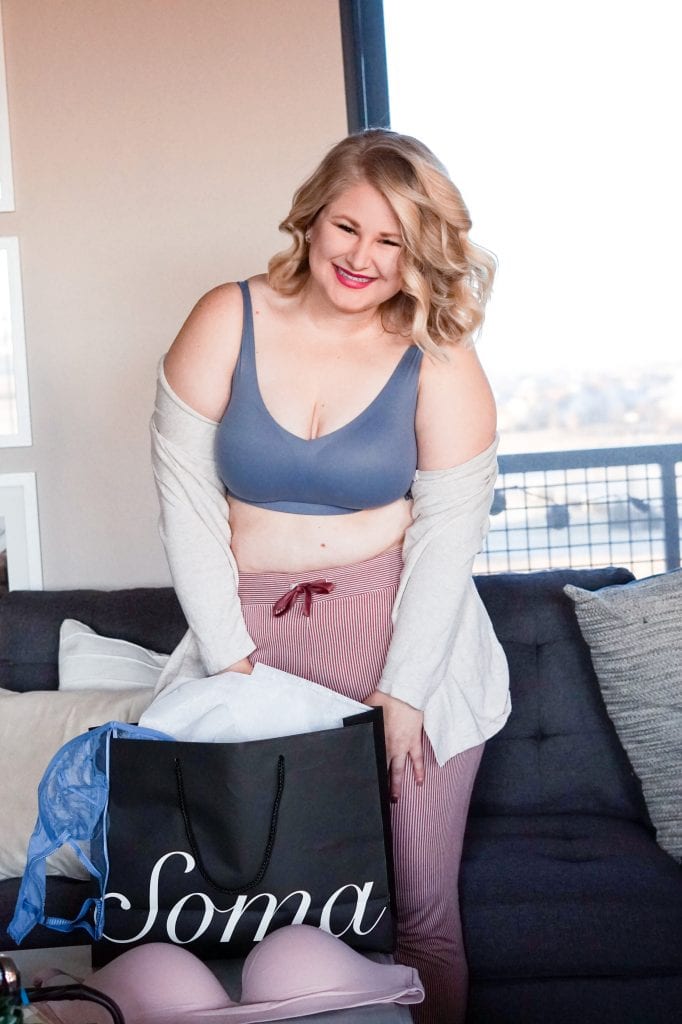 [show_shopthepost_widget id="3403769″]
It comes in over 17 colors so you are sure to find one you will fall in love with. My go-to colors are the Adobe Rose and the Mystery Blue, both fun and playful but able to go under most tops.
And if you are feeling even more adventurous, there is also a bralette style for the Enbliss Wireless bra. I love the wide straps on the bralette and it's always nice to change it up a bit. Also, the fabric on these is SO SOFT!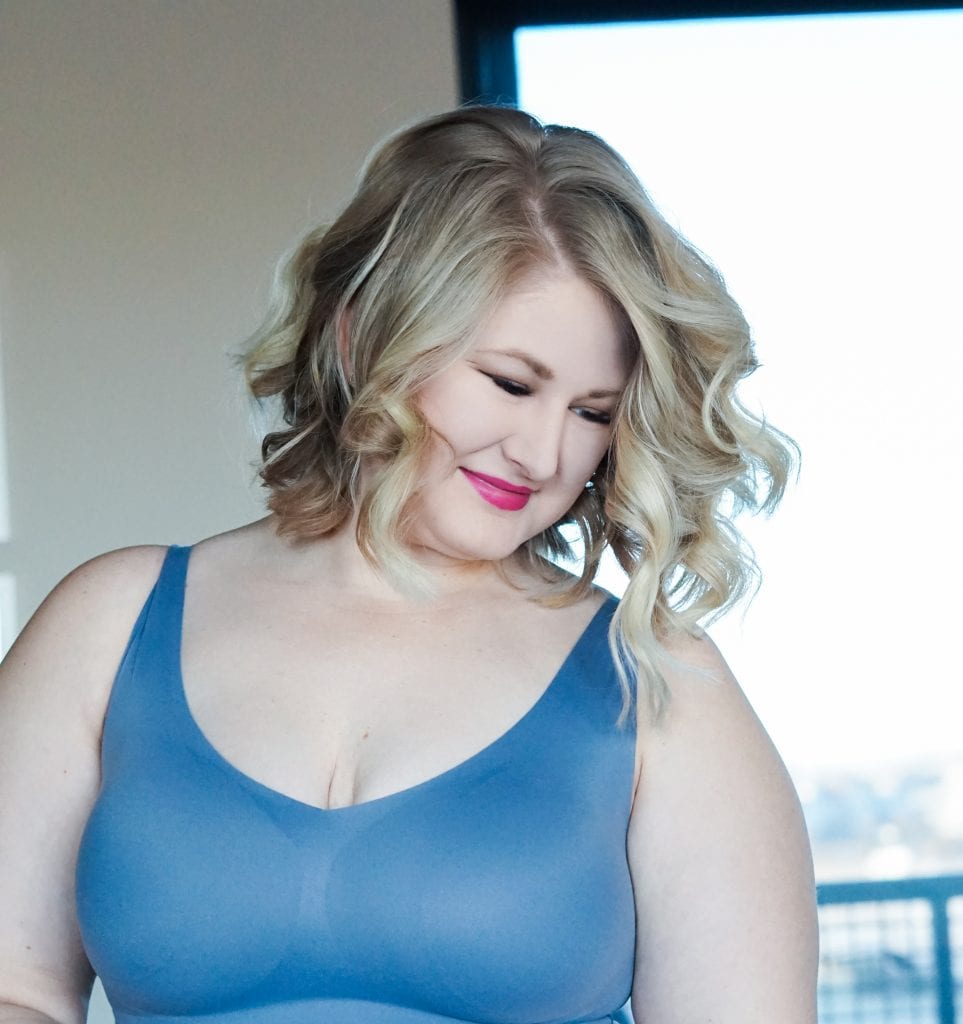 No matter what Soma product you decide on. From the pajamas to the vanishing panties – I promise you will love them, because I know I do!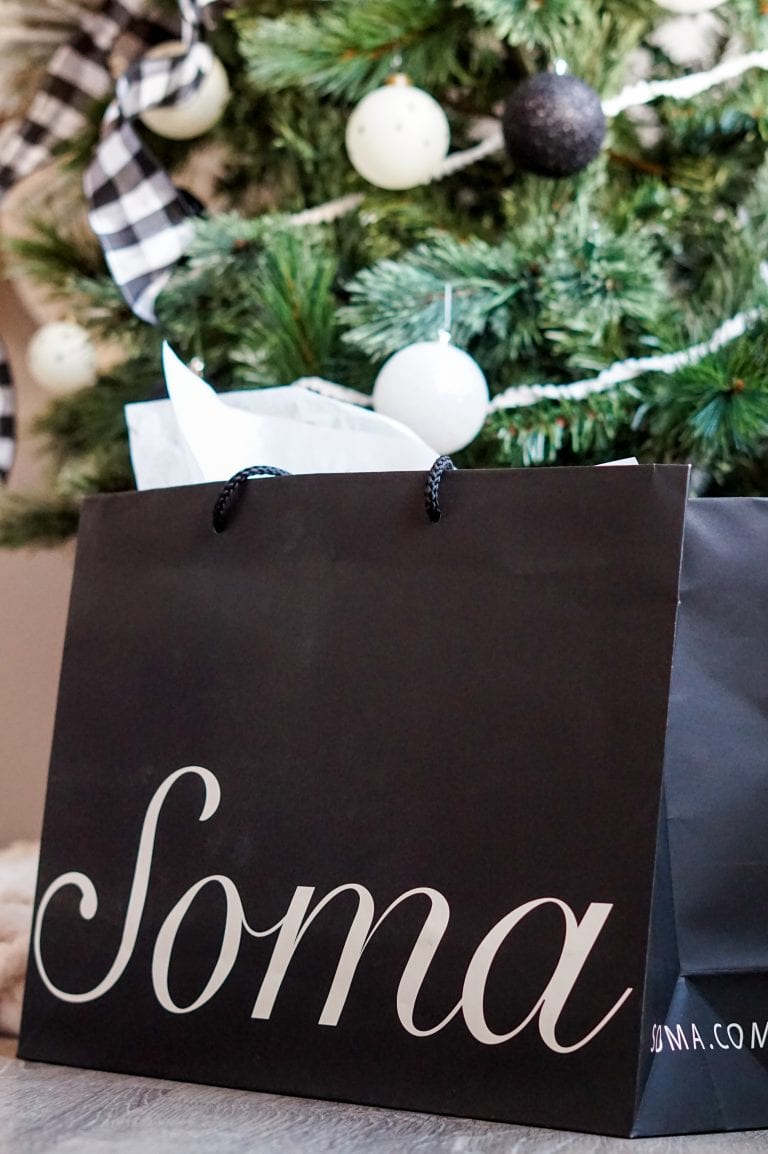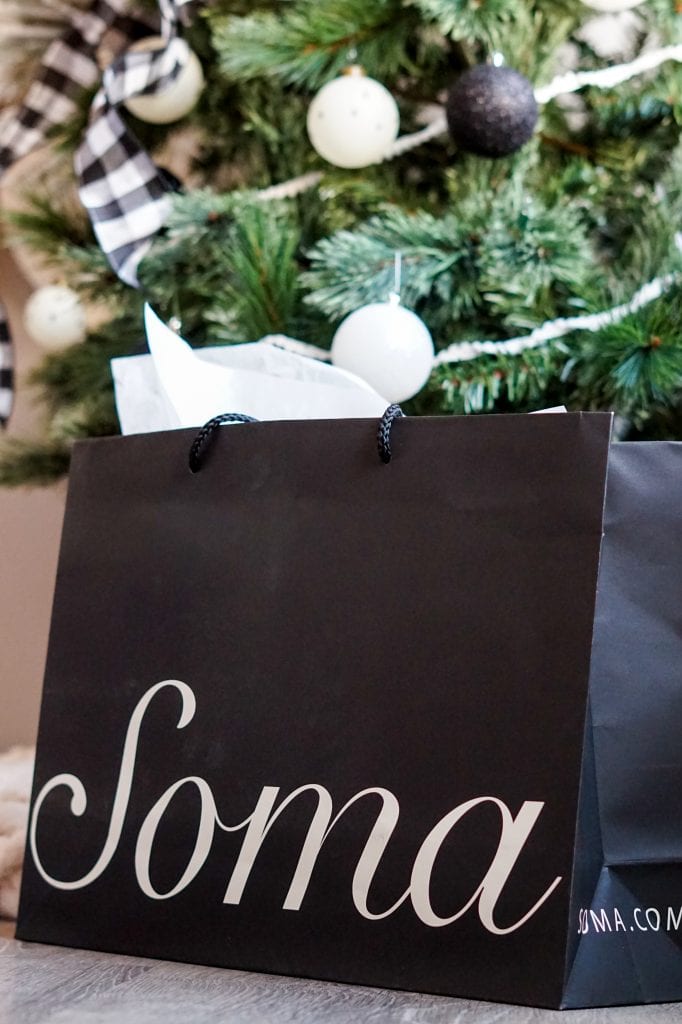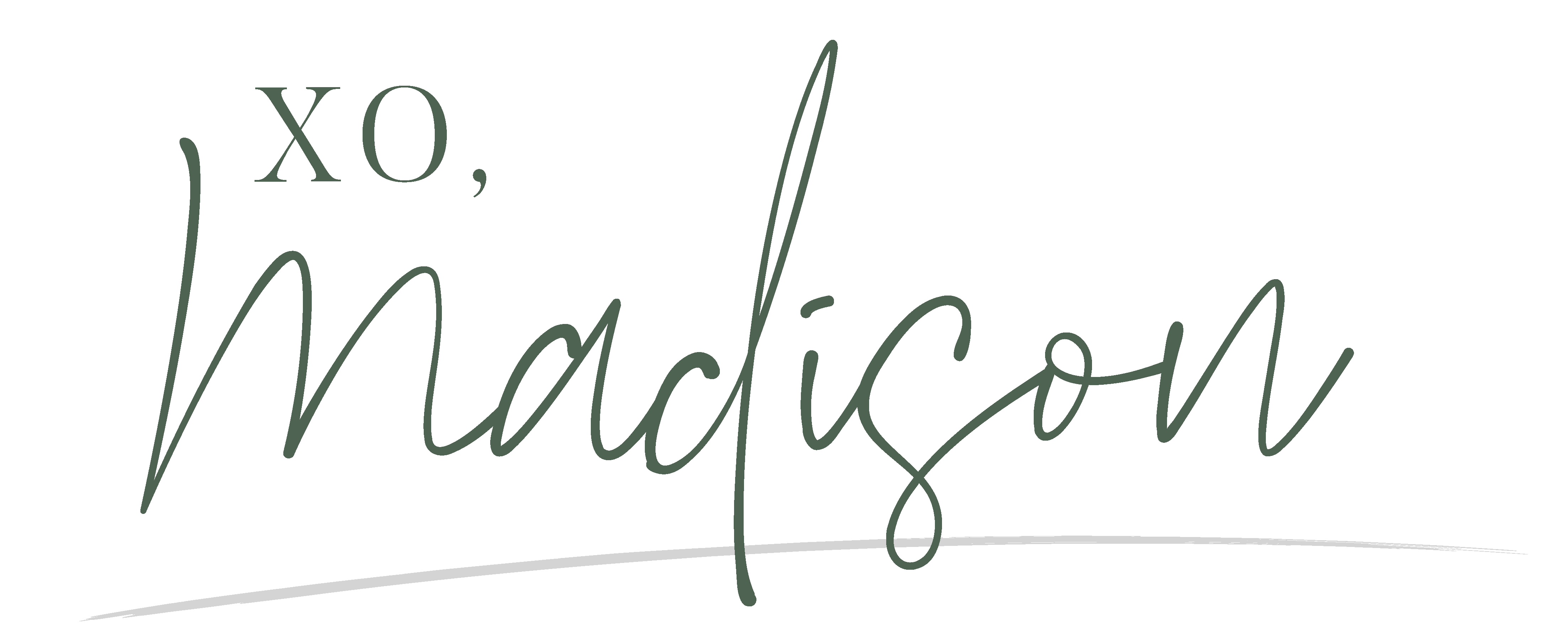 Shop this Look