I can't believe that Leonie is already almost 3 months old! These first few months have flown by, and I have loved being a mom and learning about this new role. I did so much research when I was pregnant about what to buy and what not to buy – some of it was true, while I still haven't used a lot of the "stuff" that we purchased.
In case you are a soon to be mama and doing your own research, I have compiled a list of baby essentials for the first 3 months. We used these products at least daily during Leonie's first three months! This of course will probably vary from baby to baby but I hope this at least gives you some idea of what you need and what you don't.
Baby Essentials for the First 3 Months
For Sleep:
SNOO Bassinet – I can't say enough good things about this. Leonie loves sleeping in this, and it is truly like having another set of hands to help with the baby! We can lay her down awake, and count on the SNOO to rock her to sleep. I also love that it has helped her sleep super long stretches at night. At 11 weeks old, we are consistently getting 10 hours straight at night!

Ollie Swaddle – This was recommended to me by so many people, and I am glad it was! It is super easy to use, and I don't have to worry about her escaping from it. We use it with the SNOO and it works like a charm!
Owlet Sock – I needed this for peace of mind. I had so much anxiety around whether or not she was breathing, or if she was ok. This was great to help calm that anxiety since it monitors heart rate and oxygen levels.
Crib/Bassinet Sheets – Make sure you have multiples of these! I stocked up and I am glad I did. You don't want to be scrambling for a clean sheet during a middle of the night feeding when the current one is dirty.
Baby Monitor – We debated on the many different kinds of baby monitors for awhile before finally deciding on an audio only monitor. We love this one as it tells the temperature, has a two-way talking capability, long range and is able to play music. It also adapts to the white noise so it isn't constantly running which is a huge plus.
Easy to open/close pajamas – I fell in love with Kate Quinn Organics! They are by far the softest and easiest to use out of any of the brands we have tried. I recommend getting a few different kinds/styles to see what works best for you.
Pacifiers – Sometimes Leonie loves a pacifier and other times she could care less. However, she seems to like the BIBS pacifiers the best (and I love how cute they are). She also is starting to use a Wubbunub – that she can cuddle with and push back into her mouth herself.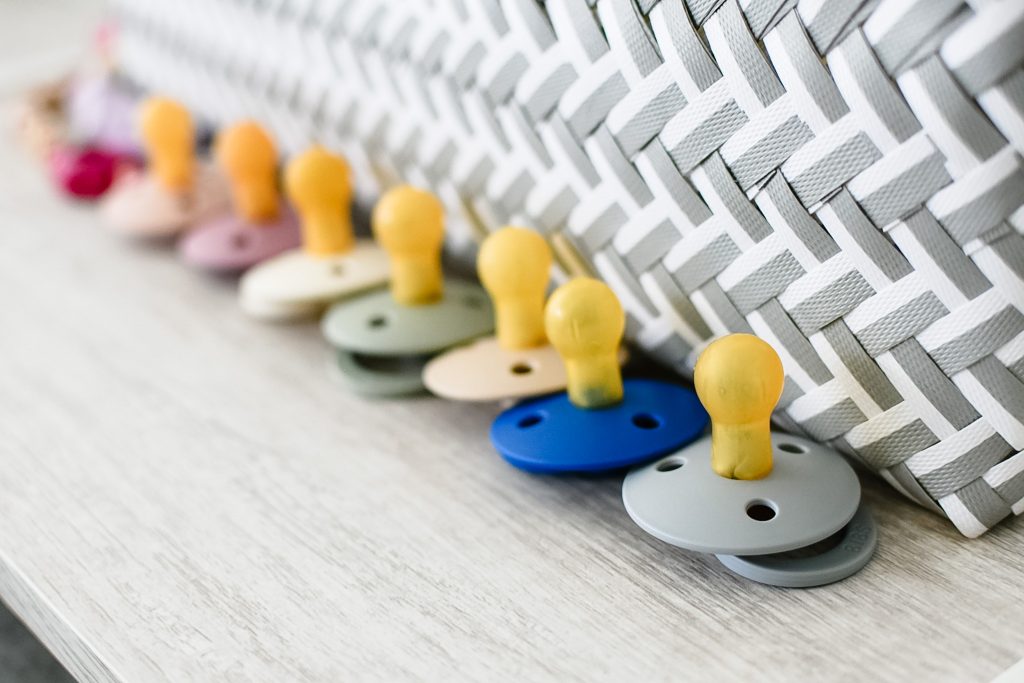 HATCH Sound Machine – Since we have the SNOO in our bedroom, I love having this sound machine for during the day in the nursery. You can program it for multiple different light colors and sounds/songs. Plus it can even act as a baby monitor if you want it to (we haven't really tested that out yet.)

For Feeding:
Burp Cloths – Get lots of these! I prefer these as they are super soft and absorbent.
My Breast Friend Nursing Pillow – This made breastfeeding much easier!
Elvie Breast Pump – I avoided pumping like the plague for the first 6 weeks. It was overwhelming to try and figure it out and the few times I did it, I used my Spectra Pump. I hated having to sit hooked up to hoses with bottles dangling. Then I tried the Elvie and my entire outlook changed. It is a cordless pump that fits into your bra – it's so simple to use (and can be controlled by an app on your phone). Even if you don't plan on pumping a ton, this purchase is worth it!
Bottles – Get a large variety and try them all out! Manuel is the one who feeds Leonie a bottle once a day so he is the expert. We found to like NUK bottles the best.
Bottle Warmer – I like using this one from Nanobebe but honestly you could also just use a big bowl of warm water.
Sterilization Bags for pump/bottles – I didn't find these until a couple of months in but they make sterilizing everything quick and easy. Just pop them in the bag and put them in the microwave (make sure to check with your pump/bottle manufacture to see if they support this).
Breast milk storage bags – We have only ever used Nanobebe bags and they have held up great! I love the shape of them and it makes it easy to store in the freezer.
Drying rack for bottles/pump parts – If you plan on pumping or feeding a bottle, this certainly helps to have! It is nice to have something to put parts on once you are done scrubbing them so that they can dry.
Nipple Cream – Trust me, you will need lots of this for the first month or so. I just used Lanolin and it worked wonders.
Rocking Chair with foot stool – This makes feeding a lot easier! I can gently rock to calm her and a foot stool is a must to help with positioning and comfort!

For Awake Time:
Blankets – we love the Aden + Anias ones!
Play Mat – Leonie is obsessed with this one. The black and white contrast can keep her occupied for hours!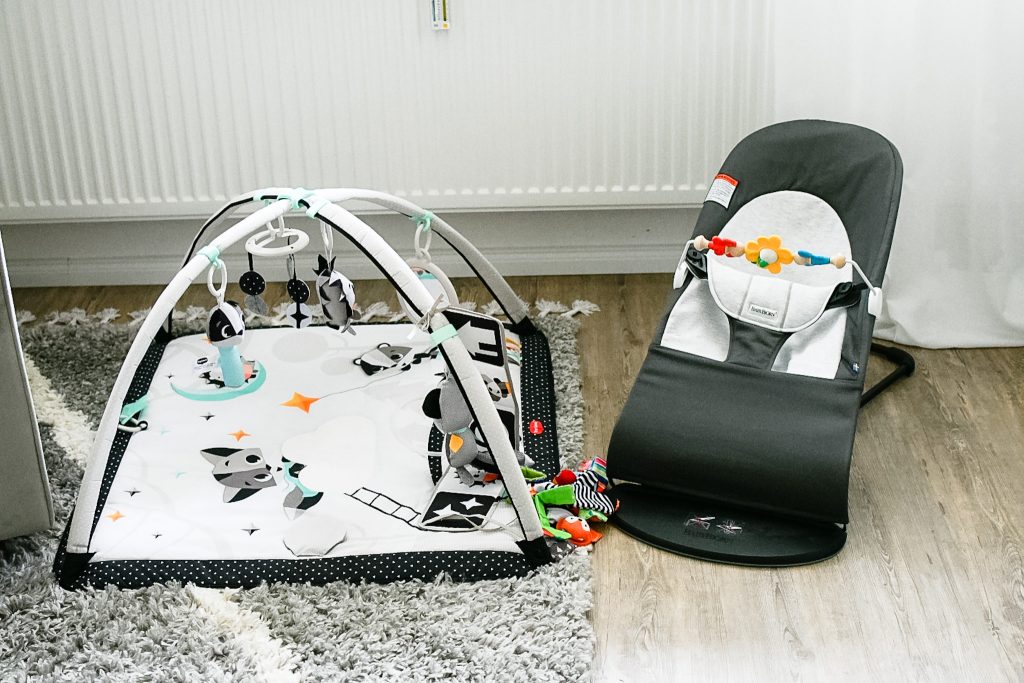 Bouncer – It took her a bit to warm up to this bouncer, but now she loves it. We did get the toy bar to go with it but I'm not sure you need it – she never is that interested in it.
Tripp Trapp High Chair and Newborn Set – This is a must have! It seems like every time we sat down for a meal, Leonie would wake up. So it was great that we could just put her in the newborn chair and she could interact with us while we eat. And since this chair grows with her, I know we will get a ton of use out of it!
Lounger – I couldn't bring myself to spend a ridiculous amount of money on the Snuggle Me Organic or the Doc-A-Tot. Maybe they are really worth it, I don't know because I haven't tried them. Instead, we grabbed this Lounger from Amazon and she loves it! I think it's great that we can prop her up a bit so after feeding she is not laying down right away again. Plus, you can't beat the price!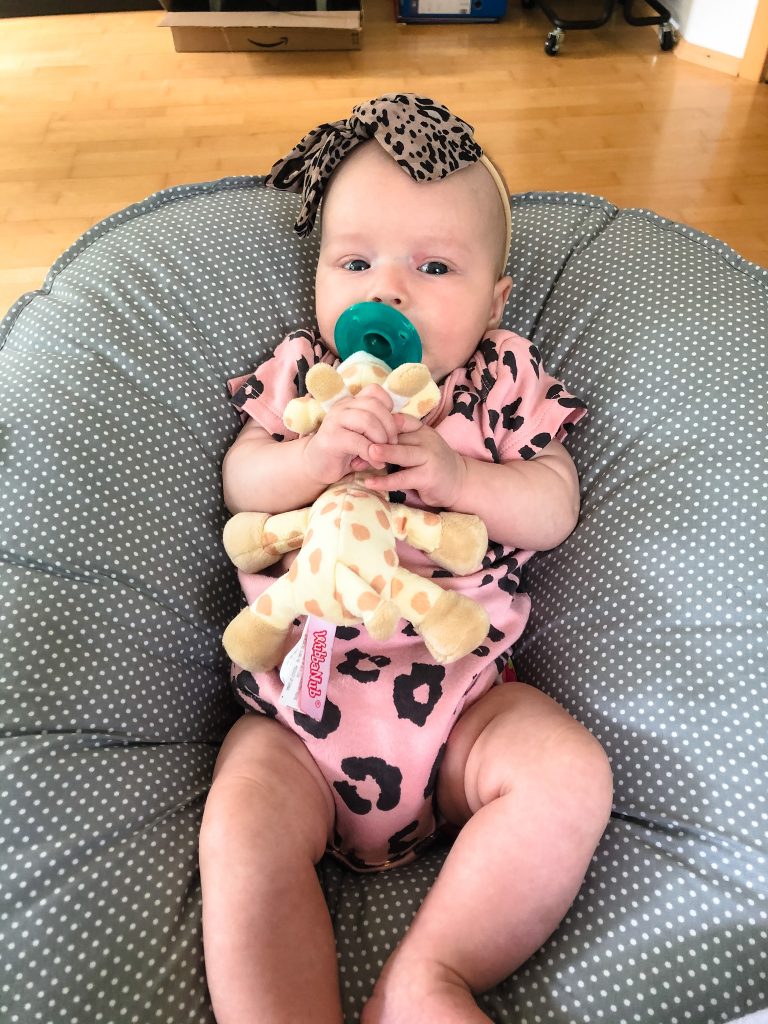 Sensory Toys – While she didn't need many toys at this age, she did love this butterfly hanging from her stroller. And she loves crinkly books that we could look at together.
Clothes in various sizes/styles – Again, I love Kate Quinn Organics! Make sure you try out different styles and sizes as they will all fit different babies differently.
Socks – To keep those cute little toes warm!

For Diapering:
*We cloth diaper. If you want to know more about this, I have an entire post here.*
Cloth Diapers
La Petite Diaper Cream – I love that this acts as a replace from wipe solution, and is a cream that doesn't need to be wiped off!
Changing Pad and multiple covers – Same as sheets, you can never have enough changing pad covers!

For Leaving the House:
Diaper Bag – This one is stylish and practical. It is large enough to fit a ton without being massive. Plus it can be worn across the shoulder or as a back pack. I also grabbed these hooks to quickly attach it to the stroller – so nice!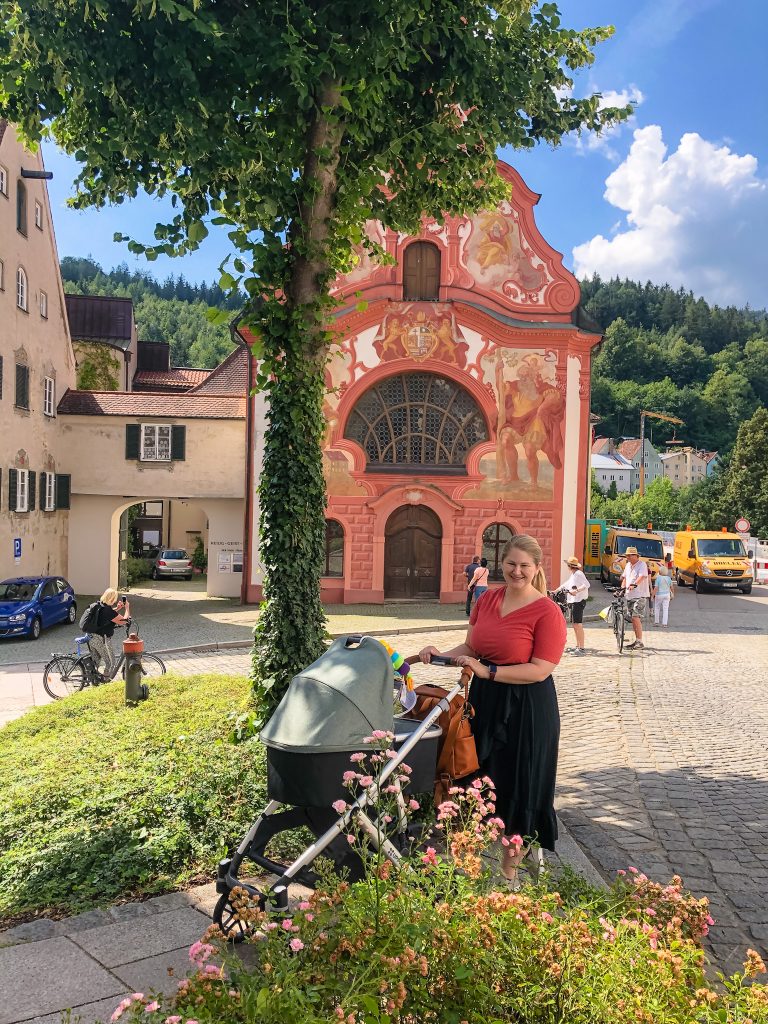 Car Seat – I have an entire post dedicated to our Cybex car seat here.
UppaBaby Vista Stroller – I love this stroller. It is just the right size and Leonie loves the bassinet that it comes with. It's also is super easy to click in our car seat into the base when we are out and about. And it handles so well and is very well made.
Portable Sound Machine – This is so handy to have! It helps Leonie fall asleep when we are on the go.

For Health:
Taking Cara Babies Newborn Course – Between this course and the SNOO, I know we owe a lot of our sleeping hours to them! I love Cara and all her courses, they were super helpful especially as a new mom trying to figure everything out!
Stokke Bathtub – So easy to use and I love that it folds up for easy storage.
Hooded Towel, Bath Rinser and Wash Cloths – Perfect for making bath time enjoyable.
FridaBaby NoseFrida – This thing is so good at clearing her nasal passages! It's a must have!
Probiotics – These have worked really well for us, but always check with your doctor before using!
Nail Files / Clippers – Their little finger nails can get so sharp!
Cradle Cap tool – This works super easily to remove cradle cap, which is bound to happen with most babies!

Let me know below what you loved during the first three months!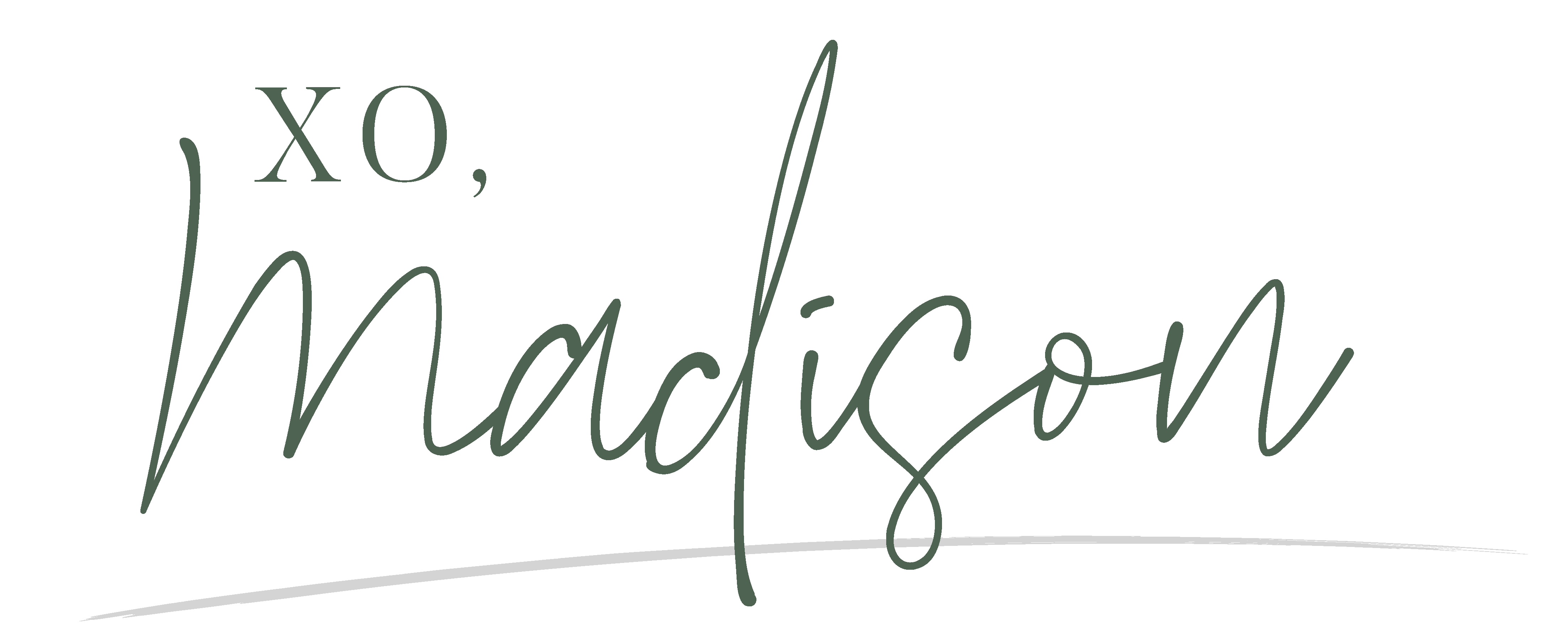 Shop this post!