As we were celebrating Memorial Day weekend, I shared the Strawberry Shortcake Kabobs that I was making to take to a backyard BBQ on Instagram stories.
I had so many messages asking for the recipe of this super quick and delicious dessert that I knew I needed to share it! It really is the perfect dessert for the summer and there are no plates or silverware required! (Win!)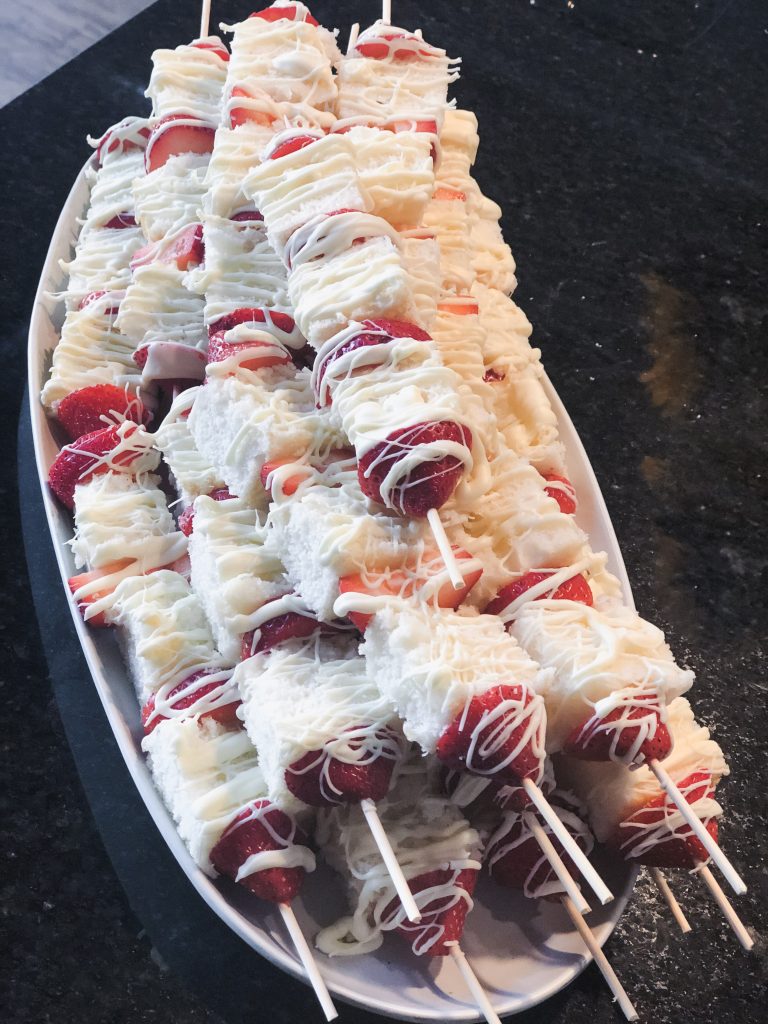 And if you are really pressed for time, you can just buy white cake or shortcake already prepared from the store. I chose to make ours because it only has a few simple ingredients and it is so easy! And if you use the recipe below, it lightens it up a bit by using greek yogurt instead of oil.
Also, you can always get creative with these. Add different fruits or even brownies and marshmallows work great too! If you want to add even more color, add sprinkles after you drizzle the chocolate!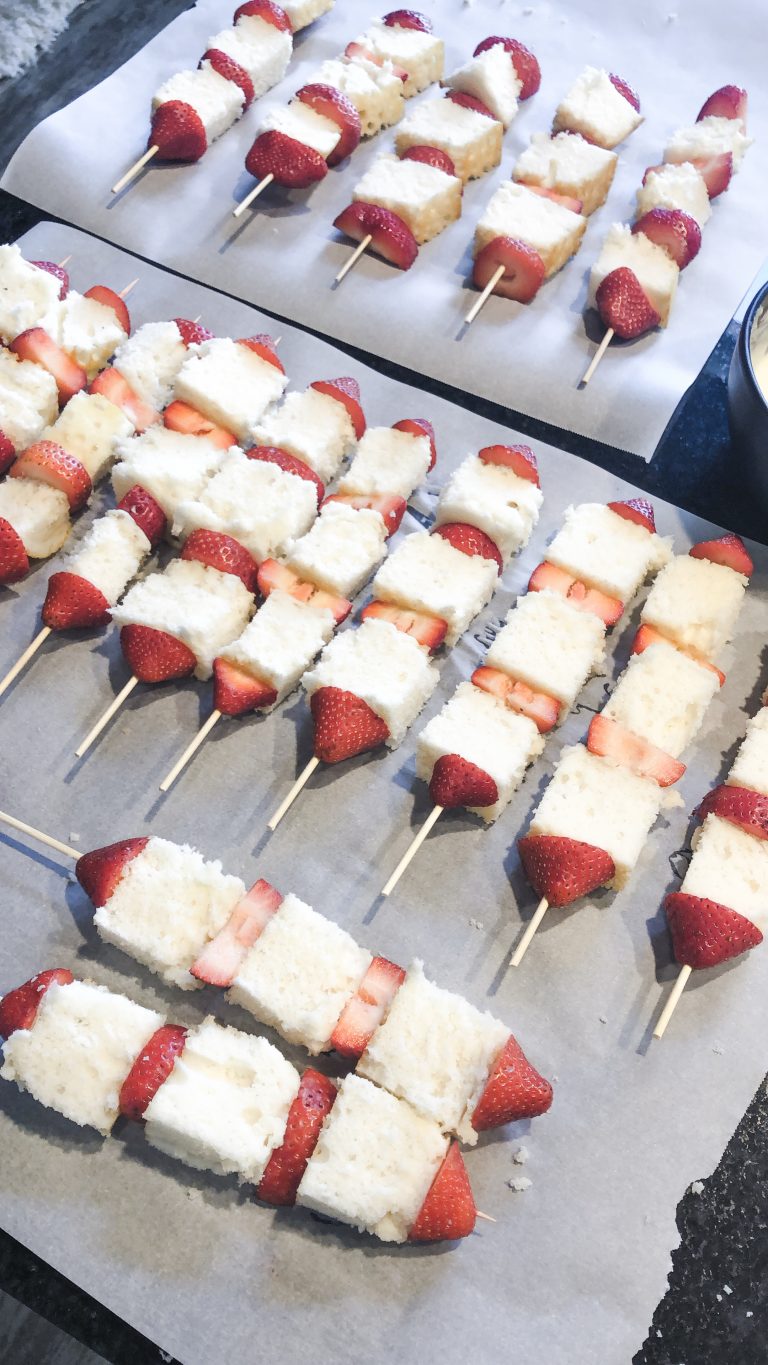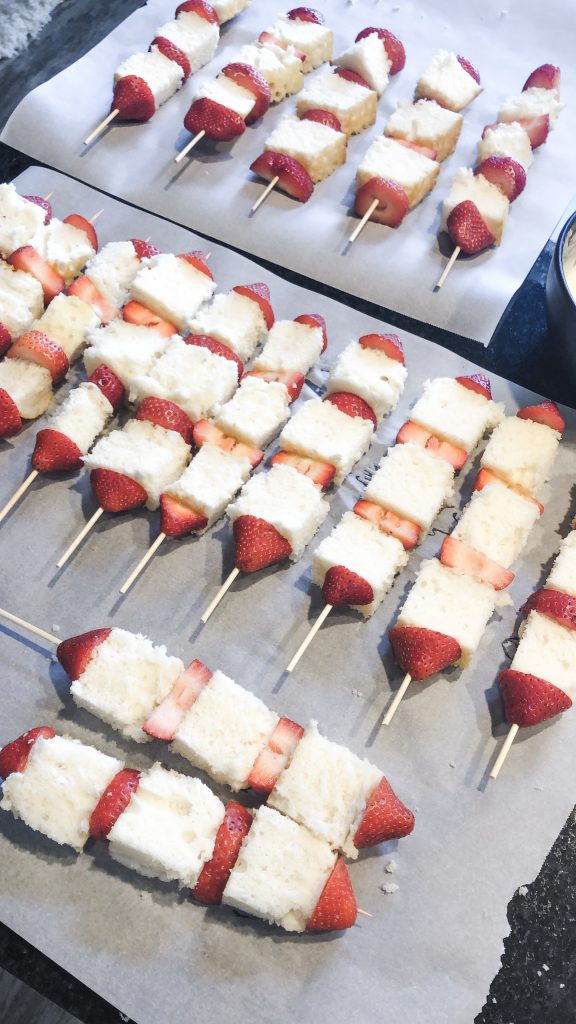 This recipe was originally created by Sugar Apron.
Strawberry Shortcake Kabobs
Ingredients:
2 boxes strawberries
1 box of white cake mix
3/4 cup of Greek vanilla yogurt
2 egg whites
1 1/3 cups of water
1 bag of white chocolate chips
Skewers
Directions:
Combine the cake mix, greek yogurt, egg whites and water in a bowl.
Mix until smooth and pour into a greased 9×13 cake pan or dish.
Bake at 350 for 20-25min until toothpick in the center comes out clean.
Cut stems off of strawberries and halve them if need to in order to create uniform sizes.
Cut shortcake into 2-inch cubes.
Take skewer and alternate strawberries and shortcake cubes. (I like to do three or four of each per stick). Depending on the length of the skewer you bought, you might have to cut them down.
In a glass bowl melt chocolate in the microwave for about two minutes stirring every every 30 seconds.
Once fully melted, drizzle all over the kabobs with a spoon.
Place in the fridge to set.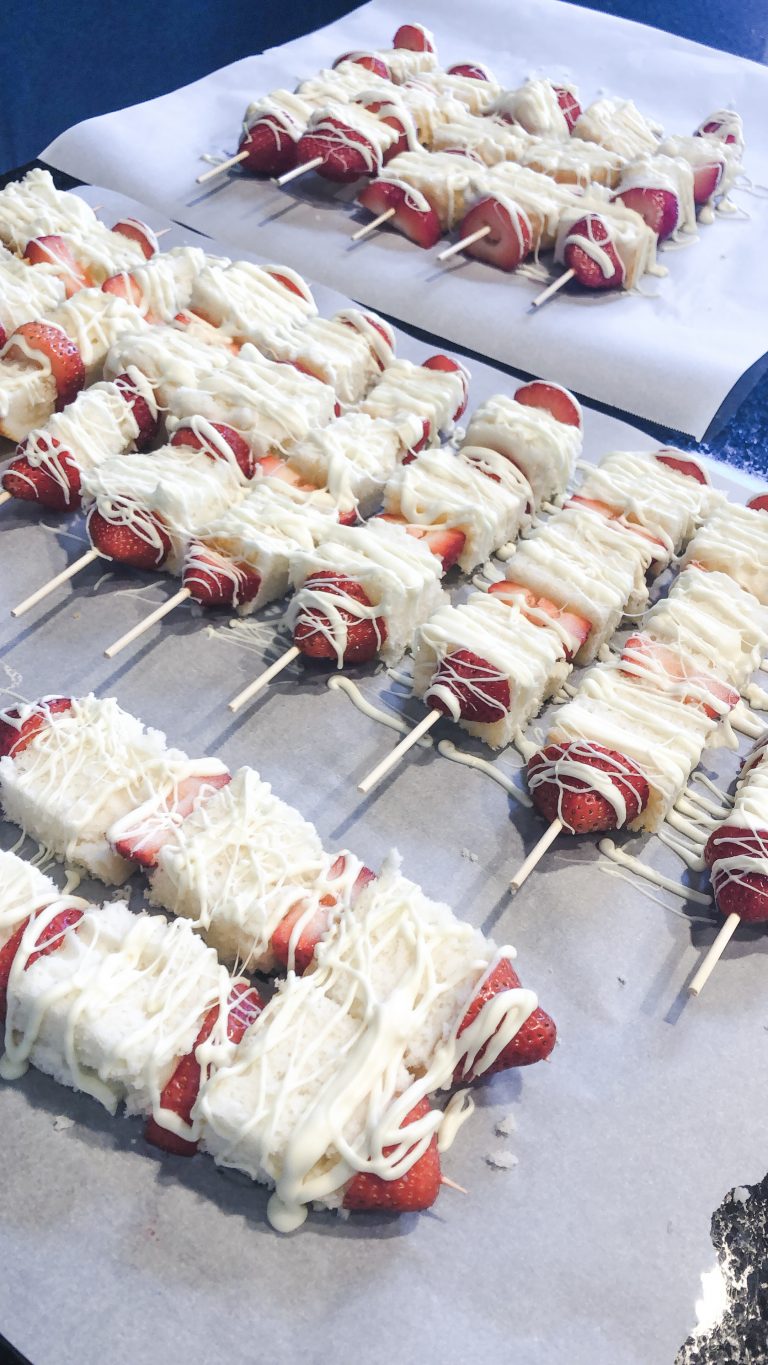 Every time we bring these Strawberry Shortcake Kabobs anywhere, people LOVE them! Plus, they look like we put a lot of work into making them when actually they are super simple. Enjoy!